New Jersey Hero Mom Takes Action After Receiving Ugly Social Media Post — and Prevents a Likely School Shooting in Kentucky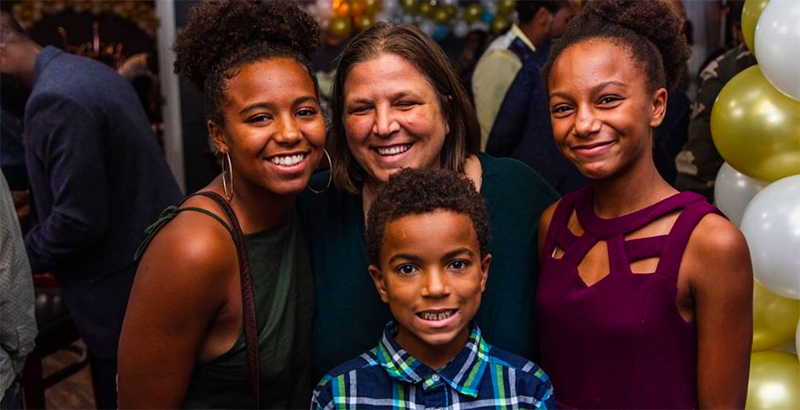 This article is one in a series at The 74 that profiles the heroes, victories, success stories, and random acts of kindness found at schools all across America. Read more of our recent inspiring profiles at The74Million.org/series/inspiring.
Listen to your gut.
A New Jersey mom who did just that after receiving an ugly message on social media may well have prevented a school shooting 700 miles away.
Koeberle Bull didn't know the man who sent her a racist Facebook message the morning of Oct. 17. She could have deleted it and moved on, but it threatened her three biracial children, and it nagged at her. "Something told me this was more serious than just an idle threat," Bull told The Anderson News.
So she reposted the threatening message, and a friend of hers soon tracked down the sender — a young man from Lawrenceburg, Kentucky, whose profile picture showed him clutching a rifle.
A series of phone calls later, the Lumberton, New Jersey, mom was talking to Kentucky State Trooper Josh Satterly, who reassured her and calmed her fears.
"The first thing he said to me is … hatred like that has no place in his world," Bull told The Anderson News. "That touched me. The fact that he cared so much about three black kids in New Jersey who he had no idea who they were really mattered to me. Here's this guy, I don't know how many miles away, and he just showed how much he cared. It was really, really awe-inspiring."
The next day, authorities arrested Dylan Jarrell, 21, as he pulled out of his driveway with an arsenal in his car and a "detailed plan of attack." Authorities believe he was on his way to a school. Sgt. Josh Lawson of the Kentucky State Police said there was a "credible and imminent threat to Anderson and Shelby county schools," and Jarrell's computer showed a recent search for "How to successfully conduct a school shooting."
It turned out that Jarrell, who has since pleaded not guilty, had been questioned by the FBI in May about threats made on social media against a school in Tennessee.
More than 500 commenters took to Facebook to praise Bull in posts filled with heart emojis. "I'm overwhelmed with tears as I type my sincere, heartfelt THANK YOU!!" wrote April Booth, a mother of three. "Thank you will never be enough. You saved our children's lives. Thank you for speaking out. I know it couldn't have been easy but you are a hero in this small town."
Ellen DeGeneres hosted Bull and her family on her nationally broadcast talk show, describing Bull's heroic actions as "social media gone right."
And Satterly was honored by the Anderson County School District.
Later this month, Bull and her family plan to meet their new Kentucky friends, when the Anderson County Board of Education recognizes Bull and Satterly for their heroism.
"It wasn't like I did anything special," Bull told the Courier-Journal. "I was just protecting my babies."
But as Inspiremore.com reported, Bull encourages everyone to follow his or her intuition when something doesn't feel right: "That one-in-a-million call could prevent a tragedy."
Get stories like these delivered straight to your inbox. Sign up for The 74 Newsletter