New Indiana ILEARN Scores Show Improvement, but Still No Pre-Pandemic Bounce-Back
About 30.6% of Hoosier students in grades 3-8 passed both the math & English sections of ILEARN in '23, marking a slight improvement from year before.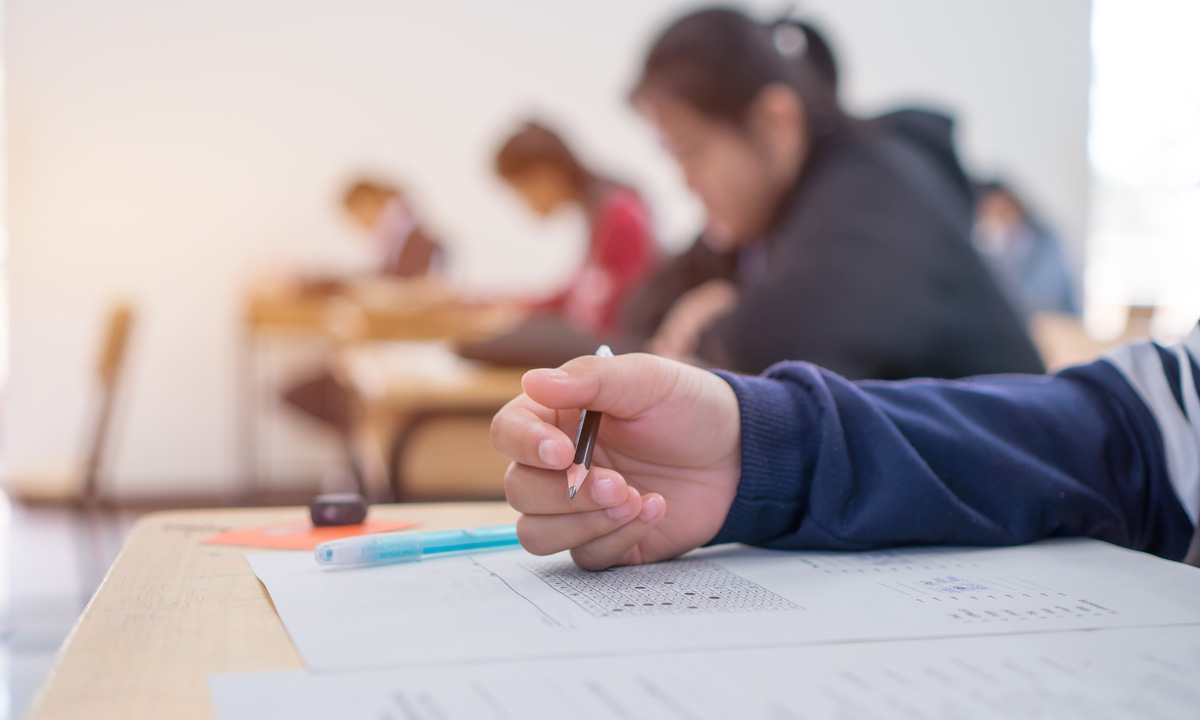 Get stories like these delivered straight to your inbox. Sign up for The 74 Newsletter
An increasing number of Hoosier students in grades 3-8 are passing state standardized tests — signaling continued learning loss recovery following the COVID-19 pandemic.
But ILEARN scores still trail behind 2019 results, and students who struggled before the pandemic are not making academic rebounds as fast as their peers.
Nearly 41% of Indiana students who were tested earlier this spring were at or above proficiency standards in English and language arts, according to new data released Wednesday by the Indiana Department of Education (IDOE). Roughly the same percentage of students were at or above proficiency standards in math.
Even so, only 30.6% of Hoosier students passed both the math and English sections of ILEARN. That's slightly up from last year's spring test results, which showed that only 30.2% earned passing scores.
In 2019, however, pre-pandemic pass rates indicated that 37.1% of Hoosier kids in grades 3-8 were proficient in both the English and math portions of the exam.
Signs of continued improvement, for some
The statewide ILEARN results reflect a slight increase in math across all grade levels.
The highest increases were in grade four, which improved by 1.3 percentage points, as well as grade six, which went up 2.8 percentage points, and grade eight, which improved by 1.6 percentage points.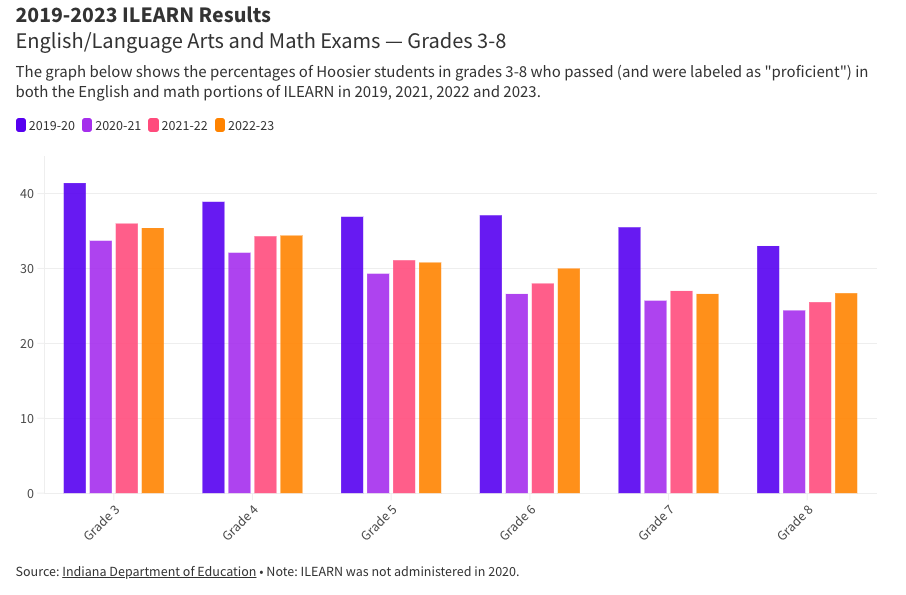 Most grade levels scored about half a percentage point lower on the English portion of ILEARN despite ongoing, statewide efforts to improve literacy. Seventh grade English scores saw the most significant drop — nearly 3 percentage points down from 2022.
State education officials emphasized score stabilization and improved proficiency for specific student populations, though.
Black students, for example, have had proficiency increases in both the English and math tests following the pandemic. Hispanic students, students eligible for free and reduced lunch, students in special education, as well as English learners recorded proficiency percentage point increases in math, specifically.
Still, students who were not proficient in English and math prior to the pandemic are not recovering at the same rate. A National Center for Assessment study of ILEARN scores over the last three years recommended targeted support for middle schoolers, in addition to Hispanic and English learner students across all grade levels.
IDOE officials said 99% of all Indiana students in grades 3-8 completed ILEARN exams. That's equal to more than 491,000 students tested.
ILEARN was first implemented in 2019 to replace the ISTEP exam for students from third to eighth grade. The exam measures proficiency in various subjects starting in third grade, but the main focus is on English/language arts and mathematics.
With federal permission, the assessment was not given in 2020 due to pandemic-related school closures.
SAT scores dip
New SAT proficiency rates for Indiana juniors additionally released Wednesday by state education officials showed declines in both math, and reading and writing, compared to last year.
About 31% of students in grade 11 met the "college-ready" benchmark in the spring compared with 33% in 2022. In reading and writing, 50.5% of students met the benchmark in 2023 — a drop from 52% the year prior.
High school juniors are the only students in Indiana who are required to take the test.
Students with an SAT section score that meets or exceeds the benchmark have a 75% chance of earning at least a C in first-semester, credit-bearing college courses in that subject area.
Changes coming for ILEARN
Indiana's State Board of Education last month moved approve new "streamlined" K-12 education standards to makes it easier for teachers to craft individualized lesson plans — which means updates are now on the way for ILEARN.
The board considered — but has not yet approved — part of the new assessment plan, which includes "flexible checkpoints" for schools to administer ILEARN preparation tests in language arts and math before the typical end-of-year summative tests.
Each of the "checkpoints" will consist of 20 to 25 questions and hone in on four to six state standards. The exams are designed to be administered to students about every three months, but local schools and districts can speed up testing if they wish.
Unlike the end-of-year ILEARN tests, checkpoints are not meant to be "high stakes," and results are not reported to the state.
Instead, the tests are designed to be diagnostic and help teachers and parents see where students are throughout the year. Indiana Secretary of Education Katie Jenner said this will help educators implement remediations and interventions — like additional tutoring for students who need it — ahead of the summative exam at the end of the academic year.
IDOE plans to pilot the checkpoint model in the 2024-25 school year, during which time schools will be able to opt-in to offering those assessments. The overall system is slated to take effect during the 2025-26 school year.
Indiana Capital Chronicle is part of States Newsroom, a network of news bureaus supported by grants and a coalition of donors as a 501c(3) public charity. Indiana Capital Chronicle maintains editorial independence. Contact Editor Niki Kelly for questions: info@indianacapitalchronicle.com. Follow Indiana Capital Chronicle on Facebook and Twitter.
Get stories like these delivered straight to your inbox. Sign up for The 74 Newsletter