New Era for L.A. Schools: How Will the New School Board Work With Superintendent Michelle King?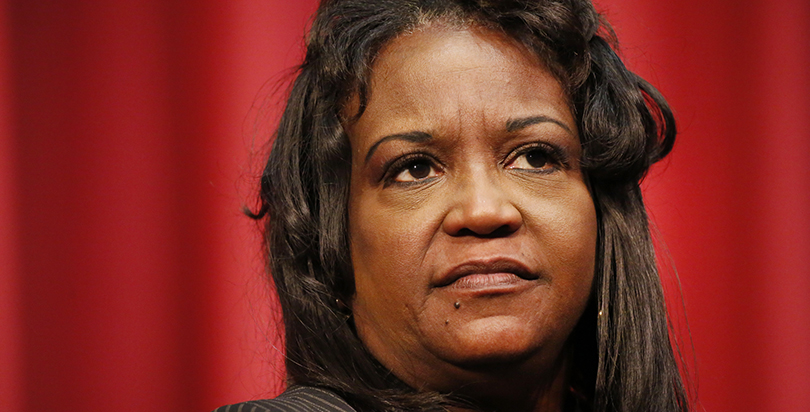 The board will shift in July from a pro-union majority to one backed by charter school supporters, and some observers think that could present difficulties for King, as the superintendent is hired and fired by the school board. But interviews with board members and other observers indicate King's job is safe.
King hasn't been a "lightning rod for controversy" and is generally well-liked and well-regarded, said Raphael Sonenshein, executive director of the Pat Brown Institute for Public Affairs at Cal State LA. He noted, however, that LA Unified has a history of turnover at the top when a new board majority is elected.
"You could also argue they might keep her on as a statement that this isn't the end of the world," Sonenshein said. He said her future will likely depend on the recommendations she and her administration will make regarding independent charter schools and sharing district facilities with those schools.
From her first days after being
named
superintendent, King has sought to heal the "
us vs. them
" division between district schools and charters and has stressed that "they're all public school students" and she is responsible for all of them. She has worked collaboratively
with Myrna Castrejón of Great Public Schools Now,
which seeks to expand charters as well as replicate successful district schools.
Her commitment to all students was highlighted Thursday when she was named the 2017 National Superintendent of the Year by the National Association of School Superintendents. Its president, Tom Armelino, said, "She has a mindset in place to confront equity issues and the achievement gap, and has a strategy in place to do what is best for all students."
But the bitter campaigns this spring have likely exacerbated deep divisions within the district, mostly between charter school backers and the teachers union, which has sought to limit the growth of charters, where many teachers are not in unions.
King will likely have to work even harder at healing rifts in the district, particularly since she will be leading the district's upcoming labor negotiations, as
11 contracts expire
this summer.
Last week's election also has left many teachers wary, and they have taken to social media expressing anger and fear about how they might fare under the new board. As board president Steve Zimmer delivered his concession speech Tuesday night, there were many LA Unified teachers with tears in their eyes who were worried about their future with the district.
But Zimmer sought to comfort them that evening by assuring them that King would be there for them "even though I won't be."
"Teachers have Michelle King as their superintendent," said Zimmer, who celebrates his 25th year as a teacher this year. "She is a very important person and a great supporter of teachers, and her clarity as a leader will transcend some of the fears and dangers some will feel right now. Teachers have nothing to worry about as long as they have Michelle King."
UTLA president Alex Caputo-Pearl predicted challenges for King with the new school board majority, and longtime LA Unified observer Carl Petersen said King's job will be harder because of the board's makeup. Petersen, who has twice run unsuccessfully for school board, said, "Michelle King will have it harder. The charter groups have bought themselves a new school board, and they will be tough on her."
In a statement to LA School Report about the new makeup of the school board, King wrote, "I look forward to working with our new board members to ensure that all students receive a stellar education — one that inspires them to dream without limits and supports them in reaching their fullest potential. This is our mission, our unwavering resolve, and our commitment to our school communities. We have been making great gains toward the goal of 100 percent graduation, and through continued collaboration, LA Unified is poised to reach new, record-breaking heights in the years ahead."
King's
33-year tenure
at LA Unified means she worked for the district since before charters came on the scene, as well as during other periods when there was a pro-reform majority on the board, such as in 1999 and in 2010.
"It has shifted back and forth, and I don't see the benefit in emphasizing those labels, of pro this or pro that — it's not constructive and not helpful," said Mónica García, who is now the longest-serving board member and was re-elected in March to her third and final term. "When I was first elected in 2006, it wasn't about charters; what we were facing were people who resisted change and wanted the status quo."
García said she believes that King will learn to work with the board, "because these seven folks on the board and the superintendent have to build a functional team together. I think we are all looking forward to taking on these challenges together."
With Tuesday's election of Nick Melvoin and Kelly Gonez to the board, García and Ref Rodriguez, a charter school founder who was elected to the board two years ago, are now in a pro-reform, 4–3 majority. García and Rodriguez, along with the other five members currently on the board, voted unanimously to elevate King to superintendent after an exhaustive nationwide search. However, when King delivered her vision for the district, the board
declined
to support it with a vote.
Although Melvoin and Gonez have been critical of the district, they haven't specifically criticized King.
During his campaign, Melvoin criticized LA Unified's high turnover of superintendents and pointed to that as an example of how the board has not shown leadership. Gonez stated that she was happy with King's leadership, although she said she would like to work with the superintendent to improve her strategic plan.
"I do think it would be great if she took more of a bold and visionary stance," Gonez
said
.
King's
$350,000-a-year contract
takes her through June 2018 and states that she should be given 45 days' notice if it won't be renewed. But King, who just last week earned her doctorate from USC, can also be terminated by the board for things such as "loss of confidence or incompatibility with board members, dissatisfaction with King's leadership or communications style, or policy differences."
Outgoing board member Mónica Ratliff, who endorsed Gonez, said she doesn't think King's job is in jeopardy.
"Michelle King was not part of the dialogue [in the election debates]," Ratliff noted. "It does not make any sense that they will not continue her leadership. And, ultimately, the board members have to answer to the voters who put them there, and if they did something like that, it could create a lot of discontent."
Rodriguez also said he doesn't think King's job is on the line. "Michelle King has done a bang-up job, and I think that when they get on the board and dig deeply into the work she has done, Nick and Kelly will see that she is an asset."
Zimmer said he believes in King's collaborative leadership that she has shown with the very diverse board during her first 18 months on the job. "Dr. King is one of the best system leaders in our nation," he said in a statement Thursday congratulating her for being named National Superintendent of the Year.
Board member Richard Vladovic, who recommended King for the honor, said in the statement, "Michelle King has been an educator, and a fixture of LA Unified at nearly all possible levels — as a student, a teacher, an administrator, and now as its superintendent. She will continue to be a role model and inspiration to the hundreds of thousands of students we serve."
---
---
Get stories like these delivered straight to your inbox. Sign up for The 74 Newsletter