New Data: Biden & Trump Voters Influence K-12 Student Enrollment Declines
Widening partisan divide contributes to a loss of over 1.3 million students — the largest student enrollment decline in the history of the U.S.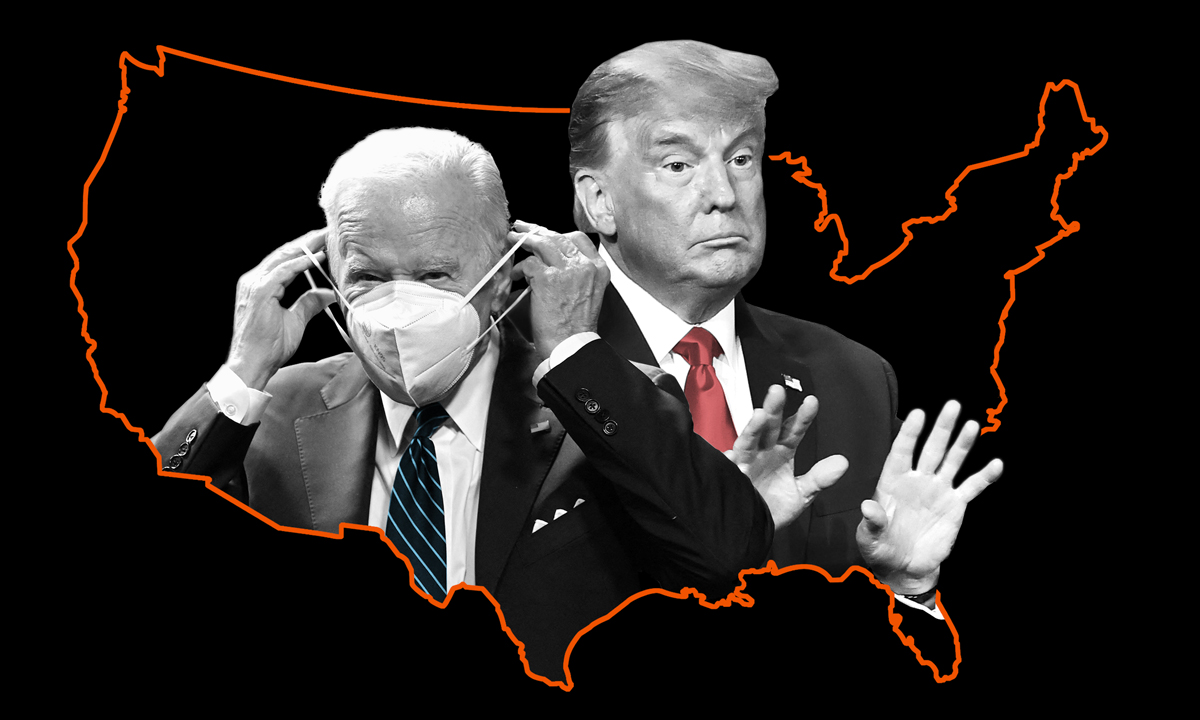 Support The 74's year-end campaign. Make a tax-exempt donation now.
Historic student enrollment declines across the country are linked to the contentious divide between Biden and Trump-elected school districts' response to the COVID-19 pandemic, according to a new report from the American Enterprise Institute.
County-level voting patterns revealed school districts in Biden-elected counties lost more students over the last two academic years than those that voted for Trump because they tended to stay closed longer, according to the report.
Nat Malkus, a senior fellow and deputy director of education policy studies at the American Enterprise Institute, had difficulty finding exceptions to the enrollment trend.
"It's not just a school district story, it's a community story," Malkus tells The 74. "Who bears responsibility for this to some degree? Dear reader, it may be you."
According to the report, public school K–12 enrollment dropped by 2.9% – a loss of over 1.3 million students since the COVID-19 pandemic began in 2020, marking the largest decline in the history of the U.S.
Here are the key takeaways from the report:
1. Disparities in student enrollment were influenced by school district decisions on in-person versus remote class time and safety measures.
Public school districts and their respective communities are described in the report as either "COVID-cautious" or "COVID-assertive."
COVID-cautious districts are those that spent the most time in remote learning and maintained safety measures. In contrast, COVID-assertive districts returned to in-person learning earlier and removed safety measures faster.
"These categorizations are not meant to imply that districts either threw caution to the wind or were not interested in returning students to the classrooms," the report said. "Instead, these categories describe which of the two goals the districts prioritized when pressed."
According to the report, 90% of COVID-cautious districts and 70% of COVID-assertive districts experienced enrollment declines in the past two school years.
COVID-cautious districts experienced an enrollment decline of 4.4% and COVID-assertive districts experienced 1.2%. This is a disparity of one in 23 students compared to one in 87 students.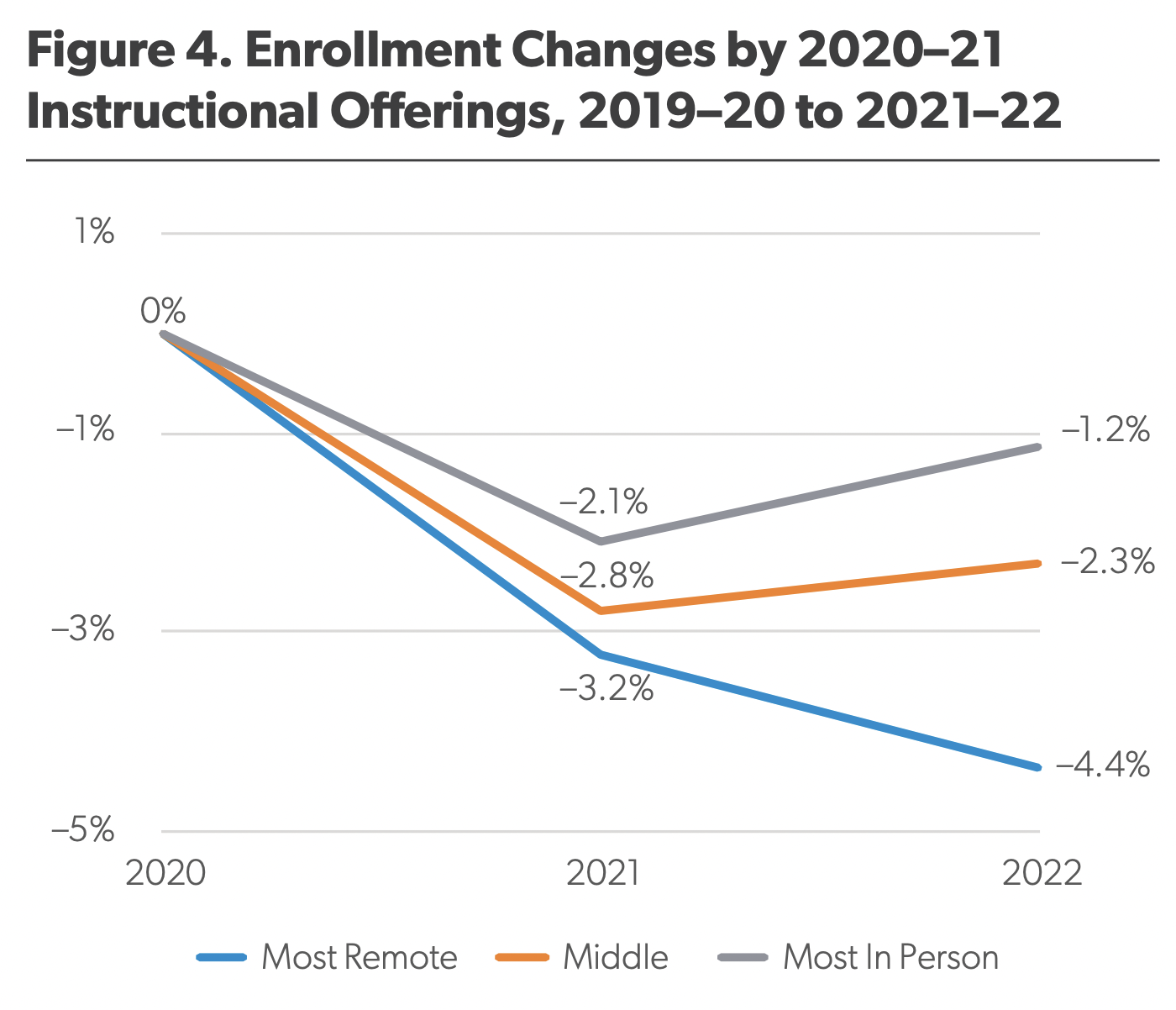 2. Student enrollment rebounded in Trump-elected counties while enrollment continued to decline in Biden-elected counties.
The 2020 presidential election impacted student enrollment, where schools in Trump-elected counties offered a significant amount of in-person class time compared to Biden-elected counties, according to the report.
The report also found Trump-elected counties saw enrollments rebound in the 2021-22 school year, suggesting voting patterns influenced COVID-cautious and COVID-assertive decisions.
"Certainly Donald Trump's tweets about 'hey, all students have to go back to school and don't let the Democrats keep them out of school' is something that is going to polarize people politically," Malkus told The 74. "However, the response to Trump was just as adept when politicians on both sides took stands on the matter."
3. Public school districts may experience revenue declines based on student enrollment.
COVID-cautious districts may experience a larger revenue decline compared to COVID-assertive districts as a result of in-person class time disparities.
"How do these districts maintain services under sharp decreases in enrollment? They're going to have lower revenue and that's going to be painful for school districts, and by extension, for students," Malkus said.
This includes potential hiring freezes, school closures, cuts to programs, teacher and staff layoffs and classroom consolidations, according to the report.
"COVID-cautious tendencies could extend the enrollment differentials for longer, but we won't know the answer to that until we get another round of enrollment data so I hesitate to predict the future," Malkus said of the 2022-23 school year.
However, Malkus found COVID-cautious districts have been following their COVID-assertive counterparts for the 2022-23 school year when it comes to mask mandates, vaccine requirements and other safety measures.
"It does seem to some degree that the COVID-cautious districts are giving way to normalcy, but we'll see if that lasts in the face of potential endemic surges to come," Malkus said.
Support The 74's year-end campaign. Make a tax-exempt donation now.