New 'Civics Career Academies' for FL Teens Raise Questions About Curriculum and Money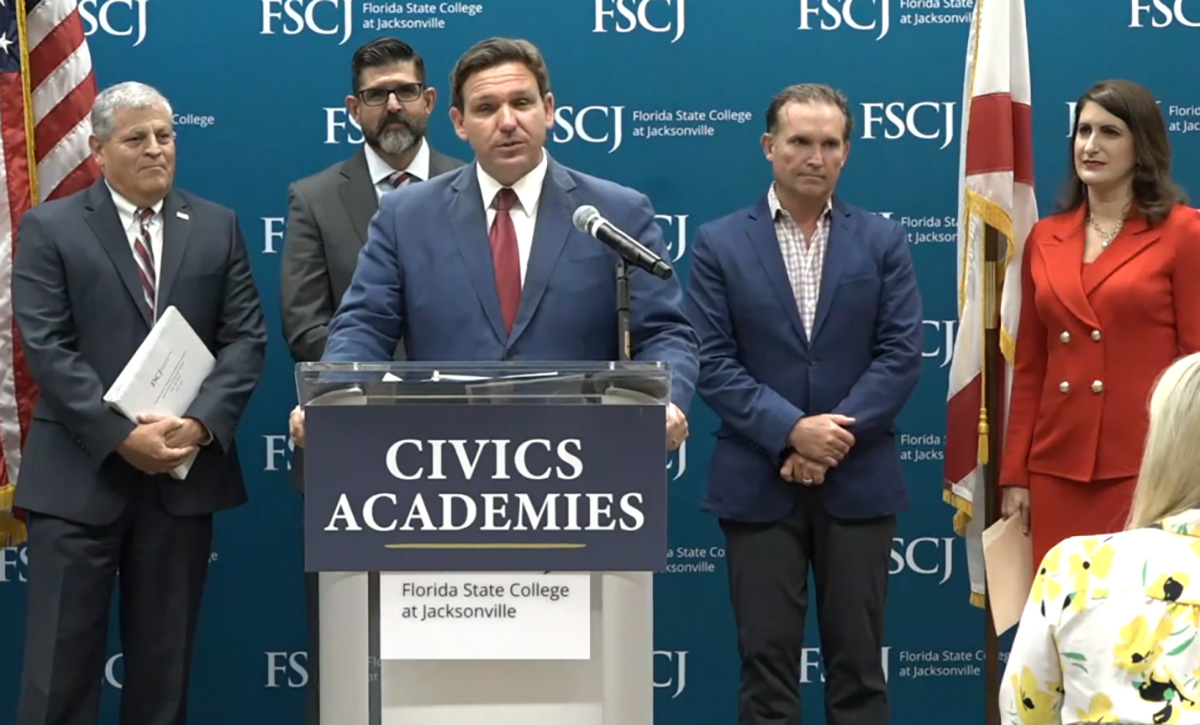 Get stories like these delivered straight to your inbox. Sign up for The 74 Newsletter
With civics instruction in public schools becoming increasingly controversial, Gov. Ron DeSantis announced a set of three new "civics career academies" on Monday, designed to give high school students skills that could lead to political and government jobs.
DeSantis touted the academies as a "one-of-its-kind work program" for politically engaged students, at a news conference in Jacksonville.
Central Florida's Polk State College, Broward College in South Florida, and Florida State College at Jacksonville — all community colleges — have been tapped to host the new civics academies. They are scheduled to launch in the fall of 2023.
But questions arose Monday about the new initiative, such as who will develop the curriculum for the academies? Where did the money come from for the project, and why were those three particular colleges chosen?
DeSantis mentioned $6.5 million but it isn't clear which pot of money will be used to house the academies.
The DeSantis administration's handling of civics education has previously been under scrutiny.
In late June, the Miami Herald reported that local educators were concerned about new state civics professional development trainings. Some teachers found the trainings to be skewed towards a Christian fundamentalist interpretation of American history and founding documents, according to the Herald.
A non-profit organization aiming to ensure the separation of church and state announced it was launching an "investigation," through public records requests on Florida's new civics training. The goal is to see how conservative groups, such as the Michigan-based Hillsdale College and the Koch-founded Bill of Rights Institute in Virginia, were involved in developing the contentious training.
Now, with the three civics academies announced, how will the public know if the initiative will be a partisan effort to funnel conservative-leaning kids into state jobs and politics? Or, could the effort be completely nonpartisan?
Monday, DeSantis described the initiative, saying, "They (students) will be provided the knowledge base and the tools to potentially have a career in public service. They will be linking students with things like apprenticeships, internships — this is something, I mean, think about the applications here."
He added: "Someone that wants to go into local government and become, like, a county manager, people that wanna work in a state agency — you know, what kind of a foundation are they having? And this is really what we're providing here: the ability for them to really excel. And, if you go through a lot of this and you choose to do other stuff, this is still gonna be very helpful for what you're gonna be doing. "
According to a Monday press release from the governor's office:
"Courses will include public service leadership, careers and communication, experiential learning, pre-apprenticeship and apprenticeship opportunities with local and state agencies, and a research seminar."
Angela Falconetti, president of Polk State College, laid out a few names of agencies and institutions that might be involved in developing these academies.
"This training initiative is a collaboration between the Florida Department of Education… also the University of Central Florida's Lou Frey Institute," she said at the Monday press conference.
Falconetti added: "Polk State (College) in partnership with Polk County public schools will develop civics careers academies to build an integrated, seamless program of study in the government and public administration discipline — from high school through postsecondary education. We will also partner with local businesses and government entities and program design and delivery."
Florida Phoenix is part of States Newsroom, a network of news bureaus supported by grants and a coalition of donors as a 501c(3) public charity. Florida Phoenix maintains editorial independence. Contact Editor Diane Rado for questions: info@floridaphoenix.com. Follow Florida Phoenix on Facebook and Twitter.
Get stories like these delivered straight to your inbox. Sign up for The 74 Newsletter