New App to Help Disadvantaged High Schoolers Pick the Right College — and Know What to Expect When They Get There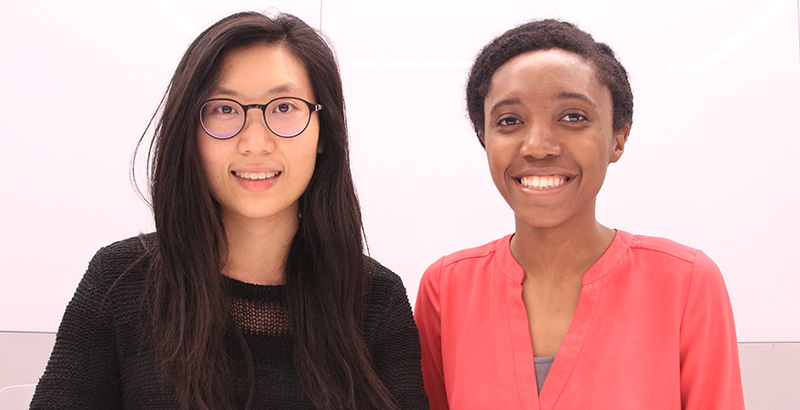 Updated June 8
For Columbia University Teachers College students Asha Owens and Rebecca Kwee, seeking the answer to why so many first-generation college students don't finish their degrees meant going back to the beginning of the college selection process.
"Students can get more information about the next phone they want to buy than they can details about where to spend the next two to four years of their life," Owens says.
Adds Kwee, "I used to be a private college counselor, and seeing the inequity of information you get, how do we make it a more equitable experience for everyone?"
Their answer: BestFit, an app designed to pair underserved high school students with the higher education options that fit them best. The beta version, which will go live this fall, will connect high schoolers online with first-generation college students so they can find out about campus life, academic rigor, and other unknowns that are so important in deciding where to attend school.
BestFit is already getting raves, as the app, designed with fellow Teachers College student Danielle Llaneza, won the school's inaugural EdTech Innovation competition in December. Owens also recently earned a Bill & Melinda Gates Foundation grant to attend an education-focused conference in San Diego.
Owens and Kwee conceived of the app as providing context for college data and allowing students to explore school recommendations that encourage them to look beyond what they already know. The pair found it frustrating that internet searches are more efficient for deciding what television shows to watch than for making college decisions, so they built a search engine that not only has more options than the others but also includes a video feed meant to show what college life looks like.
Teachers College President Susan Fuhrman says having tangible products born in the classroom will provide essential tools for the educational world. "Ed tech products are often created without any expert feedback or understanding of the current educational theory," she says.
But before the beta test and planned rollout to school counselors and education foundations next year comes plenty of hard work.
"It's been pretty tough," Owens says. "There are a few things that keep us going. We really believe in what we are working on and want to see it succeed to drive the education outcomes we are trying to achieve. We are both in it together, pulling all-nighters together and eating takeout in the library together. We are struggling and succeeding together in every way."
Kwee says having someone on the long road with you who cares about the journey as much as she does helps, especially as they are starting their business without external assistance.
"It was an idea first and then became our brainchild," Owens says. "Even before the competition was over, we were pulling all-nighters. We really invested in the research we were doing, and the innovation award provided us the confidence and validation to keep working hard and moving forward."
The two know the hard work won't end anytime soon. "When I look in the news and I see black women are less likely than anyone else to get a major investment, that is always something in the back of your mind," Owens says. "You believe, but if other people don't, what do you do? We are grad students. We are in a different situation, and we are going to have to work to get this off the ground."
"That is why," Kwee says, "it is so important for us to support each other."
Support The 74's year-end campaign. Make a tax-exempt donation now.