New 'Anxious Nation' Documentary Offers Intimate Portrait of Teen Anxiety
Through interviews and vulnerable home videos, Oscar-winner's doc sheds light on how to support youth with nation's most common mental illness.
By Marianna McMurdock | August 16, 2023
Anxious Nation LLC
A teenage girl has trouble breathing at her kitchen table, in the midst of a panic attack.
Through tears, her mother coaches her to make eye contact and regulate breathing.
Along with artwork and snippets of therapy sessions, the scene is one of many in the new documentary Anxious Nation, now available to stream on Eventive, Apple TV, Prime Video and Google Play for $5-12, that paints an intimate portrait of families experiencing the youth mental health crisis firsthand.
Created by Oscar-winning documentary director Vanessa Roth and entrepreneur and author Laura Morton, Anxious Nation invites audiences into the world of several young people managing anxiety, OCD, suicidal ideation and depression. Their experiences are interspersed with reflections from a psychotherapist and advocates including Taraji P. Henson.
After a nearly year-long run at regional film festivals across the country since last October, the film is now being brought to select cinemas, high school and college campuses to jumpstart conversations about managing generalized anxiety disorder — top of mind for families now more than ever in recent history.
Anxious Nation has generated a multi-generational response, with many grandparents attending screenings and sharing letters to the director and cast. Some say the film helped them understand that anxiety is real, or encouraged them to talk to their grandchildren in ways they didn't before.
Sevey Morton, the teen from the kitchen table and daughter of filmmaker Laura Morton, said the film helped her find coping strategies through others' stories. And while initially hesitant to give her permission to use the scene, she now sees the representation as necessary.
"I remembered what it felt like at my age to be struggling with that and feeling like I was the only person," Sevey said. "If I can be that person that girls and boys can relate to with mental health and the struggles then that's worth it … I feel like it's so needed, I haven't seen any footage like that or anyone being vulnerable like that on camera."
"I would have killed to see someone like me who was in a film similar to this, speaking truthfully about their mental health," she added.
Rather than having experts to explain anxiety's history or a mythical solution, filmmakers intentionally centered childrens' point of view, through reflections, artwork, and vulnerable at-home video of moments previously only experienced by themselves, their parents or mental health providers.
In frank interviews, teens lay out how anxiety has impacted their relationships — to romantic partners, parents, school and even faith communities.
"Teenagers really are asking to be seen and heard. We, teachers, community members, whether we think something should make them feel anxious or not, or whether we think we know how they should deal with it, doesn't matter," said Roth. "We actually need to start from where they are."
New Hampshire's Winnacunnet Public Schools Superintendent Meredith Nadeau said Anxious Nation helped their schools begin conversations and be more empathetic about mental health.
"The film helps to normalize the experience of anxiety in children and adolescents, and, I think, has helped people to better understand what a young person with anxiety might be experiencing," Nadeau told The 74 by email.
While the youth in Anxious Nation range in age, race and geography, all have had professional support with their anxiety disorders. Many children currently living with anxiety have not yet had consistent access to that level of care.
"There's a whole other realm of students and children that we work with that are lacking resources and lacking parent reflection and lacking the ability to articulate what's happening," said Heather Cronan, director of school counseling at Winnacunnet High School.
Still, Cronan hopes to one day be able to screen parts of the film in health classes, as it can help jumpstart talks about mental health and family dynamics — something she often sees left out of the conversation.
The documentary doesn't shy away from the role parents, caregivers, and the family environment play on children with anxiety.
In some scenes, parents' own anxieties about success trigger childrens' fears and feelings of inadequacy.
"We look at the person suffering, and so rarely do we look at what role and contribution parents have in all of it, whether it's nurture or nature or both," said Laura Morton.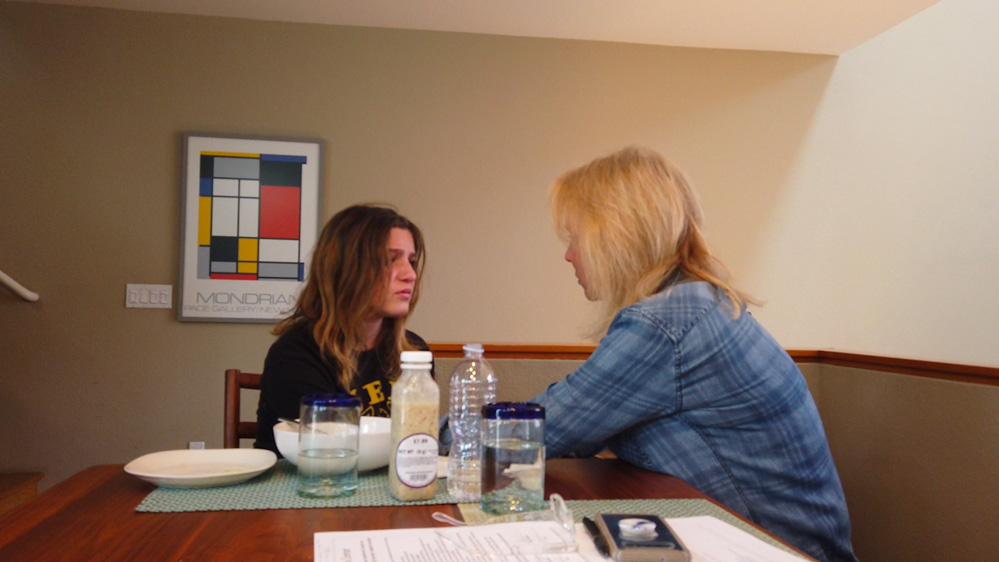 Lynn Lyons, a psychotherapist who specializes in anxiety disorders, also likens anxiety to a "cult leader" that dictates what families can and cannot do.
The metaphor, she told The 74, has been helpful for parents to get distance from the day-day interactions with anxiety. Thinking of anxiety as separate from the child can also remove some blame and shame.
For instance, one young boy had severe anxiety about attending school. The father found himself "following the cult leader" by attending class with his son, offering constant comfort. This solution, though it felt necessary short-term, was not sustainable and did not help his son develop tools to manage anxiety.
"We can say, look how powerful this anxiety is … Look how much it impacts your decisions. And we have this common goal, of not letting the cult leader be in charge," she said.
Lyons and other experts recommend that children with anxiety develop a toolkit. For Sevey, journaling and grounding exercises have helped with catastrophic thinking.
"Whenever I get anxious, I really spiral and I think that it's going to last forever," Sevey said. "So a way to ground myself is I think about how long is it gonna last? Like, is it gonna matter in five minutes? Yes. Is it gonna matter in five hours, five days, five weeks, five months, five years?"
Others in the film find relief in a combination of skateboarding, basketball, therapy, socializing and breathing exercises.
"We might not be able to address the nature of a person that comes into the world," Roth said, "but we certainly as a society can do better at [nurturing]."
Get stories like these delivered straight to your inbox. Sign up for The 74 Newsletter