Nevada's Governor Rushes to Save Education Savings Accounts. But Will Program Survive Legislature's Democrats?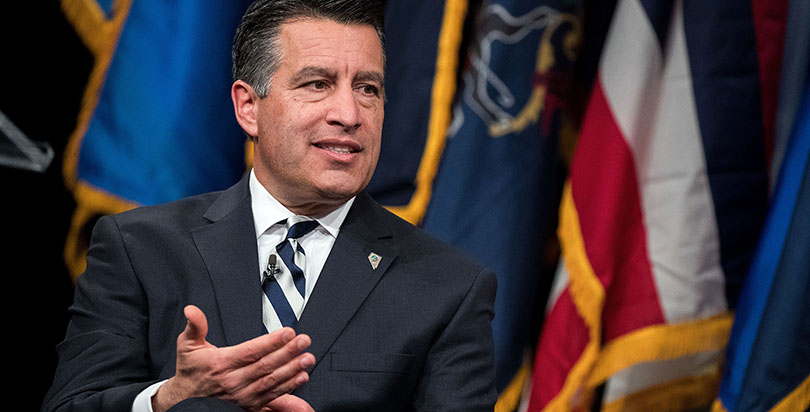 Nevada has had an Education Savings Account program for two years now, but whether students will ever be able to use it rests in the hands of state Democrats who have made clear they'd prefer it didn't exist.
On Friday, Majority Leader Aaron Ford said state Senate Democrats would not hear a bill that would have allowed Nevada's ESA program to move forward by fixing its funding mechanism, which the state Supreme Court declared unconstitutional in 2016.
"I wasn't expecting them to say no hearing whatsoever," said Republican Sen. Scott Hammond, who introduced the bill last week. "I thought they'd at least give my bill a hearing, but they're going to have a hearing on an ESA bill one way or another, hopefully."
Hammond's legislation would create a new silo of ESA funding separate from the account used to fund public schools, addressing the court's ruling. It appropriates funds Republican Gov. Brian Sandoval already set aside in his budget — $60 million over two years — for the program. Administration of ESAs would move from the treasurer's office to a new division in the Department of Education called the Office of Educational Choice. The bill would limit ESA participation to 5 percent of a district's average daily student enrollment.
On Monday, Sandoval proposed a bill through the Senate Education Committee that is identical to Hammond's. Ford did not respond to The 74 about whether Democrats would refuse to review that measure as well, but he told the Las Vegas Review-Journal, "We'll take a look at the governor's bill when we get it and make a determination afterwards."
Some hope this bill has a greater chance of being heard because it's backed by the man who holds the veto pen. Sandoval "has more leverage than a senator in the minority," said Michael Schaus, communications director at the Nevada Policy Research Institute, which supports free-market policies like school choice. "I'm still cautiously optimistic."
Still, Democrats have resisted the program since 2015, when it passed along party lines, and now that the Democrats are in the majority, Republicans acknowledge that compromises will have to be made first. Nevada's ESA program is the broadest in the country, with no income limits on who can apply. "We'll listen to anyone who has an opinion on how to make it better," Hammond said.
Even a compromise bill might not be enough to persuade die-hard opponents.
"I am not interested in draining tens of millions of dollars from our public schools," said Democratic Sen. Joyce Woodhouse at a #PublicMoneyPublicSchools coalition rally against ESAs last week. "I do not want to send our taxpayer dollars to private schools that do not have to measure student achievement or report their results. I do not want to send our dollars to private schools that are not required to uphold basic civil rights for our kids."
So far, 8,000 families have applied to the program, far more than the proposed $60 million can pay for. ESAs would allow parents to take $5,000 per student to spend on private school tuition, online school, or homeschool materials.
---
---
Get stories like these delivered straight to your inbox. Sign up for The 74 Newsletter