Nebraska Lawmaker Seeks More Physical Restraint of Students in School — Even by Other Students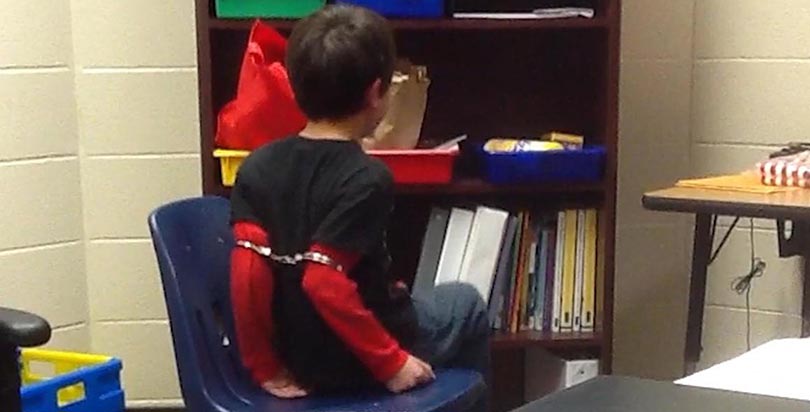 The stories from schools around the country were harrowing: Children as young as 5 being tied to chairs with bungee cords and duct tape. A 7-year-old boy dying after school staff held him to the ground, face first, for hours. A school police officer cuffing a disabled boy by the elbows.
After years of prodding from disability and civil rights advocates, states and school districts across the country have walked back policies that allow for physical restraint in schools, often pointing to violent incidents that have resulted in student injuries, trauma and even death.
One Nebraska legislator, however, wants his state to move the other way. On Tuesday, lawmakers are scheduled to hear a bill that would expand the use of physical restraint in the state's public schools. Under the legislation, which Sen. Mike Groene introduced in January, school officials — and other students — could use physical restraint on students who become physically violent. The bill also would let teachers or administrators use physical restraint on students who exhibit "destructive behavior" toward school property.
Groene, chairman of the state legislature's Education Committee, didn't respond to requests from The 74 for comment, but he told the Omaha World-Herald what motivated the bill: A veteran physical education teacher in Groene's district nearly lost his job over the way he addressed a "disruptive" third-grader. The teacher allegedly dragged the 8-year-old by his ankles to a timeout room — a distance of about 90 feet — for acting out in class.
Groene also pointed to incidents at Omaha's Nathan Hale Magnet Middle School, where parents and teachers reported out-of-control students: Teachers had been stabbed in the hand with pencils, punched in the face and kicked down a school hallway.
Under the bill, restraining students would not be considered corporal punishment, which is illegal in Nebraska but is legal in more than a dozen states. Under current Nebraska law, teachers and school administrators are allowed to use "physical contact short of corporal punishment to the degree necessary to preserve order and control in the school environment."
If approved by lawmakers, the bill also would shield school officials and students from legal action or administrative discipline after engaging in restraint.
Ron Hager, a senior staff attorney at the National Disability Rights Network, said it's ridiculous to allow one student to restrain another and that Groene's proposal is too broad, extending far beyond reasonable emergency situations.
"If there is an emergency where a kid is really in danger, like running out the door into a car or starting to pound on another kid, then every state would allow anyone, really, to engage and stop this emergency," he said. "But the general perspective is, if there is any leeway at all, you want to bring in someone who is properly trained to do the restraint."
Groene's bill doesn't mention training; Hager said restraint can be dangerous for children and for teachers who haven't received proper instruction.
On Friday, the state education board voted to remain neutral on the bill, a Nebraska Education Department spokesman said.
During the 2011–12 school year, Nebraska educators restrained students more than 350 times and secluded them more than 500 times, according to the most recent data from the U.S. Department of Education's Office for Civil Rights. Though disabled students represent only about 15 percent of Nebraska's student population, about 70 percent of seclusions and restraints involved disabled children.
Nationally, schools restrained or isolated children at least 267,000 times in 2011–12, according to the federal data. That number could be much higher, because districts self-report school discipline numbers to the federal government.
Federal officials have addressed seclusion and restraint on multiple occasions. In 2009, a Government Accountability Office report found hundreds of cases of alleged abuse and death related to seclusion and restraint over the previous two decades. Former secretary of education Arne Duncan urged schools to avoid a reliance on restraint and seclusion. The most recent federal guidance came in December, when the Office for Civil Rights warned that schools could violate federal civil rights laws if they disproportionately seclude or restrain disabled students.
On the state level, opponents of restraint and seclusion have seen tremendous success in the past few years. In December, for example, Michigan lawmakers approved rules limiting use of restraint and seclusion to situations in which a child is a danger to himself or others. They also require school personnel to receive additional training to address emergency situations.
"The states that are looking at this issue are limiting the use of restraint and seclusion, not expanding it," Hager said. "So Nebraska would definitely be swimming upstream on that one."
In 2010, the state's Education Department released a technical assistance document advising districts on best practices. Observing that there is "virtually no scientific evidence of the effectiveness of physical restraint or seclusion as a behavior modification strategy even though they have historically been used for this purpose," the document noted "nearly universal agreement that seclusion should only be used in emergency situations." Nebraska lawmakers adopted a vague regulation in 2012 requiring districts to adopt policies addressing the use of seclusion and restraint in schools.
"A restraint is a significant event. It's traumatizing for the teachers, it's traumatizing for the student that's being restrained, it's traumatizing for the students that are watching the restraint," Hager said. "You have an adult that's literally manhandling a child. Why would you want to do that, except for in the most limited, emergency situation?"
Get stories like these delivered straight to your inbox. Sign up for The 74 Newsletter