Nebraska Gov. Leans Into 'Opportunity Scholarships' Debate
Opponents say bill is part of a push to use public dollars for private education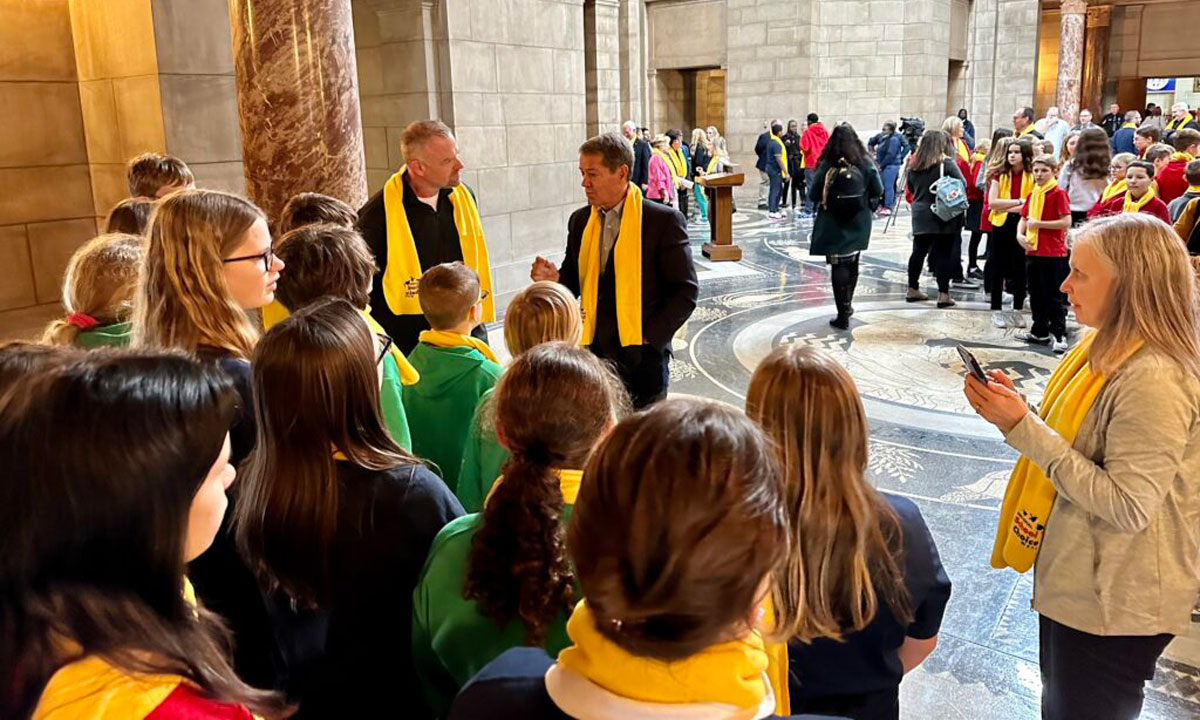 No paywall. No pop-up ads.
LINCOLN — Before a press conference Tuesday promoting a potential state tax break for donors helping low-income parents pay for private school, Nebraska Gov. Jim Pillen spoke to 15 students from a Catholic grade school in his hometown.
The governor high-fived students from Columbus St. Anthony, thanked them for joining the "school choice" event and asked them to "pray for the unborn babies." He said he had come from a meeting on how to reduce abortions in Nebraska.
Pillen then greeted nine conservative state senators who joined him to praise a bill aimed at letting Nebraskans steer tax revenue toward private education.
He said parents with children who don't find a good fit in a public school setting should have another option, regardless of their income. And he praised the ability of private schools such as St. Anthony to embrace prayer in school.
"We are the last of two states … that don't have school choice," Pillen said. "It is a really critical, fundamental thing that's got to happen in Nebraska."
Pillen has said he supports Omaha State Sen. Lou Ann Linehan's Legislative Bill 753, which would provide up to $25 million a year in income tax credits for "opportunity scholarships" for families that need financial help to attend private school.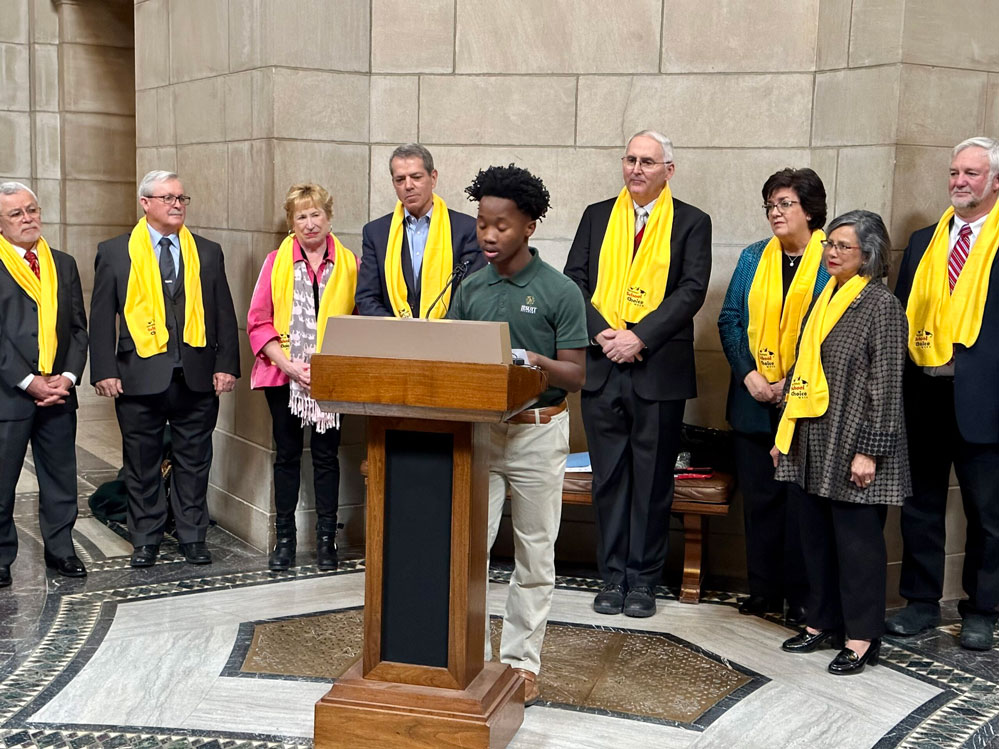 On Tuesday, he announced that he had made room for the "school choice" bill in his state budget proposal coming Wednesday. LB 753's dollar-for-dollar tax credit would allow donors to reduce up to half of their income tax liability each year.
Linehan, who has 30 co-sponsors for her bill, said she sent her kids to public and private schools. She said she wants all Nebraskans to have the same opportunities she had to do what she felt was best for her children.
"There's nothing more important to a parent than to be able to do the very best for their kid," she said.
Dunixi Guereca, executive director of Nebraska Stand for Schools, said the Linehan bill is more of a tax break for the wealthy than a way to help education. He said it is an out-of-state idea that is not tailored to Nebraska's needs.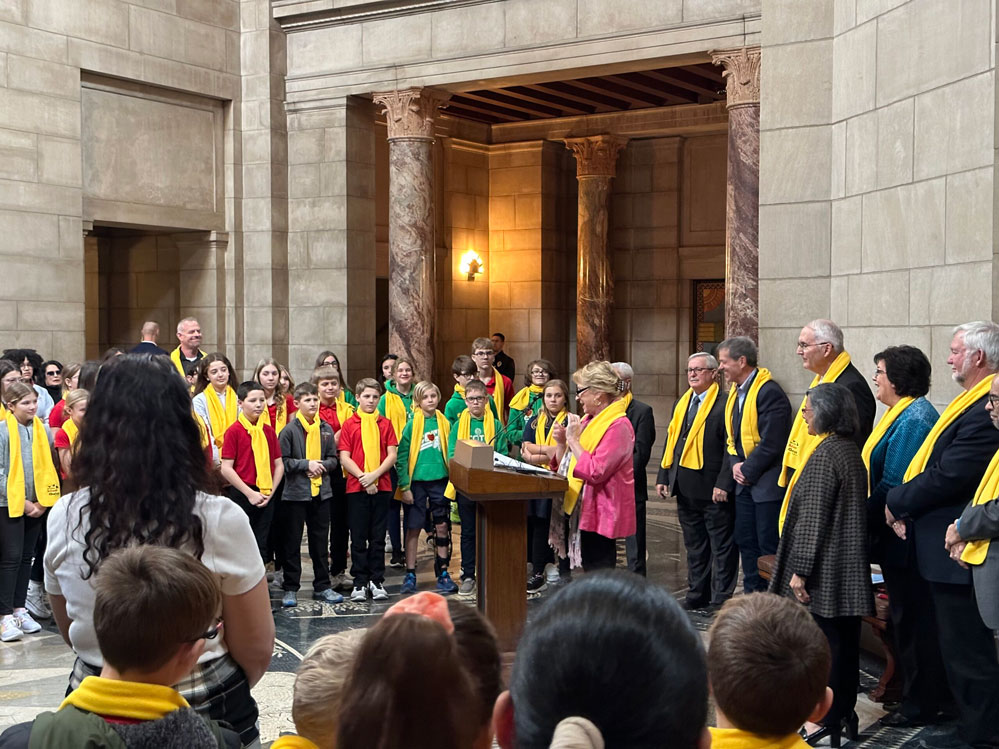 Guereca and other critics have said the push for "school choice" is a push to use public funds for private schools, as Iowa does. He said it could weaken K-12 public education over time and make hiring and retaining public school teachers more difficult than it already is.
Guereca said taxpayers need to understand the potential impact of a bill that sets aside $25 million a year for a tax credit, because it will be used, and that would mean a loss of $250 million that might be needed for schools or services for kids.
"That's a lot of money that could be going a lot of places," Guereca said. "It's a dollar-for-dollar match. No other charity gets that sort of tax credit. It really isn't about kids."
Nehemiah Briggs, a student at Jesuit Academy in North Omaha, said he goes to school with a number of students on scholarships whose families might be helped by lower costs. He talked about his goal of becoming a real estate agent and a millionaire when he grows up.
"I think kids should be able to attend a school like Jesuit or any other private school," he said. "Not only if they don't make enough money or don't have the opportunity to."
"With $25 million, we could hopefully offer something to all of those families," he said.
Pillen, asked after the press conference what he would say to people who worry about the impact of this proposal on public schools, said it's not an either-or situation.
"There have been too many people who have tried to create the dialogue that this is public schools against private schools," he said. "The reality is we deserve both and we need both."
The governor said he had not yet had time to evaluate Iowa's passage of a voucher system in which the money would follow the student.
His goal right now, he said, is to make sure that "education is as equalized across the state as possible, and we need to have school choice."
Nebraska Examiner is part of States Newsroom, a network of news bureaus supported by grants and a coalition of donors as a 501c(3) public charity. Nebraska Examiner maintains editorial independence. Contact Editor Cate Folsom for questions: info@nebraskaexaminer.com. Follow Nebraska Examiner on Facebook and Twitter.
Get stories like these delivered straight to your inbox. Sign up for The 74 Newsletter