Nearly a Month After Election, Insurgent Educator Jamaal Bowman Declared Victor Over Veteran New York Congressman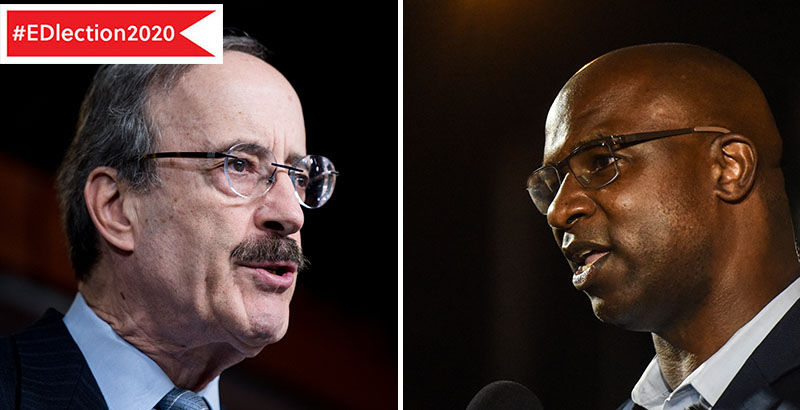 Updated 7/17/20: Nearly a full month after the June 23 election, the Associated Press has declared Bronx educator Jamaal Bowman the victor in the Democratic primary for New York's 16th Congressional District.
Bowman unseated longtime representative Eliot Engel, chairman of the House Foreign Affairs Committee and a familiar face to voters in both New York City and Westchester County. Bowman, a first-time congressional candidate, ran as a virulent critic of standardized testing and charter schools and will soon represent one of the most liberal seats in the country.
Though many absentee ballots are still uncounted, Bowman's lead has been widely regarded as too great to overcome for the past several weeks. In a speech declaring victory last month, Bowman said, "I am excited, I am happy, I am fired up. I can't wait to get to Congress and cause problems for the people in there who have been maintaining a status quo that is literally killing our children."
Forget about November. In New York, election season has come early.
On Tuesday, primary voters in the state's 16th Congressional District will decide who will represent them for the next two years — and possibly decades to come. The district, a mix of well-heeled Westchester villages and the working-class northern Bronx, leans so overwhelmingly Democratic that the party's nominee will run in the general election with no Republican opposition. In 2018, Rep. Eliot Engel cruised to his 16th term with 100 percent of the vote.
This year, he may not even make it to the ballot.
Engel, who first won election to Congress by toppling a longtime incumbent over 30 years ago, is the most endangered Democrat in the country. Dogged by former teacher and middle school principal Jamaal Bowman in a sharply factional nomination fight, he risks becoming the next Joe Crowley: a former New York political heavyweight who falls out of step with his electorate and is felled by a longshot challenger.
The question is whether Bowman can emulate the world-beating example of Alexandria Ocasio-Cortez, whose shocking defeat of Crowley helped widen the ideological split between mainstream Democrats and leftist insurgents. While polling has been scant, a survey released last week by the progressive think tank Data for Progress found Bowman leading by 10 points. The upset narrative has already taken root, with reporters openly wondering whether the first-time candidate can become "the next AOC."
Unsurprisingly, Bowman seems to welcome those comparisons, inviting Marxist website Jacobin to "call [him] a socialist" in an interview. He frequently trumpets his support for Ocasio-Cortez's signature proposal, a Green New Deal to fight climate change, and recently said he wants to defund police departments in response to the killing of George Floyd.
Bracketed by the COVID-19 pandemic and mass protests against police brutality, the campaign won't hinge on the issue of public education. But Bowman, who founded the Cornerstone School for Social Action (CASA) in the Bronx more than 10 years ago, rarely misses an opportunity to call for huge increases in Title I funding — or lob brickbats at the reform-friendly priorities of school choice and accountability. Years before running for office, he loudly encouraged families to opt out of state exams, listing standardized testing among a host of evils including slavery, redlining, and the spread of crack cocaine. Charter schools, he once wrote, are "privately funded, anti-union test-prep factories."
In an interview with The 74, Bowman said that the hot-button conversations around educational equity — improving urban schools, providing more resources to poor districts, and pushing police out of school buildings — were the ones that have animated his career.
"I'm going to be doing that work, win or lose, for the rest of my life in some capacity. That's the work that I've done, and that's the work that I'm passionate about."
The Engel campaign did not respond to a request for comment.
For a political unknown, Bowman has run a remarkably strong race in the primary's closing weeks. His fundraising outpaced Engel's over the last three months, and as his candidacy caught fire in national media, he began collecting endorsements from Bernie Sanders, Elizabeth Warren, and Ocasio Cortez herself.
Engel has tapped his own party connections, winning the support of Nancy Pelosi, Hillary Clinton, and civil rights hero John Lewis. After initially declining to back him, Senate Minority Leader and fellow New Yorker Chuck Schumer has come off the sidelines as well, likely a reflection of the danger Engel is in. Perhaps most important will be the endorsement of the United Federation of Teachers, New York City's largest teacher's union, which has joined him in his time of need. In the end, those institutional advantages may be enough to ward off the worst scare of his half-century in politics.
"I think we've gotten into a position, post-Ocasio Cortez, of thinking that these challenges are doable," said Jeanne Zaino, a political science professor at Westchester's Iona College.
"And while I certainly think that Bowman has a real shot, the incumbent has such enormous advantages that you'd have to describe any Engel loss as an upset. It's that unusual, and it's a huge challenge. The fact that Bowman's made it this far and has this much wind behind him is a huge victory in and of itself, whether or not he wins."
Changing district, changing politics
Engel has represented some version of the NY-16 since 1988, when he unseated fellow Democrat Mario Biaggi following a string of corruption scandals. Both he and his predecessor enjoyed long, influential careers in office by appealing expertly to the district's melange of political and ethnic identities. The north Bronx, in particular, has historically been home to large enclaves of Irish- and Italian-Americans, Jews, Puerto Ricans, and African Americans. As many whites left the city over the last decades of the 20th century, they were replaced by Caribbean and African immigrants.
But the most significant demographic shift may have come relatively recently, according to Dan DiSalvo, chair of the political science department at City College. Just as in the 14th District, where Ocasio-Cortez's 2018 victory was largely powered by young, college-educated progressives, certain areas of the Bronx and lower Westchester have recently seen in-migration from Millennials priced out of other parts of New York. Many of them are friendly to the brand of unvarnished leftism that marks Bowman's campaign.
"You really have two very different regions crammed into this district, and that has made it much more competitive than it would have been otherwise," DiSalvo said. "The fact that it's a sort of urban-suburban mashup has certainly impacted the dynamics, and parts of NY-16 have recently seen so much outflow from, you could say, gentrified Brooklyn. It has made it a much more liberal district."
Since 2018, those shifts have threatened to upset the political power structure of the Bronx, a multi-layered system of politics and patronage largely governed by the county's Democratic Party machine. Crowley, who represented part of the borough until his surprise defeat, was only the first local honcho to leave the scene. Jeff Klein, a conservative Democrat representing parts of Engel's district in the state Senate, was similarly ousted that year by Alessandra Biaggi, granddaughter of the man Engel upset 30 years prior. As a sign of the times, Sen. Biaggi reversed her endorsement of Engel in early June to throw her weight behind Bowman.
Since the beginning of the year, both longtime borough president Ruben Diaz, Jr., and Bronx Democratic Party Chairman Marcos Crespo have announced that they won't be seeking reelection. According to Basil Smikle, a local political consultant and former head of New York State's Democratic Party, the fast-moving stampede has left tenured politicos like Engel wondering about the future.
"There's [been] a disruption in the county's political leadership," he said. "You have more established leaders like Engel thinking about what their role is going to be going forward, because there are a lot of new faces that they just don't have relationships with."
The 73-year-old incumbent has also brought on his share of misery. In May, he started facing uncomfortable questions about why he wasn't seen more around the district, a major coronavirus hotspot. He also committed what will likely be remembered as the political gaffe of 2020 when he was overheard at a media event lamenting that he "wouldn't care" about taking a turn at the microphone if he wasn't facing a primary challenge.
Unforced errors aside, though, Zaino observed that Engel is staring down the same split between leftists and mainstream Democrats that has become a fixture of American politics over the last half-decade.
"The bigger a party gets, you're going to see different wings of it," she said. "New York does have a moderate wing, but we also have a growing, energetic, loud, progressive liberal wing. Everybody agrees that whether you like it or not, that wing has a lot of the energy on its side. They may not have gotten the White House, but at the state and local level, in places like New York, they're doing incredibly well."
Smikle, who grew up in the 16th District said that Bowman held great appeal to voters who resembled his parents: Jamaican immigrants who saw education as "a liberator, the thing that takes you out of poverty." His message of boosting local schools was not just anti-reform, but "pro-community."
"To me, what Bowman brings is some energy, some youth, a connection to a wave of new politics in the Bronx that AOC is quite representative of, and a different look at who should be representing that district given the demographics. It seems to be a fresh look at what the needs of those communities are as they're changing so quickly."
Bowman's record
Bowman himself believes that Democrats have been "polarized" for too long on education issues, locked in 2010s-era arguments about school choice that flared up first during the Obama administration. Though he supports halting any new charter school openings, he told The 74 that the party needed to push further, for expanded pre-K access and a classroom experience reshaped by new delivery models and culturally relevant pedagogy.
"A charter moratorium, that's all fine, but what about focusing on early childhood education and what learning should look like at that level?" he asked. "What about focusing on Montessori education? What about community schools in historically oppressed circumstances? I don't see the leadership in the Democratic Party talking about education in this way, to the granular level…in terms of curriculum, instruction, and formative assessment. That's what we're trying to add to the conversation."
Bowman's experience and outlook on public education are sometimes at odds with the anti-reform image that has attached to him. A former elementary teacher, guidance counselor, and administrator, he took part in the reform-oriented New Leaders fellowship program, where he drafted his own plan for a school. That blueprint was realized in 2009 with the opening of the Cornerstone Academy in the borough's Eastchester neighborhood.
CASA serves about 260 mostly minority students, almost all of them economically disadvantaged, and takes a whole-child approach that emphasizes social and emotional learning. Parents have praised the school's focus on Black history and culture, and in a well-received 2015 TEDx talk, Bowman described his vision of education: "A messy kid learning through play, learning by doing…interacting with a curriculum that's aligned to his or her passions, but also aligned to the needs of our society."
Within a few years, Bowman emerged as a harsh critic of standardized testing and the newly adopted Common Core academic standards. New York State, and especially Westchester, became an epicenter of the opt-out movement, with many parents complaining that the tests were too difficult and monopolized part of the school year. Bowman was a prominent voice in favor of eliminating the tests, and said that he wouldn't send his young daughter to public schools out of disgust with the "test and punish culture."
Assessments of the school's academic performance are mixed. In 2016, Bowman boasted that his pupils had seen the largest gains in average test scores that year for any New York City middle school, even as he defended the right of families to not participate in them. But scores from the 2017-18 school year, Bowman's last as principal, show just 11 percent of CASA students meeting state math standards — a fact that Engel has highlighted in recent negative mailers.
His growing profile gave Bowman a bit of political capital that he was quick to share, energetically celebrating the victory of Betty Rosa, a reform skeptic who was elected to lead the state's Board of Regents in 2016. In a somewhat puzzling development, however, he later backed the unsuccessful mayoral candidacy of Josh Thompson, a pro-voucher Democrat and former Cory Booker aide who ran against Bill de Blasio as a favorite of charter school operators.
If he wins the primary, Bowman will have outmaneuvered one of the most powerful forces in local Democratic politics: the UFT, which has praised him publicly even while backing Engel (himself a former teacher and guidance counselor who worked in the South Bronx). Michael Mulgrew, the group's president, has praised the incumbent in a statement for knowing "what life is like inside the classroom," adding that teachers "need advocates like him on our side now more than ever."
Bowman described union head Randi Weingarten — head of the national American Federation of Teachers, of which the UFT is a local affiliate — as a personal mentor, and said that he understood why they would stand with a longtime ally. But he also seemed to characterize the group as part of a larger political establishment that he's running against.
"It's disappointing but not surprising because Randi Weingarten has done that job for a very long time. There's a status quo in place, and they tend to support the incumbent; that's just how that works. It's not anything I take personally. It's just interesting how it seems to work out that way."
Support The 74's year-end campaign. Make a tax-exempt donation now.