National School Choice Week to Host Record 20,000 Events From Jan. 22-28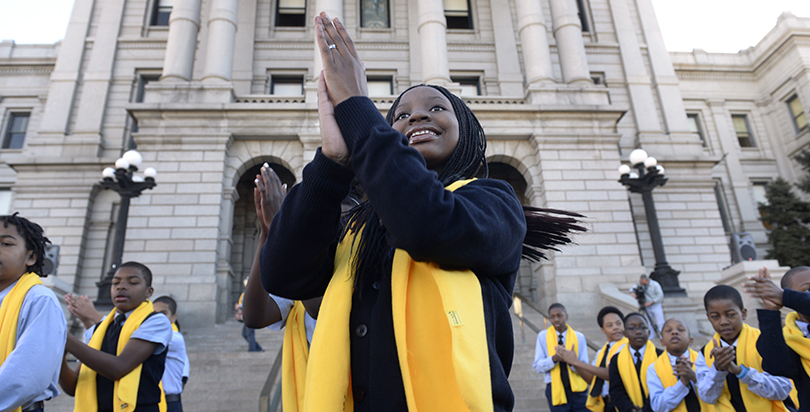 Henry Eichner's son may share his name and his disability, but Eichner was determined to not let him share his schooling experience.
Eichner was bullied in his public schools for having muscular dystrophy. So Eichner enrolled Henry Jr. in a private school in Florida, a financial challenge for a single father.
Then one day he met Wendy Howard, a school choice advocate, at a networking event. Howard asked him if his son was attending his private school using the Florida state-funded Gardiner Scholarship Program, which provides funds for students with disabilities to use on private school tuition or therapy services. That was the first time Eichner had heard of the program.
"I was aware that if I wanted to send my son to a private school, it was my right and I had to pay for it," Eichner said. "I don't think there's a lot of people out there who are aware that they can get assistance and send kids to private school."
Finding parents who want educational choice options but aren't aware of them is a problem, advocates say. National School Choice Week has been trying to close that information gap since 2011, when it hosted 150 events. This year, organizers say, from Jan. 22–28, the campaign includes a record-breaking 20,000 events across the United States to educate the public about school choice options, many of them involving traditional district schools.
"Every year, more and more schools, organizations and individuals are jumping at the chance to shine a positive spotlight on school choice during the last week of January," Andrew Campanella, president of National School Choice Week, said in a press release. "We invite everyone to get involved and have their voices heard."
The events, like the one Wendy Howard is coordinating in Pasco County, Florida, can be large productions. Her group fundraised to bring rock-climbing walls, bounce houses, DJs and a traveling children's museum to keep the kids busy while their parents can learn about choice options. Speakers will include a school choice officer from the state Department of Education and the deputy superintendent of Pasco County schools. Howard's team is also developing a website to inform parents of the school choice options in their neighborhoods.
"It's important that every child have the opportunity to reach their God-given potential," Howard said, whether that's in a district, charter, private, online, magnet or home school.
(The 74: Survey Results: Private, Charter School Parents More Satisfied Than District School Parents)
Traditional public schools are participating too, as declining enrollment is forcing some to advertise for the first time, educators said. At J. Hendricks Elementary School in Tucson, Ariz., the school will be advertising through newsletters and holding an awards ceremony where it will thank parents for choosing the elementary.
"We don't have the advertising budget. We don't have the ability media-wise," said the school's principal, Peter Wells. "I thought advertising school choice through social media would help bring [students] to us … As a public school, we like to show them that we have something for everybody."
Wells has been an educator in his Tucson district for 30 years. Though his elementary school is one of many that have experienced declining enrollment, he found that advertising brought record open-enrollment numbers to his school, where 180 of the 470 K-6 students come from outside the school's assigned population.
"We do a big push [during National School Choice Week] thanking parents and the PTO," Wells said. "Everyone knows they can go anywhere with their business."
Get stories like these delivered straight to your inbox. Sign up for The 74 Newsletter