Nashville Pastor Sleeps on Roof of His Church Until Enough Backpacks Are Donated for Entire School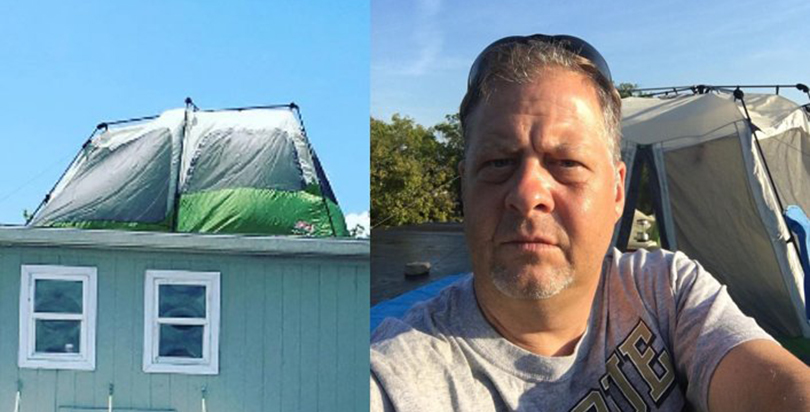 This article is one in a series at The 74 which profiles the heroes, victories, success stories and random acts of kindness to be found at schools all across America. Read more of our recent inspiring profiles at The74million.org/series/inspiring.
Passersby on Delaware Avenue in Nashville, Tennessee got a glimpse of a most unusual sight Sunday evening: A camping tent was pitched on the roof of the West Nashville Dream Center, a church building that doubles as a community center.
Pastor Ryan Bult was spending the night sleeping on the roof of his church to raise awareness for a good cause, reports FOX 17:
Bult's goal: to convince local residents to donate enough backpacks and school supplies for all 425 students at Cockrill Elementary School.
Thankfully, Bult only had to spend one night on the roof. By midday Monday, the goal was reached:
Bult used his Instagram and Twitter accounts to record his experience and help get out the word. He encouraged motorists on I-40 to honk if they could do so safely and later reported that he heard the supportive honks during his nearly 24 hours on the roof.
Heard those honks from the interstate. Thanks for the encouragement. Lovin it up here. Rooftop living @crosspoint_tv DC. Backpacks 4 all!

— Ryan Bult (@RyanBult) August 1, 2016
Bult even had a special visitor during his stay on the roof. One of his church's younger members, Greg, stopped by and they watched traffic and talked about life, according to Bult's Instagram account.
On Tuesday, he posted a picture to Instagram explaining why he and his congregation collected the donations. The photo showed a smiling Cockrill Elementary student outfitted with his brand new backpack.
"Ever wonder why we take the time to collect and handout backpacks? Look at that sweet face," Bult wrote.
"We believe these kids are going to set the world on fire. Thankful I get to do this."
Despite the original goal being met, and camp being broken down, donations continue to pour in.
Bult told FOX 17 that the additional supplies will be donated to middle and high school students.
Get stories like these delivered straight to your inbox. Sign up for The 74 Newsletter