North Carolina Senate Passes Parents' Bill of Rights
Opponents say the bill is dangerous to LGBTQ+ kids and will damage educators' relationships with students.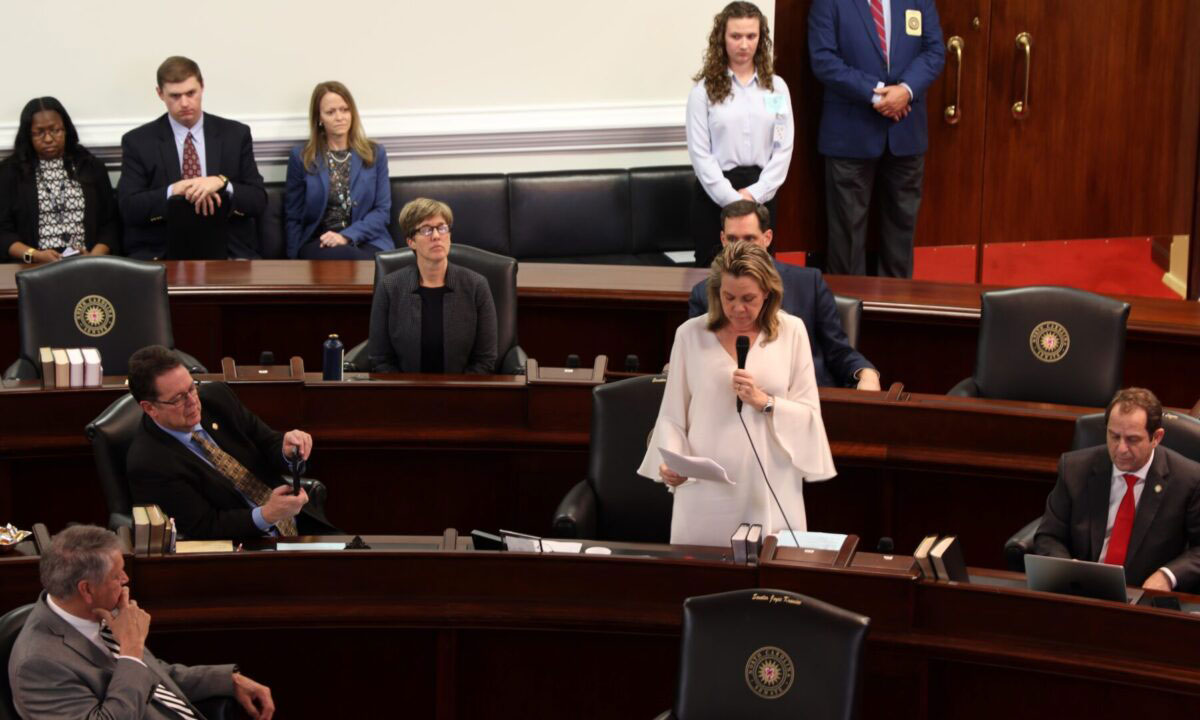 No paywall. No pop-up ads.
The North Carolina Senate passed the controversial Parents' Bill of Rights by a 29-18 vote on party lines Tuesday, sending the legislation on to the House.
Senate Republicans argue the bill is needed to safeguard parents' integral role in their children's lives, while opponents say it is dangerous to LGBTQ+ kids and will damage educators' relationships with students.
Sen. Amy Galey, R-Alamance, a primary sponsor of the bill, said that there are diverse worldviews contained in North Carolina's schools and among students' families, but that schools shouldn't determine which worldviews are discussed or promoted.
"The Parents' Bill of Rights is really about acknowledging parents' vital roles in their children's lives," she said.
Bill highlights
The bill has a slew of provisions. It contains the same 10 rights that were in a similar bill filed last year. Those are things like the right to direct a child's education, direct moral or religious training, ability to access education and medical records, and make medical decisions for a child.
You can see the complete list below.
It also contains a list of "legal rights" for parents, which are as follows:
The right to consent or withhold consent for participation in reproductive health and safety education programs.
The right to seek a medical or religious exemption from immunization requirements.
The right to review statewide standardized assessment results as part of the State report card.
The right to request an evaluation of their child for an academically or intellectually gifted program, or for identification as a child with a disability.
The right to inspect and purchase public school unit textbooks and other supplementary instructional materials.
The right to access information relating to the unit's policies for promotion or retention, including high school graduation requirements.
The right to receive student report cards on a regular basis that clearly depict and grade the student's academic performance in each class or course, the student's conduct, and the student's attendance.
The right to access information relating to the State public education system, State standards, report card requirements, attendance requirements, and textbook requirements.
The right to participate in parent-teacher organizations.
The right to opt out of certain data collection for their child.
The right for students to participate in protected student information surveys only with parental consent.
The right to review all available records of materials their child has borrowed from a school library.
In addition, there are a series of notification requirements on physical and mental health listed in the bill. They include notifications to parents "of changes in services or monitoring related to his or her child's mental, emotional, or physical health or well-being" and "prior to any changes in the name or pronoun used for a student in school records or by school personnel."
There is an exception to these provisions "when a reasonably prudent person would believe that disclosure would result in the child becoming an abused juvenile or neglected juvenile, as those terms are defined in G.S. 7B-101," according to the bill.
The bill also says "an employee of the State who encourages, coerces, or attempts to encourage or coerce a child to withhold information from his or her parent may be subject to disciplinary action."
Under the legislation, any instruction on gender identity, sexual activity, or sexuality is prohibited in the curriculum for kindergarten through fourth grade. According to the bill, this does not include "responses to student-initiated questions."
Floor debates
Sen. Lisa Grafstein, D-Wake, a new representative who referenced herself as the only LGBTQ+ person in the room, kicked off the debate. She said she takes the bill sponsors at their word when it comes to the intent of the bill.
But she said that it isn't intent that matters, it's the consequence.
She referenced the many students, parents, and teachers that have come forth to talk about or speak against the bill. She said they understood that most of the bill is just restating current law, but that other parts actually change the law: provisions related to notifying parents about pronoun changes, or making sure that gender identity, sexual activity, or sexuality aren't discussed in grades K-4.
Of the latter, she said it amounted to policing references to LGBTQ+ people.
"We now know that no matter the intent, the consequence of this bill is widespread fear and concern," she said.
Sen. Graig Meyer, D-Orange, said he spoke as a parent and a former social worker in public schools. He said he believed in strong school and family partnerships, but said parts of this bill will make that harder.
He talked about working in schools and having kids come to him to talk, but they didn't want him to tell their parents what they said. He said sometimes it was because they were gay, pregnant, experiencing addiction, or in a gang. But he said he knew they really did want to tell their parents, they just needed guidance on how to do it.
"They want to tell their parents because they want to be loved by their parents," he said.
He said that a partnership between schools and parents is important, and cautioned his fellow lawmakers about the damage this bill could do to that relationship.
"This bill undermines that partnership because it falsely assumes that one side, the school side, does not believe in that partnership," he said.
Galey responded by emphasizing that the bill pertains to the pronoun used by children in their official school record and that to keep changes about that from parents would be damaging.
She also responded to Meyer, referencing students coming to teachers with questions that cover topics in the bill.
"When the teacher is asked questions by the children that are not pertinent to the curriculum … the teacher should tell the child, 'Ask your mom and dad,'" she said.
She went on to to say that there should be no confidential relationship between students and government employees that exclude parents.
Other reactions
At a press conference today, House and Senate Democrats discussed their own "Parents' and Students' Bill of Rights." Read more about that here.
In a joint statement, the Dudley Flood Center for Educational Equity & Opportunity and the Public School Forum of North Carolina came out against the Republican-sponsored bill.
"North Carolina's Senate Bill 49, better known as the Parents' Bill of Rights, threatens to violate students' rights to an equal education free from discrimination, and could create school environments that are hostile and unsafe for certain students," the statement said.
The groups took aim at multiple provisions in the bill, including the requirement to notify parents in the event that a child changes their pronoun.
"While parental involvement in the lives of their children is critically important, the reality is that fewer than 40 percent of LGBTQ+ youth live in homes that are affirming of their identities. Regardless of its intention, this bill could create dangerous environments for young people who may not have families who are willing or ready to provide the support they need," the statement said.
Read the full statement here.
The North Carolina Justice Center also came out against the bill, saying that it "unfairly targets vulnerable LGBTQ children and contains several provisions that would hamstring school operations and harm broad swaths of students."
"Many of the 'rights' enumerated in this bill are already established in state and federal law. Similarly, the bill's prohibition of instruction on sexual orientation and gender identity in the K-4 curriculum is redundant—sexual orientation and gender identity are not part of the K-4 curriculum. To the extent new "rights" are provided, they open new avenues for bad actors to tie up school district operations and resources by filing frivolous requests for information and objections to instructional materials," the statement said.
Read that whole statement here.
This article first appeared on EducationNC and is republished here under a Creative Commons license.
Get stories like these delivered straight to your inbox. Sign up for The 74 Newsletter