North Carolina Saw Dramatic Drop in School Suspensions Last School Year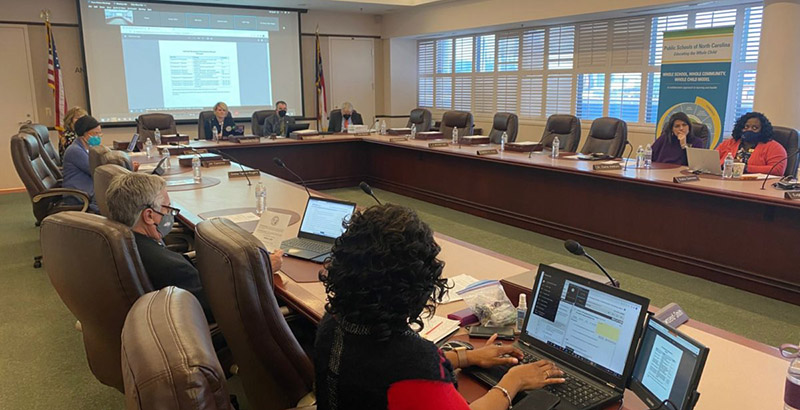 Get stories like these delivered straight to your inbox. Sign up for The 74 Newsletter
North Carolina saw a decrease in crimes, suspensions, and other disciplinary matters in schools last year, according to a consolidated disciplinary report presented to the State Board of Education on Feb. 2, 2022.
According to the report, the number of short-term suspensions for females dropped from 41,403 in 2019-20 to 4,879 in 2020-21. For males, the number dropped from 111,469 to 14,597.
Rather than being the result of some dramatic intervention, this is in keeping with the fact that COVID-19 caused severe disruptions to in-person schooling last year. The data presented in the report includes the following caveat:
"In response to the COVID-19 pandemic, starting in March of the 2019-2020 school year and continuing through the 2020-2021 school year, public school units across the state employed unprecedented methods to ensure continued student learning by utilizing various modes of instruction and student outreach. As such, caution should be taken when comparing data reported for the 2019-2020 and 2020-2021 school years to data reported for prior and subsequent years."
The report goes on to state that the vast majority (93.9%) of short-term suspensions were due to "unacceptable behaviors," which is a category made up of the following list of possible actions:
Bullying/harassment
Assaults/threats
Defiant behaviors
Interpersonal behaviors
Missing class/school
Repeat offender
Substance use related behaviors
Other
State Board member James Ford raised the question of why Black and Brown students are still disproportionately represented when it comes to suspensions. Ford pointed out that by delving deeper into the report, he found that some of the students most likely to be suspended were Black and Brown boys.
The report shows that defiant behaviors are the largest sub-category (47.2%) within the unacceptable behavior category.
"Can anyone tell me what a defiant behavior is?" Ford asked.
Robert Taylor, the deputy superintendent of School and Student Advancement at the state Department of Public Instruction (DPI) and co-presenter of the report, said that he calls "defiant behaviors" the "get-out-of-jail free card" for administrators, as they can use it as a catch-all to punish students without providing specifics.
"This is something we've dealt with for decades," he said, adding that there needs to be continued training for administrators so they understand they can't categorize kids as something they aren't.
"The numbers absolutely speak for themselves," Taylor said.
Ford said that Black and Brown boys are the least served, most marginalized group of students and the group most likely to have been left behind during COVID-19.
"It's that same demographic that's being suspended," he said. "We're exacerbating an already inequitable system if we don't address that."
Lt. Gov. Mark Robinson, however, said that he has heard from Black teachers across the state that their Black students are a problem. He asked if there are specific conversations going on with Black teachers and principals about these numbers.
"Instead of trying to fix the system, maybe we need to start looking at some of the folks coming into the system," Robinson said.
Karen Fairley, the executive director of the Center for Safer Schools and co-presenter of the discipline report, said that school staff need to be trained in behavioral assessment so that challenges faced by particular children can be identified and addressed. She said that to begin to tackle short-term suspension issues, her group plans to look at schools with high rates and start from there.
The report also includes incidents of crime and violence in schools, expulsions, use of corporal punishment, reassignments for disciplinary reasons, alternative learning placements, and dropout rates.
Rates were down in all categories, except corporal punishment and dropout rates.
There was no corporal punishment reported in 2020-21. The dropout rate did increase from 2019-20, though it remains lower than in 2018-19.
Personal leave
During this past General Assembly session, the budget passed by lawmakers revised how teachers can take personal leave. Previously, teachers had to pay the cost of a substitute teacher if they took personal leave, but after passage of the budget, teachers don't have to cover substitute costs if they give a reason for taking leave. However, the budget did not specify what reasons would be considered valid.
The State Board of Education approved a policy amendment that says any reason is valid for a teacher to take personal leave.
COVID-19 update
The state Department of Health and Human Services (DHHS) gave a COVID-19 update to the State Board of Education.
Among the items covered was the number of school districts with mask mandates. As you can see in the slide below, 87 districts require face masks, which is about 75% of districts in North Carolina.
The presentation also included data on vaccinations by age group, which you can see in the slide below.
The State Board also heard that DHHS has 1 million N95 masks available to distribute to K-12 schools. The department has sent out surveys to districts to order the masks. Survey responses are due Friday, Feb. 4. See the slide below for more information on ordering masks.
See the full presentation here.
New western campus for Governor's School
The State Board heard the news this week that the western campus of the North Carolina Governor's School is moving from High Point University to Winston-Salem State University.
The school, a residential summer program for juniors and seniors in high school, will be at a public university for the first time in its history, according to a press release from DPI. The press release also said this is a "return" of the Governor's School to Winston-Salem, since it started there at Salem College in 1963.
The western campus was at High Point for the last three years. The eastern campus of the school is at Meredith College in Raleigh.
"Students across North Carolina are very fortunate to have this special opportunity to learn, explore and create during this summer program," state Superintendent Catherine Truitt said in a press release, "and both the State Board of Education and the Department of Public Instruction are glad to enter into what we hope will be a long partnership with Winston-Salem State. We know this is a win for students, the university and the state."
Credit Attainment Report
The State Board heard a report on Career and Technical Education (CTE) credentials received by North Carolina students in 2020-21. Like many things during COVID-19, the numbers here dropped from previous years. The number of CTE credentials went from 241,338 in 2019-20 to 126,078 in 2020-21.
Read the full report here.
Lab school and restart school approval
The State Board of Education approved a new laboratory school as well as a new restart school. Both are alternative models of traditional public education.
The University of North Carolina System is supposed to open nine laboratory schools in the state by 2022. These schools are supposed to fulfill three goals: improve "outcomes of K-8 students from low-performing settings" and "strengthen" both teacher and principal preparation.
There are currently six lab schools. The State Board approved a seventh one to be opened by Appalachian State University. It will be that university's second lab school. Two more are in the works from North Carolina A&T and UNC-Chapel Hill.
The State Board of Education also approved a new restart school in Pitt County, C. M. Eppes Middle School. Restart schools are schools that are continually low-performing and are granted charter-like flexibility.
It will open as a restart school next school year and will become the state's 153rd restart school.
Staff departure
A long-time fixture of State Board of Education meetings announced his departure at the February State Board meeting. Freebird McKinney, Director of Government and Community Affairs for the State Board and DPI, and former state Teacher of the Year, said he is leaving to join Participate Learning.
"I want to thank the State Board of Education for this opportunity, for believing that an educator should be at the table," he said, adding later, "Thank you all for always putting the students first … and for epitomizing servant leadership. It has been humbling to watch and to witness."
This article first appeared on EducationNC and is republished here under a Creative Commons license.
Get stories like these delivered straight to your inbox. Sign up for The 74 Newsletter