N.C. Gov. Roy Cooper Declares 'State of Emergency' for Public Education
'It's clear that the Republican legislature is aiming to choke the life out of public education,' said the Democratic governor.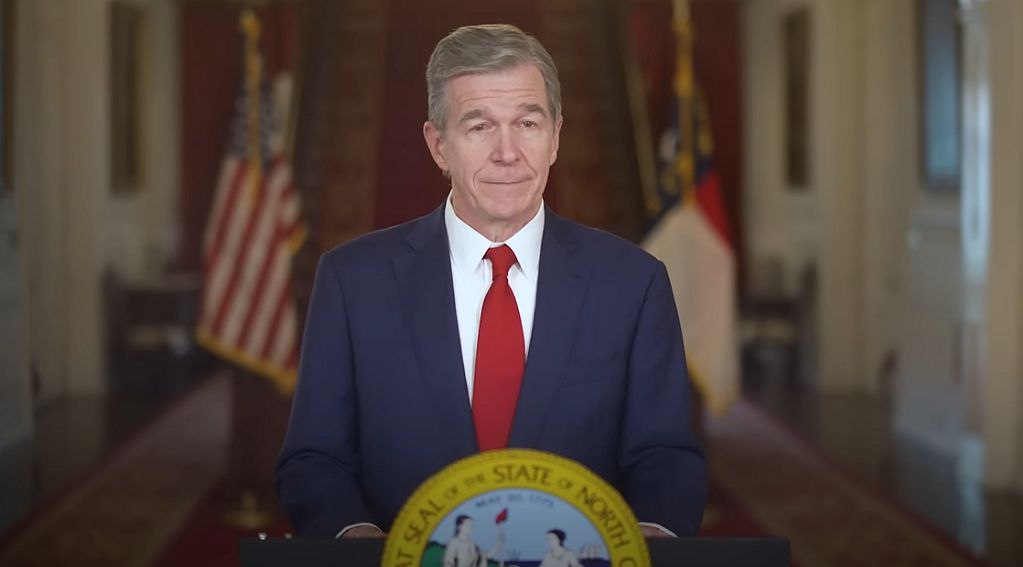 Support The 74's year-end campaign. Make a tax-exempt donation now.
Gov. Roy Cooper went on the attack Monday, blasting away at Republican legislation that he contends will "choke the life out of public education" in North Carolina.
The Democratic governor said that it's time to declare a "state of emergency" and he urged North Carolinians to contact lawmakers to protest legislation that could irreversibly damage the state's system of public education.
"It's clear that the Republican legislature is aiming to choke the life out of public education," Cooper said. "I'm declaring this a state of emergency because you need to know what's happening. If you care about public schools in North Carolina, it's time to take immediate action and tell them to stop the damage that will set back our schools for a generation."
Cooper said extreme GOP legislation could cost the state's public schools hundreds of millions of dollars, exacerbate a stubborn teacher shortage and bring political culture wars to classrooms.
He lashed out Senate Bill 406, a bill to expand the state's school voucher program. Under the proposal, even the state's wealthiest families would qualify for what are known as "opportunity scholarships" to help pay for private schools. The voucher program was created a decade ago to help low-income families escape low-performing districts and schools.
"Their private school voucher scheme will pour your tax money into private schools that are unaccountable to the public and can decide which students they won't to keep out," Cooper said. "They want to expand private school so that anyone, even a millionaire, can get taxpayer money for their children's private academy tuition."
Voucher critics complain that the private schools that receive taxpayer money engage in religious indoctrination and exclusion, discriminate against LGBTQ students and parents, and are not held accountable for academic outcomes the way charter schools and traditional public school are.
They also contend that vouchers divert money and other resources from already underfunded public schools. Under the proposed legislation, annual spending on private school vouchers would steadily increase until it reaches $500 million by the 2031-32 school year.
Meanwhile, voucher supporters such as Rep. Tricia Cotham, a Republican from Mecklenburg County, contend that expanding the voucher program will help families that decide that public schools aren't the best fit for their children. Cotham, a former Democrat who switched parties in March, co-sponsored a House bill with the same language.
On Monday, Cotham tweeted that Cooper is "advocating for systems rather than students themselves."
"Education is not one-size-fits-all and NC families should have the freedom to determine what kind of education is best for them," Cotham said. "My bill to expand the NC Opportunity Scholarship program, to allow all NC families to make that choice, will soon be on his desk, waiting on his signature. NC kids are waiting, Governor! Stop the political theater and put kids first!"
Cooper also took aim at the Senate's teacher pay raise proposal, which he said will only increase veteran teachers' salaries $250 over two years. There are currently 5,000 teaching vacancies, he said.
"Two hundred and fifty bucks," Cooper said. "That's a slap in the face and it will make the teacher shortage worse."
The Senate recently released a budget calling for a 4.5% average teacher pay raise over two years. The budget would bump starting teacher pay to $39,000 annually. First year teachers currently earn $37,000 a year.
Cooper's budget includes an 18% teacher raise over the biennium. The budget approved by the House in April called for raises of 10.2% over the two-year budget cycle. Teachers would receive a 5.5% pay increase the first year, with the remainder coming in year two.
Cooper also said Republican lawmakers want to accelerate tax cuts that are projected to cut North Carolina's state budget by almost 20%, which will hamstringing the state's ability to pay for public education.
"Tax giveaways to the wealthy also harm our youngest learners," Cooper said. "Families and businesses across the state have called for strong investments in early childhood education," he said. "So far, the legislature is turning its back on children, parents and the businesses that want to hire those parents by shortchanging pre-K, Smart Start and quality childcare."
Cooper used Monday's press to warn North Carolinians about the GOP's plans to inject their "political cultural wars" into classrooms with bills to allow politicians to develop curriculum, micromanage teachers and target LGBTQ+ students.
"Already, prominent Republicans have proposed eliminating core science classes and are pushing to rewrite history curriculums to fit a political agenda," Cooper said. "Students need an education that prepares them for the workforce and success."
According to a news release, Cooper will meet with business leaders, educators and parents this week to raise awareness about the dangers of the Republican-backed bills he believes are harmful to North Carolina's public schools.
NC Newsline is part of States Newsroom, a network of news bureaus supported by grants and a coalition of donors as a 501c(3) public charity. NC Newsline maintains editorial independence. Contact Editor Rob Schofield for questions: info@ncnewsline.com. Follow NC Newsline on Facebook and Twitter.
Support The 74's year-end campaign. Make a tax-exempt donation now.