Myth of the Hero Teacher? What the New York Times Gets Wrong About Schools Overcoming Poverty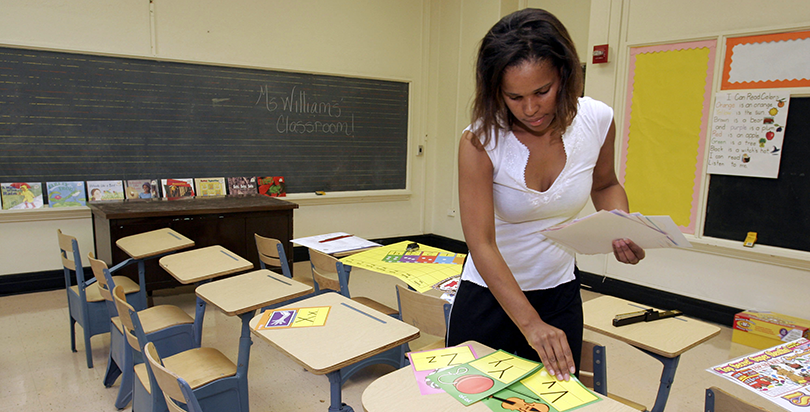 "
The Myth of the Hero Teacher
" is the New York Times's most recent, melancholic meditation on the education profession. A review of Ed Boland's new memoir, the piece considers the failure of a new teacher at an urban, low-income school.
According to the article, Boland entered the classroom fueled on "movies like Dangerous Minds and Stand and Deliver, in which heroic teachers reach into the lives of at-risk adolescents and make a difference." He left feeling somewhat otherwise.
Sources are quoted. Experts are consulted. And, in the end, the piece gives us opportunity to consider the specter of poverty and the shadow it casts over education.
Grim stuff.
Fundamentally, the Times article is right. Too often we've settled on a mythology that a single teacher can turn the tide against poverty, and when that quixotic expectation falls short, we throw up our arms in defeat.
The message we all strangely accept: "Sorry, but this is too big. Go home. Save yourself the heartbreak."
I think it's time that the narrative in our country began a fundamental shift – away from "How is it possible to succeed amid all these challenges?" to "How is it possible to remain failing when there are so many good solutions?" I don't care how stubborn poverty is — failing schools can never be an acceptable status quo.
So here's another story the press hasn't been quite so aggressive about covering. It's about educators who — tired of the lone wolf
Stand and Deliver
mythology — decided to build something different, and to do it together.
Instead of a "sorry, but," it's a story of "yes, and."
Did it take better training and support for teachers? Yes, and — a character-building discipline system? Yes, and — a curriculum that challenges students to think at the highest levels? Yes, and — regular follow-up with students even when they are in college? Yes and…I think you get the idea.
The thing is, there are schools out there right now — as you read this and as I write it — that are giving lie to the implication that school improvement needs to wait for the country to
heal poverty
.
We can't wait, and we don't have to.
The school achieved it through more systems and strategies than I could possibly recount here. The good news is that I don't have to.
Uncommon Schools, which manages North Star, publishes
books
— and
books
and
books
– to share its practices. It regularly films teachers to "show" and not just "tell." It opens its doors to hundreds of visitors every year. It runs professional development for external audiences and sells trainings so they can turn-key them locally.
Of course, Uncommon doesn't have all the answers, but it isn't the only organization that is doing this. There are tons of other schools — charter and traditional and private — that are happy and eager to share best practices. We're all in the business of helping kids.
And while teachers alone probably cannot make the change we need, teachers working together most definitely can.
Just ask Jaime Escalante.
Earlier in my career, I too watched Stand and Deliver and became curious about the famed educator. If he had some classroom magic, couldn't I just replicate it in my room and see the same results?
It turns out that Escalante didn't work solo miracles the way the film implies. Rather, he worked with a group of
teachers and administrators
to make change for his community. The lone wolf of education reform ran in a pack.
It's about time we dropped the myth of the lone "hero teacher" along with the one that poverty is just too big a villain to confront.
There are plenty of heroes out there — they're all working together to build rigorous, joyful schools for kids who deserve them. They are teachers and administrators and politicians and parents who are tired of waiting for change and have gone about the business of making it.
These kinds of heroes aren't mythological. You don't have to imagine what their victories look like.
Just ask and they'll show you.
Support The 74's year-end campaign. Make a tax-exempt donation now.