My School Built an Online Summer Program Both for Our Students and for Kids in Our Community Who Aren't. 3 Things We've Learned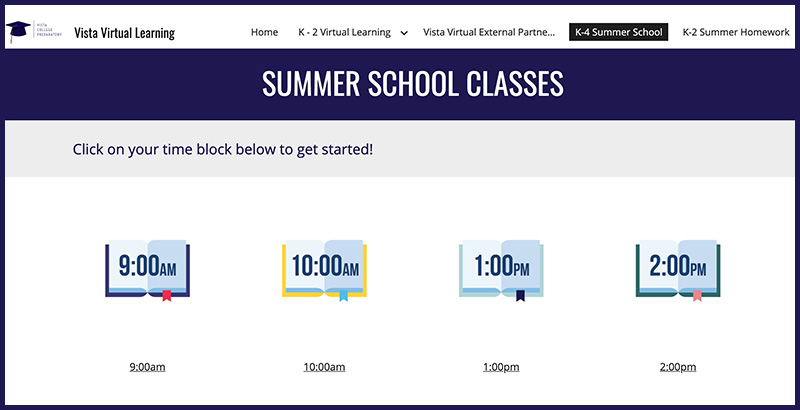 As COVID-19 cases surge across the country, the conversation about how to safely reopen schools continues without clear consensus. While some states have pushed start dates back, others are planning for hybrid models, and some continue to plan for full in-person learning. Here in Phoenix, where the network of schools I lead, Vista College Prep, is located, start dates have been pushed back by at least two weeks and likely much longer. Therefore, we must start remote learning on schedule.
At Vista College Prep, over 90 percent of our students come from low-income households and are Black or Latino, and more than half speak a language other than English at home. Nationally, educators serving low-income communities have struggled to adapt to remote learning. Although it's easy to blame access to technology, there are also deeper equity issues at play. A recent McKinsey study showed that while access is a factor, it is also the quality of remote learning, home support and engagement that collectively may contribute to over 12 months of lost learning for low-income students. The stakes are high.
We are responding to this challenge by committing to running a high-quality remote-learning program and by partnering with local institutions to counter the COVID slide. Vista Virtual, which we formally launched at the start of June, is a summer school program designed to help students catch up on learning they missed this spring. We partnered with Northern Arizona University to have its teacher candidates support our students with Vista Virtual while continuing their own professional development and earning course credit. Beyond our school, we are also delivering the program through two landmark Phoenix institutions: Boys and Girls Clubs of the Valley, which serves more than 16,000 young people in our region, and UMOM New Day Centers, which provides housing and services for more than 170 homeless families.
We have learned a great deal by putting together this curriculum and building partnerships to expand its reach, and many of these lessons are transferable. As educators across the country plan for a remote or hybrid model, here are some key takeaways based on our experience:
1 School leaders need to prioritize live instruction while students work remotely
One of the many divides in how schools adapt to remote learning is how much each emphasizes live instruction versus recorded lessons. As we connect with more and more schools across the country, and based on our experience this summer, our research tells us that live instruction from a teacher is vital, and that school teams should do everything they can to preserve as much of it as possible. Recorded lessons just aren't an adequate replacement.
We've seen tremendous results from live guided reading groups that students have participated in this summer, and as we plan to start our year remotely, we'll prioritize live learning and tailor our staffing plans accordingly.
2 Prioritize student and teacher connections when revising staffing models
Building a weekly school calendar during the pandemic has been a challenge, to say the least. To meet students' needs, we have to think creatively about schedules.
In the spring, we focused on assigning teachers to different roles: While one teaches the lesson, others offer individual support and coaching to students who need extra help, while still others grade classwork. There are several benefits to this approach, but we have decided to move back to the idea that one teacher needs to maintain a homeroom, or advisory, just as we would have during in-person learning. Other teachers may teach different content during the day, but at least one will be responsible for a group of about 15 students. Routine and consistency are critical, and though we are not expecting to go back in person anytime soon, we believe teachers, families and students will greatly benefit if we can keep a similar schedule in place once we do.
3 Individual schools can't tackle the challenge of remote learning alone. Pursue partnerships to expand impact
Over the past six weeks, we've partnered with Northern Arizona University so its teacher candidates can gain valuable instructional experience by assisting our teachers and students. We are now exploring ways for this work to continue virtually in the fall. Everyone benefits — the university's teacher candidates, our mentor teachers and, most importantly, our students.
Our partnerships with the Boys and Girls Clubs and UMOM, two organizations serving similar student populations to Vista College Prep's, were built on the idea of increasing impact. Once we trained their teams on how to utilize its resources, our Vista Virtual curriculum became part of their program day — whether or not children were Vista College Prep students, they still had the opportunity to learn over the summer.
My advice for school leaders and policymakers is to use the summer break to take a step back from day-to-day crisis management, assess the resources available in their given city or state and then come up with a plan to deploy these resources in a way that helps the highest-need children.
When all is said and done, 2020 may go down as a lost year for students. Educators and policymakers need to push back against that notion with everything they have. The pandemic has highlighted so many of society's deep inequities, but educational access does not need to be one of them. By thinking creatively, partnering strategically, holding ourselves accountable and extending ourselves a bit of grace, we can do right by our students despite overwhelming obstacles.
Julia Meyerson is executive director of Vista College Prep in Phoenix.
Support The 74's year-end campaign. Make a tax-exempt donation now.