Mustangs Helping Mustangs: CA High School Rushes to Aid Rivals After Fire Destroys 1,000 Homes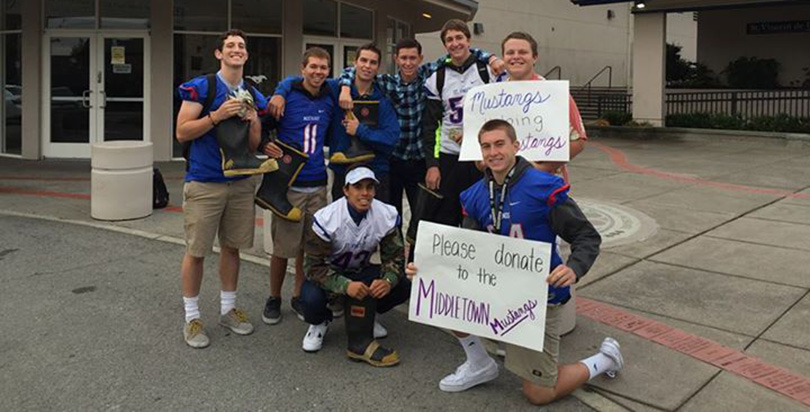 This article is one in a series at The Seventy Four which profiles the heroes, success stories, unexpected surprises and randoms acts of kindness to be found at schools all across America. Read more of our recent inspiring coverage at The74million.org/series/inspiring.
Two Northern California high schools are setting aside their rivalry this month in order to help their local community in the aftermath of a disaster.
A wildfire has devastated Lake County, Calif. and surrounding areas in recent weeks, leaving Middletown High School students and their families reeling. Nearby St. Vincent de Paul High School, has started several fundraising efforts in the spirit of helping their rival school,
according to Petaluma360.com
.
Last Friday, students hosted a pancake breakfast, and community members also dropped off checks at the school throughout the week. All of the sports teams are holding bake sales during their home games and the football team collected donations in fire fighter boots during drop off and pick up hours at the school,
according to the school's blog
. On
a Facebook post
, St. Vincent announced they've raised $4,400 so far:
St. Vincent has dubbed the collective events "Mustangs Helping Mustangs," reflecting the common mascot of the two schools. The effort fits with their school-year theme of "Care For Our Common Home."
The fire has affected at least 1,200 homes and killed three people in communities north of San Francisco,
according to ABC News
. The fire started Sept. 12 and is the sixth wildfire to affect the area this summer.
This week, President Obama signed a disaster declaration, which provides federal funds for cleanup and recovery.
The California Teachers Association has also
set up a fund
to provide financial assistance to teachers experiencing significant losses from the fire.
The Middletown Unified School, where Middletown High School is located, has closed all schools for over a week. Some of the schools
have smoke, ash and soot damage
and are currently being cleaned. The air in the school must also be purified and sewer systems need to be restored.
Support The 74's year-end campaign. Make a tax-exempt donation now.