Must-See: Mississippi Dads Turn Out to Give High-Fives to Students on Their First Day of Standardized Tests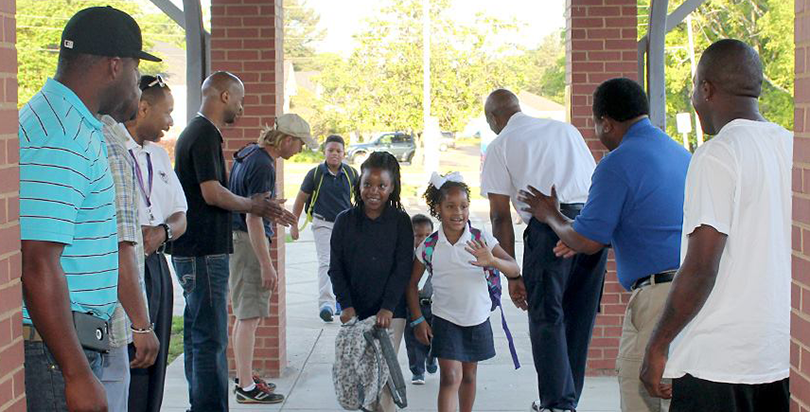 This article is one in a series at The 74 which profiles the heroes, victories, success stories and random acts of kindness to be found at schools all across America. Read more of our recent inspiring profiles at The74million.org/series/inspiring.
Palms were sweaty. Hearts were racing. It was the first day of Mississippi Assessment Program (MAP) testing, and as students approached McWillie Elementary School in Jackson, they received high-fives from dads lining the sidewalk, cheering them on.
---
Thx dads for encouraging scholars this morning, Yep we have A+ Fathers! pic.twitter.com/2yZK61POOI

— Dr. Cedrick Gray-JPS (@DrCedrickGray) April 25, 2016
---
The local chapter of WATCH D.O.G.S. (Dads Of Great Students) formed a human tunnel they dubbed the "Academic Corridor of Success." They gathered at all Jackson Public School elementary and middle schools on April 25 to give a boost of confidence to students on their first day of state testing.
"I think they felt … more encouraged and supported," McWillie Principal Harper told
The Huffington Post
. "When they see that parental support from their dads … they feel less stressed out about a state exam. It was exciting."
"We know that when parents step up they do better," Fredrick Nolan, coordinator for Jackson Public Schools WATCH D.O.G.S. program, told
KLTV
. "But when dads step up, they do exponentially better."
---
---
WATCH D.O.G.S. is a father involvement program founded in 1998. There are chapters in more than 5,148 schools across 47 states and Puerto Rico as well as China, Canada, Mexico, and Barbados.
Through the program, dads volunteer as carpool and classroom assistants, lunch monitors, and tutors.
According to their website
, WATCH D.O.G.S. has been credited by principals with spotlighting, and even decreasing, bullying in their schools.
Meanwhile, in Jackson, the local chapter is using the power of parental involvement to try and boost test scores.
As Nolan told
The Huffington Post
, "Sometimes, just knowing that others care about the success of our scholars is the motivation they need to cross the finish line into academic achievement."
---
Get stories like these delivered straight to your inbox. Sign up for The 74 Newsletter