Must-See: Hundreds of NYC Students Rallied Thursday at Stonewall in Support of Transgender Classmates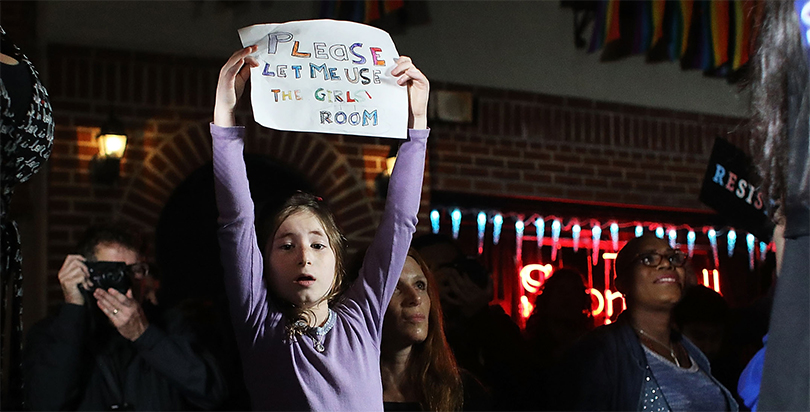 As the sun set Thursday night on Manhattan, impassioned students, parents, and LGBTQ advocates took to the streets around the Stonewall National Monument in Greenwich Village demanding equal protection for transgender youth in schools across America.
The rally, held at the site of the 1969 Stonewall riots that helped coalesce the modern LGBTQ rights movement, drew hundreds of demonstrators who spoke out against the Trump administration's revocation of protections for transgender students.
Signs large and small expressed shock and anger at the decision to cancel an Obama-era requirement that schools let transgender students use bathrooms that match their gender identity. Protesters stressed the importance of teaching America's youth lessons of tolerance and equal rights for all citizens, rather than bigotry.
---
---
As the demonstration began to disperse in Lower Manhattan, attendees formed an informal march that ended in Times Square. Here's a sampling of the scene as seen on social media:
Tal is a 3rd grader from Long Island at the #transrights rally at #stonewall to make sure his rights as a transgender student are protected pic.twitter.com/Psw23RvQ0t

— Jennifer Hsu (@jennhsu) February 23, 2017
Robin has a 9-year-old son who just transitioned a couple months ago. #transrights #stonewall pic.twitter.com/E6V54ZLJxO

— Jennifer Hsu (@jennhsu) February 23, 2017
Young protester outside Stonewall with handmade solidarity sign pic.twitter.com/xbmMr95JXe

— Danielle Tcholakian (@danielleiat) February 23, 2017
"When our trans youth are under attack, what do we do? Stand up, fight back" pic.twitter.com/gwW5pX9dtM

— shannon keating (@__keating) February 23, 2017
"My daughter deserves equal human rights"– at the #transrights rally at Stonewall pic.twitter.com/RSUZTMtJib

— Jennifer Hsu (@jennhsu) February 23, 2017
Queer is invincible #protecttransyouth pic.twitter.com/7SfhNxPnY5

— Dan Rosen (@WikiGrimoire) February 23, 2017
"I'm terrified for kids in school who are gonna get beat up or yelled at no matter which bathroom they use." – Magdalena Schmidt #Stonewall pic.twitter.com/6RH2Tf9oCc

— Katie Warren (@katiedwarren) February 23, 2017
Rally for transgender youth at the Stonewall Inn! <3 #ProtectTransYouth pic.twitter.com/y8FikjRWxY

— Kristyn Scorsone (@ykristyn) February 24, 2017
"This is what trans looks like." Mateo w/ @MaketheRoadNY joins demonstration to #protecttranskids! #Stonewall pic.twitter.com/qPwbUcHm3e

— Daniel Altschuler (@altochulo) February 23, 2017
East on 34th and then — trans youth march takes a surprise swerve into Macy's! pic.twitter.com/ot5yE2MZhM

— Nick Pinto (@macfathom) February 24, 2017
And now: Times Square pic.twitter.com/5VaWIVbOur

— shannon keating (@__keating) February 24, 2017
Support The 74's year-end campaign. Make a tax-exempt donation now.