Murray: Why One Ohio English Teacher Was Wrong to Say Preparing Students for Work Was Not His Job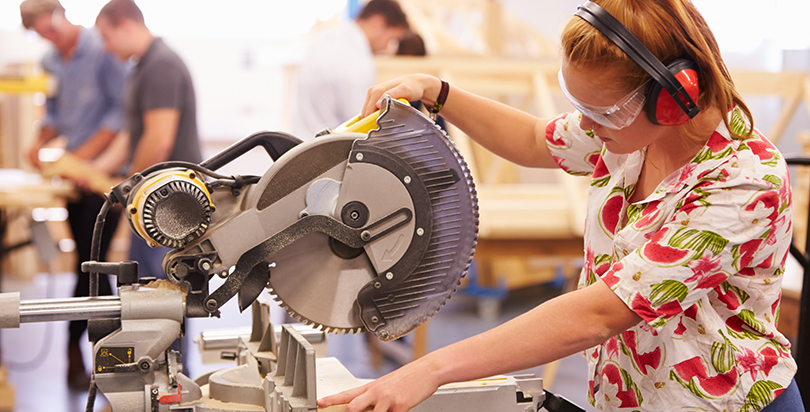 My first job out of college was in a construction company. I was hired as the office manager, receptionist, typist, and gofer. But I also transported enormous saw blades, delivered Christmas gifts to our best customers, called deadbeat clients to ask them politely but firmly when they were going to pay up, and even directed traffic on a busy commuter road during summer rush hour once in a while.
I graduated with a bachelor of arts degree in creative writing.
I had pursued that field of study because I wanted to be a writer and the English department at Ohio State University was pretty fertile ground for that. I took seminar classes from poets and award-winning short-story writers. Passed 'em all, too. I evolved from a lover of pulpy science fiction to an aspiring writer of literary fiction. It was thinky and boho and maybe even pretentious occasionally. The work was important, and we were all going to be the next great novelist, poet, or essayist.
And then I graduated. And life called me to dust and driving and deadlines. And you might think that nothing about my four years as an English major or my hard-earned degree mattered. Certainly Lakota Local School District English teacher Ian Avery thinks that. "I believe, as a professional English teacher," he writes, "that vocational training is neither my role nor my responsibility to my students." But I want to tell him that he's wrong.
Everything about my high school and college experiences helped me to become a successful employee. Math teachers gave me the skills to measure work areas and assist in computing price quotes. History professors helped me understand why a developer was converting this former manufacturing plant into apartments. Communications instruction helped me hone marketing pitches to boost business. And, yes, I used every ounce of wordcraft I had studied and obsessed over in Brit Lit and Sonnet Seminar to write newsletters, clarify job specs, and interact with customers. It wasn't Fitzgerald, but it was clear and direct and helpful to business. They didn't know they needed an English major until they got one.
And I could have succeeded in the same way in other areas too. Because above all, high school and college taught me how to think, how to work hard, how to budget my time, how to get to the point, and how to produce my best work under pressure whatever the arena. Chemistry or poetry, it was all vital preparation for the future, and my teachers and professors seemed to feel the same. A great school, to me, is one in which every adult involved — the PTA, the cafeteria staff, the guidance counselors, everyone — shows up early and works to their fullest to teach young people (and to show them by example) how to reach their highest potential.
That is why I was saddened to hear Mr. Avery say with such finality that his job is not to prepare his students for the workforce. He is specifically objecting to Gov. John Kasich's proposal that Ohio teachers serve an externship in a local business as a requirement to renew their teaching licenses. What I believe Mr. Avery means is that teaching English is to him about art and beauty, words and meaning — an abstract pursuit in opposition to career tech or vocational education.
It's not clear whether Avery would approve of externships for these more practical teaching professionals, but either way, his opposition to this proposal appears to embody the disconnect between teachers and the working world that Kasich was trying to address. The externship proposal may not be wholly practical as pitched, but there's nothing wrong with the motivating sentiment.
I am proof positive that "professional English teachers" have vital input into shaping their students' aptitude for work, just as teachers of more concrete disciplines do. I know that STEM is all the rage right now and that high-tech jobs are going unfilled in Ohio and elsewhere due to a lack of qualified applicants. If I were in high school today, maybe I would choose a different path based on these facts. But even though I believe the future needs more computer programmers and engineers than it does transcendentalist writers, the future also needs abstract thinkers, storytellers, lovers of beautiful words, analysts, and people who can render complex ideas understandable in all areas of our workforce. The best employee is both thinker and maker.
English teachers have as much responsibility to build the smartest, most disciplined, cleverest, and most resourceful citizens and workers as any other type of teacher. Any insistence by any teacher upon keeping practicality and imagination siloed and separate seems out of touch with the real world as I know it.
Support The 74's year-end campaign. Make a tax-exempt donation now.