Munson & Shadel: What Does It Take to Implement High-Quality Curriculum Across Subjects and Grades? We're Working With One School and Creating Another to Find Out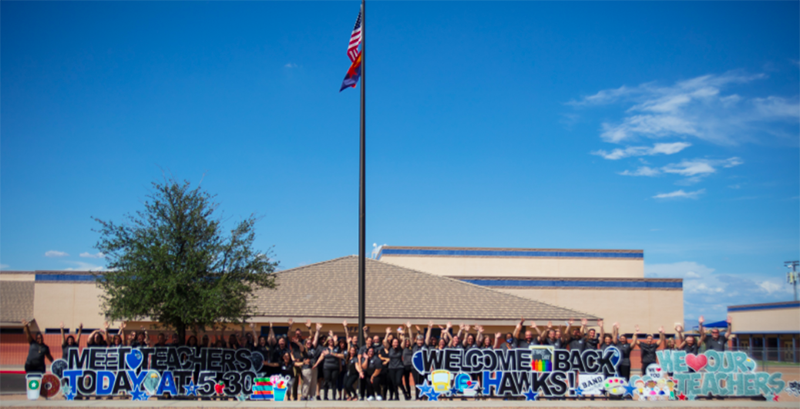 Get stories like these delivered straight to your inbox. Sign up for The 74 Newsletter
It's time to get serious about innovation in education. And we don't just mean more ed tech. The pandemic caused tremendous disruption to U.S. schools this past year and a half — cutting off kids from teachers, peers and learning routines. To simply return to business as usual would be to shortchange students and communities. It is essential to reflect on what has, and has not worked, and be bolder and better going forward.
When it comes to innovation, we're trying something new while relying on our expertise as curriculum developers. Our nonprofit, Great Minds Schools, is working closely with a district partner and education researchers to identify what it takes for an entire school to implement a high-quality, robust academic curriculum across subjects and grades.  Curriculum quality hasn't always received the same level of attention as hot-button education issues like teacher evaluations and testing strategies. But research shows that high-quality instructional materials can have a large, positive effect on student outcomes and can better support teachers.
The projects we're embarking on, which include both delivering instruction and participating in research, will focus on the quality of curriculum used across content areas, how to implement it effectively in the classroom and the support teachers need. 
Our first project is a collaborative partnership with Florence (Arizona) Unified School District #1 to provide one of their K-8 public schools, San Tan Heights, with highly rated math, English and science curricula from our publishing subsidiary, along with teacher professional development and coaching. We are also helping the school select or develop strong classroom materials for other subjects, such as social studies, art and music. Families are enthusiastic about the new approach and revamped school. In a state where students have the option of applying to schools outside their neighborhood, about 900 enrolled this year, more than the 550 projected.
Schools typically adopt one new core curriculum per school year, but this year San Tan Heights brought in new resources simultaneously in every core content area. That has challenges, but we're already seeing benefits, such as rich conversations across subject areas. Typically, when schools adopt a new math curriculum, for example, only the math teachers get related training. But at San Tan Heights, all teachers take part in professional learning related to new resources. So, art, music and science teachers are well versed on
what's happening in math and literacy and are using many of the same instructional routines as their colleagues who teach those subjects. Teachers across content areas also work together to create interdisciplinary learning experiences for their students.
Our research partnership with the Johns Hopkins University Institute for Education Policy will further allow us to monitor success and challenges and share what's working with others. This independent, third-party evaluation will measure the impact of this project over time on a range of outcomes, from student achievement to school climate and culture.  Researchers will use surveys and other tools to examine changes to teacher practices and gain insights into the academic and non-academic aspects of school culture and life.
Some of the challenging questions we're exploring include how to develop a school system that  improves teacher recruitment and retention, how to roll out a curriculum to ensure high levels of student growth and to what degree teachers use curricular resources provided to them. Through the research, we hope to learn how various practices and programs improve student outcomes and whether approaches to professional development translate to positive changes in the classroom. The research team will be fully integrated into our work over the next five years as we develop a system for collecting and analyzing data. Team members will meet with staff and district leaders to share findings along the way, so teachers can align their instructional practices to what's working well for students.
Our second project is the launch of a fully accredited virtual school that will be operational in the 2022-23 school year, starting with sixth grade. The tuition-free, independent school will also be built on these strong curricular resources and professional development opportunities for teachers, tailored to virtual instruction. We'll support the use of best practices in digital education and of great approaches that are typically seen in brick-and-mortar schools but can be adapted for online programs.
Demand for quality online learning is rising because of the pandemic, with some families opting to continue virtual instruction their children first experienced during school shutdowns. There were nearly 700 full-time virtual schools in place across the United States in 2019-20, enrolling approximately 300,000 students, according to National Center for Education Statistics data. Those figures are estimated to have since increased further. Unfortunately, this growth comes amid generally poor overall performance by the sector. For example, the average graduation rate from virtual schools is 55 percent, well below the 85 percent overall national average.
Students enrolled in the new virtual school will experience high-quality live instruction led by great teachers. Too often now, students in virtual schools simply watch recorded lessons and work on their own. In our school, during live lessons, students will participate in discussions with peers and collaborative learning. They also will engage in independent work designed to foster knowledge building and bolster their experience in live classes. To truly innovate in this area and improve the quality of services offered online means we  must, as with San Tan Heights, engage in independent research to explore what's working and what's not. We're looking for an independent partner for this project now. We'll be assessing how student outcomes in our program compare with those in other schools and hope to study how a virtual school can foster a strong culture and climate as well.
Because we'll share findings widely, we think these projects can have broad impact, especially in helping to close longstanding educational gaps. Districts like Baltimore City Public Schools and Washington, D.C., have demonstrated that curriculum quality can be a key lever for improvement in schools that predominantly serve students of color and those from low-income households. Resources in such communities have too often been of a lesser quality, contributing to inequity in our education system.
Whether they are investing in new resources, trying new instructional approaches or choosing another lever for improvement, schools across the country should be thinking big. Of course, they need to focus on catching kids up on material they might have missed in these challenging times. But they also need to look beyond that task, so that students — regardless of where they live and whether they're learning in person or virtually — get the kind of education on which bright futures are built.
Lynne Munson is founder and executive director of Great Minds, a nonprofit organization whose affiliate has created highly rated math, English language arts and science curricula. Dr. Steven Shadel is director of Great Minds Schools. He previously served as the executive director of literacy and STEM in Skokie, Illinois.
Get stories like these delivered straight to your inbox. Sign up for The 74 Newsletter