Morris & Yoshikawa: The Short-Term Economic Argument for Expanding Access to Preschool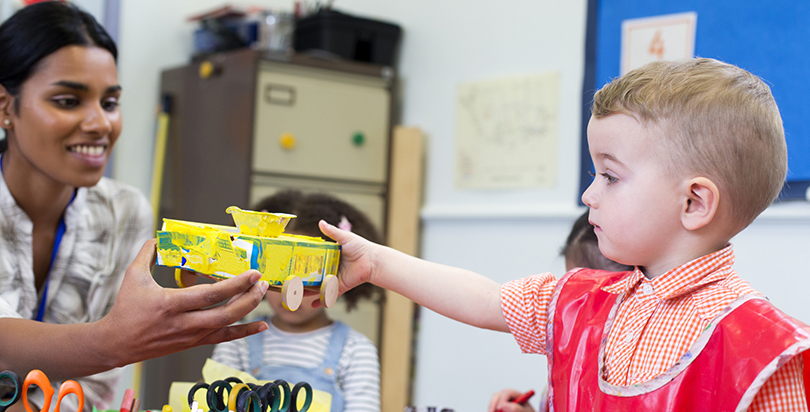 In April, New York City Mayor Bill de Blasio announced 3-K for All, an expansion of the city's early childhood education initiative to support the learning and development of the youngest New Yorkers. Early education experts have applauded this effort because research on brain plasticity in early childhood and early education programming illustrates the long-term benefits of pre-K. Yet this investment can create another potential opportunity for families that has been largely ignored — immediate economic gains that come with publicly funded early childhood education. Mayor de Blasio's 3-K for All program would provide every eligible family an extra year of high-quality education.
Research shows that low parental income can affect a child's health and create academic challenges and deficits in social and emotional development. These persist into adolescence and even into adulthood. Poverty also contributes to many of the most serious social problems facing our nation, including the widening achievement gaps between high- and low-income students and declining college graduation rates.
But based on strong evidence across multiple studies, raising family incomes can reverse these trends and improve achievement and development. Our own work on this topic conducted with MDRC comes from studies in which low-income parents were randomly given access to programs that provide more income. Much like clinical trials in medical research, these studies show that offering families as little as $1,000 a year in income can not only encourage work effort but also produce notable gains in preschool children's achievement as they enter elementary school.
This is in part because families appear to use the additional resources to provide basic necessities like food and clothing as well as educational opportunities for their children. We also know that child care subsidies can boost parental employment rates. Research from expansions of child care subsidies has shown that maternal employment, in particular, rises substantially from access to help with child care.
Secondly, anyone with a young child knows how costly preschool can be. In New York City, the average family pays upwards of $11,000 annually. Allowing families to keep that money in their pockets will allow them to invest that money in their children.
Would the economic benefit in the city's plan primarily affect those who don't need it? Nationally, 62 percent of 3-year-olds from well-off families (more than four times the poverty threshold) are enrolled in preschool education, compared with 41 percent from middle income families and 32 percent of those who are near-poor or poor. Thus, the greatest needs for access to preschool are among children from poor, near-poor, and middle-class families. The de Blasio administration wisely aims to begin expansion by focusing on two of the city's poorest neighborhoods in the Bronx and Brooklyn.
Although the very poorest families may have access to cost-free Head Start and/or child care vouchers, parents won't qualify for Head Start once they reach the poverty line — about $20,000 in annual income for a family of three. There are extensive waiting lists for both programs, and parents in New York who are making as little as $25,000 per year are expected to pay more than $2,000 per year on child care even under the voucher system. For those low-income families that struggle to save for the monthly child care bill, getting free high-quality pre-K and being able to reroute that money to other family needs is doubly beneficial for the kids. Not to mention that having care can help low-income parents work more (and thus earn more), as well.
3-K for All may have a "double benefit" for families — supporting children through quality care and learning, while improving the economic lives of their families. Together, this joint set of benefits bodes enormously well for our youngest New Yorkers.
Pamela Morris is a professor and the vice dean for research and faculty affairs at the NYU Steinhardt School of Culture, Education, and Human Development; Hirokazu Yoshikawa is a professor and co-director of the NYU Global TIES for Children Center at the NYU Steinhardt School of Culture, Education, and Human Development, as well as co-author of Cradle to Kindergarten: A New Plan to Combat Inequality.
Get stories like these delivered straight to your inbox. Sign up for The 74 Newsletter