More Than Half of California's High School Grads Still Don't Meet Minimum Requirements for the State's Own Public Universities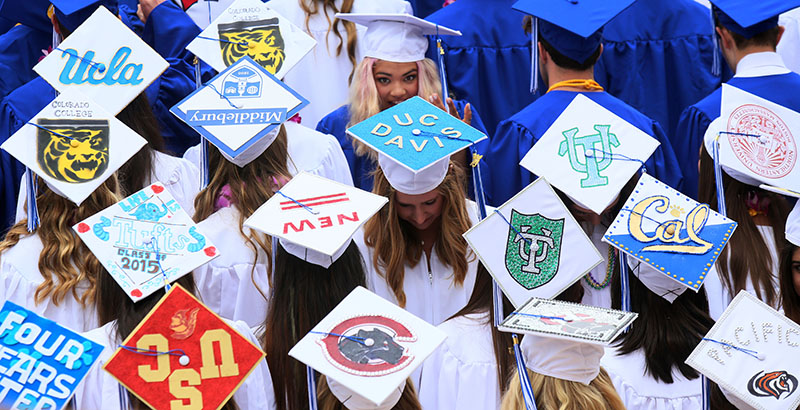 This article was produced in partnership with LA School Report
Fewer than half of California's high school graduates last year met the minimum requirements for the state's public universities, according to data released Thursday by the state Department of Education.
That's despite what the department calls a "significant upward trend" in graduation rates this decade.
But that upward trend ended with Thursday's data release. The state's grad rate for 2017 dropped 1 percentage point because an audit by the U.S. Department of Education's Office of Inspector General found California did not calculate its rates according to federal requirements.
Under the new calculation, the state grad rate dropped from 83.8 percent in 2016 to 82.7 percent in 2017. Graduation rates in Los Angeles Unified, the state's largest school district, dropped from 77.3 percent to 76.1 percent. However, LA Unified noted later Thursday that the state had not counted the district's affiliated charter schools, which are operated by the district, and thus its adjusted graduation rate for 2017 was 76.8 percent.
A spokesman for the department, however, said this year's numbers should not be compared to the old ones because they were compiled with different calculations.
"They're totally different calculations that include different students," said department spokesman Scott Rourke.
The new methodology means three student groups are not counted in the grad rates:
● students who earn an adult education diploma;
● students who pass the high school proficiency exam, which is similar to the GED; and
● students who leave high school and go to an adult education program, or enroll in a high school diploma program at a community college, and then graduate.
Going forward, California will calculate its grad rates in this new way, but it won't retroactively change previous years' rates, even though the federal audit described the numbers as unreliable and recommended that they be reworked.
While fewer than half the 2017 graduates met the requirements to apply to the state's public universities, that number has been rising. In 2013, only 39.4 percent of graduates were eligible; in 2016, 45.4 percent were, and in 2017, 46.8 percent were. To qualify for state universities, students must complete a set of college-prep courses with a C or better.
The department capped its news release on the new graduation rates by pointing out that this year's grad rates at non-charter schools are higher than those for charter schools, once alternative schools are factored out.
While graduation rates at traditional schools top those at charter schools — 91.5 percent, compared with 82 percent — a greater percentage of students leave charter schools ready to enter state universities. At traditional schools, 47 percent graduated meeting state university requirements. Just over 50 percent of charter school graduates met those requirements.
"This is the latest in an endless series of wake-up calls to Sacramento, where inertia continues to prevent our public schools from meaningfully improving," Bill Lucia, president of the advocacy group EdVoice, said in a statement. "These numbers are alarmingly low, especially for our state's most vulnerable students. Only half of California's foster students graduate from high school. In San Francisco County, just over half of African-American students — 56.4 percent — graduate. In L.A. County, less than two-thirds of English learners — 62.1 percent — graduate. Those are unacceptably poor odds for kids enrolled in California public schools. The state is clearly failing its most vulnerable children. All children deserve public schools that work."
Get stories like these delivered straight to your inbox. Sign up for The 74 Newsletter