More Student Funding, Full-Day Pre-K, Teacher Raises & a Longer School Year — Inside Texas's $11.6 Billion School Finance Reform Law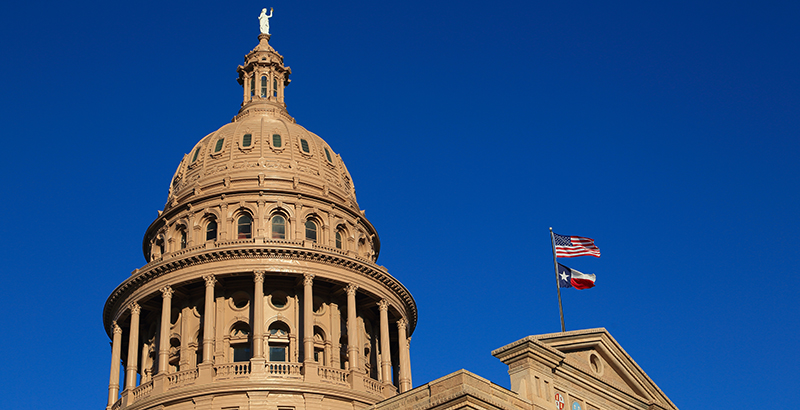 Updated Aug. 15
When Republican members of the Texas House of Representatives arrived in Austin in January for the 2019 legislative session, they received a telling welcome gift from newly elected Republican Speaker Dennis Bonnen: drinking cups embossed with the message "School Finance Reform: the time is now."
While few expected the intentions (however festively expressed) to come to fruition, 2019 was indeed the year that school finance reform came to Texas, following decades of legal battles over a finance system deemed constitutional yet "sclerotic" and "Byzantine" by the Texas Supreme Court in 2016.
Two years after school finance reform stalled and died during the last legislative session, HB 3 will funnel $11.6 billion to public schools, while requiring accountability and changes in the way some of the new funding is allocated. Taking its lead from Louisiana, Texas will now require universal completion of FAFSA, the federal student loan application — and is being hailed as the first big state to take this step toward putting some 50,000 more low-income students on the road to higher education. The law's expansion of pre-K to full day, extended school calendar, more sophisticated measurements of student need, and incentives for the best teachers to work in the most challenging schools all are aimed at closing the resource gap between wealthy kids and their peers from lower-income families. In Texas, the latter group is significant; in 2018, the Center for Public Policy Priorities estimated that 1 in 5 children in the state live in poverty.
Making sure money is used as intended promises to be complicated — with plenty of ways for districts to skirt the spirit of the law. Nevertheless, passage of the bill has been deemed historic by many. Among other things, it includes more money per student, new funds for dyslexic and dual-language students, teacher pay incentives and an index to increase funding to students living and learning in the deepest poverty.
While some consider HB 3 the miracle child of an unusually cooperative legislative session, the bill was actually the product of years of work, said state Rep. Diego Bernal, a San Antonio Democrat.
"You can create a multiyear legislative map, from the school visits to the smaller legislation to the work of the commission," Bernal said, referring to the 13-member Texas Commission on Public School Finance. The chair and co-chair for the House and state Senate public education committees sat on the panel alongside educators from around the state. It was created, as a compromise, after a school finance bill died in 2017.
Over the course of 2018, the commission heard evidence and testimony from across the state, trying to figure out how some districts had made academic gains while others did not. Members heard from rural districts with lean administrations. They heard from large urban districts trying to boost staffing at their neediest schools. At times, proposals of "more money" versus "strategic spending of the money we have" were placed in opposition to each other. Texas Education Commissioner Mike Morath, who offered hours of testimony himself, advocated for both, which is ultimately reflected in the new law.
"There is a significant infusion of resources, but there are also structural reforms with those resources meant to drive practice change to improve student learning and outcomes," Morath wrote in an email to The 74.
The commission flipped the usual biennial conversation around school funding on its head, said member Todd Williams, CEO of the Commit Partnership, a North Texas-based education nonprofit. Rather than asking, "How much is enough?" the commission (and, ultimately, the new law) instead focused on which outcomes were most important to improve and where state dollars should be invested to achieve that improvement. "This was a totally different paradigm that hopefully becomes the new model for future legislative sessions," Williams said.
New money
Of the $11.6 billion, $6.5 billion will go directly into schools. The remaining $5.1 billion will be spent on property tax relief, one of the crucial features, Bernal said, in gaining bipartisan support and winning Republican Gov. Greg Abbott's signature.
The finance reform bill generated surprising unity in the Texas Legislature. The original measure passed the House 148-1 and did not face significant opposition in the more conservative Senate. The final version passed unanimously in both houses May 25. Abbott signed the bill June 11.
Under HB 3, the base funding for every student in Texas increased from $5,140 to $6,160. With the added funds available through other elements in the funding formula, analysts expect that Texas's per-student funding will edge closer to the national average but may not meet it. Texas sits in the bottom quartile of states on student spending.
Advocates have long supported an increase in base funding, as opposed to adding new adjustments, grants and programs — which, while politically easier to pass, are also easy to take away or allow to expire. An increase in the basic student funding is the kind of across-the-board raise advocates say is overdue. With a base funding increase, all 5 million students enrolled in Texas public schools will bring more money into their districts, though it's up to districts to spend that money in a way that benefits the students.
Critics have asked where the $11.6 billion will come from, especially with property tax cuts.
"To some degree, the money is already there," Bernal said.
The state already contributes about 36 percent of school finance dollars, but Bernal would like to see that go back to 50 percent, as it was in the early 1990s. He has long promoted redirecting money that would otherwise flow into the state's $12.5 billion rainy-day fund, which has swollen to become the largest surplus pot in the nation.
Rainy-day funds are measured by how long the state could operate using those funds alone. Texas could operate for 70 days, more than twice the national median. Only Wyoming and Alaska could go longer. Dipping into the fund isn't necessary, Bernal said, but it also doesn't need to get any bigger. Financial analysts forecast that the same oil and gas funds that have inflated the rainy-day fund over the past 14 years will adequately fund an increase in the state's share of public education funding.
Beyond that, Bernal said, there are other taxes and sources of funding that have been political nonstarters, and as long as that's the case, the state won't know what it truly can and cannot afford. "We have to have a serious conversation about revenue sources with or without HB 3," he said. "The real question is, how honest is that conversation going to be?"
Structural changes 
Morath's email to The 74 pointed to three "gargantuan" changes in school funding structure as well. First, he wrote, "full-day, high-quality pre-K will now be available for every needy family in Texas." There are also pathways for teachers "to reach six-figure salaries while remaining teachers, with incentives for the best to teach in our neediest and most rural schools." (The teacher salary structure has not been changed since the 1950s.) The third change was the optional extension of the instructional calendar to 210 days, from around 178 right now. The school calendar has not been adjusted since the 1800s.
"This is a once-in-a-century reform," Morath wrote.
Pre-K
Since 1985, Texas has funded half-day pre-K for 4-year-olds who qualify for federal free or reduced-price lunch, English learners, foster kids, and children of military families and first responders. Only about 40 percent of eligible Texas 4-year-olds are enrolled in full-day district pre-K, and funding is based on enrollment. If the state had instead funded full-day pre-K for all eligible children, districts would have had to create 108,000 new classroom seats to access 100 percent of available funding. "We just knew there was no way that many seats could be created in such a short time frame, and our third-grade reading challenges needed immediate focus," Williams said.
However, as the benefits of full-day, high-quality pre-K have become more widely understood, some districts, like Brownsville Independent School District, have found ways to expand full-day pre-K not only to 4-year-olds but to some 3-year-olds as well.
Esperanza Zendejas, then-superintendent of Brownsville ISD, spoke to the benefits of the expenses in testimony to the commission in May 2018; HB 3 offers the first significant boost to pre-K expansion in Texas. By the year 2025, districts with pre-K programs will be required to offer full-day services for eligible 4-year-olds. To help that expansion, the law creates bridge funding in the form of an early childhood reading allotment, said Williams. This provides roughly $750 million annually (equivalent to an extra $3,000 per eligible pre-K student) that districts can use to expand full-day offerings as classroom seats become available. Any unused balance can fund other initiatives to improve third-grade reading outcomes.
The bridge funding allows districts to slowly grow a new fully funded grade level (something Texas has not done since the 1980s, when it added kindergarten) and doesn't penalize districts that will need time to add the needed number of classroom seats.
Teacher pay
Teacher pay was one of the few sticking points as the House and state Senate debated various components of HB 3. The Senate proposed a flat, $5,000 across-the-board raise, while the House proposed a version more akin to what Dallas ISD has been doing for several years: giving teachers with proven track records access to incentive pay if they work with high-poverty populations.
The compromise ensured that teachers received raises and created an incentive structure to give even more money to effective teachers in high-needs schools. Districts must use 30 percent of their basic allotment increases to raise teacher, librarian and counselor salaries, with a priority for those with six or more years of experience. The Commit Partnership estimates that this will mean an additional $1.6 billion biannually available for teacher pay increases statewide.
Districts also have the option to adopt a local incentive system, giving them access to more state funds for certain salaries. In that system, teachers must be rated according their effectiveness, though different districts might choose different methods for measuring that — including observation, student feedback and test score growth. Compensation will be set by both the rating of the teacher and the proportion of students at their school who come from neighborhoods with high poverty, single-family households, low homeownership rates and low levels of adult education. A master teacher in a school with the highest needs can make an additional $32,000 on top of the base salary.
Using this incentive system, Commit calculated that if 90 percent of Dallas ISD's most effective teachers were in the highest-needs schools, the district would bring in $31.4 million more from the state than if all of the most effective teachers stayed in the lowest-needs schools. Austin ISD, with about half of Dallas's total teaching force, would see a difference of $17.3 million if 90 percent of its most effective educators moved to schools with the highest needs.
Compensatory education
Morath didn't include changes to compensatory education — additional state funds for Title I students — on his list, but this structural change will add millions of dollars to many districts, allowing them to adopt or expand the most effective (and often most expensive) services that close the gap between low-income or at-risk students and their peers.
In the early 1980s, Texas devised a formula to add funds for students whose education would be more expensive. Services for gifted and talented students, special education, career and technical education, English learners and compensatory education all required extra funds. The state added a percentage, or weight, to the basic allotment for each student receiving those services.
For instance, districts got an additional 110 percent of the basic allotment for each student receiving special education services in a mainstream classroom. English learners brought in an additional 10 percent. The weights were about half of what experts in the early 1980s recommended, said Bernal, and they haven't changed since.
The raise in base funding made each percentage add-on more lucrative, but the commission heard testimony that supported further adjustments to the formula.
Under HB 3, the supplements were adjusted to more accurately reflect the needs of Texas students in 2019. New weights were created for dyslexia (10 percent) and dual-language programs (5 percent). Compensatory education now generates more funding, from 20 percent weight to 22.5 percent. The gifted and talented weight was rolled into the increase to the basic allotment.
When districts share data with the state, even more money will be available for compensatory education, using a system almost identical to the one designed by San Antonio Independent School District Chief Innovation Officer Mohammed Choudhury for the Dallas and San Antonio ISDs.
Census blocks will be ranked in tiers based on the average household income, household composition (single or married parents), education level and homeownership rates. Districts report how many of their Title I students live in each tier. They will receive additional funds on a spectrum from 22.5 percent to 27.5 percent based on those numbers. Money can be spent on extra counselors, child care for teen parents, pre-K and other services directly aimed at closing achievement gaps.
"HB 3 is right now, on paper, acknowledging those external forces that act on our kids' lives that they bring into the school day, coupled with districts not having enough money to mitigate those factors," Choudhury said. However, "at the end of the day, everything lives and dies on implementation."
Implementation 
At the state level, the Texas Education Agency is setting up a "pretty extensive" network of advisory boards, Morath wrote in an email. "The key is to ensure we have the right mix of expertise to consider every layer responsible for implementation, from individual classrooms up through the TEA rulemaking process, while also ensuring we have voices from districts of varying sizes and geographies."
High standards and best practices for new programs like full-day pre-K will be one part of the implementation challenge. However, the biggest threat to the promises of HB 3 will be constant budget woes at the district level. New money is intended to fund new services, but old deficits could get in the way, as they often do with Title I funds.
The way most budgets work, it is possible for districts to make money off of the poorest kids with the greatest needs and then spend that money elsewhere. In 2016, Lauren Camera of US News and World Report wrote about the formulaic flukes that allow Title I funds to be diverted toward big districts with large numbers of both poor and wealthy students and away from smaller districts where almost all the children are poor. Compensatory education funds in Texas are allotted the same way: They rely on raw numbers of low-income students without taking into account what percentage of the student body is low-income.
There are already some regulations on how Title I and compensatory education funds can be used, but they don't include accountability mechanisms to ensure that the funds accomplish their intended purpose. In districts with a mix of poor and rich kids, there's no way to guarantee that the highest-needs kids are seeing Title I dollars spent in their schools and classrooms.
Campus-based budgets would make it easier to see which schools generate — and thus need — the most compensatory education funding. They are also laborious, and it's unlikely many districts would adopt them. Instead, watchdogs will need to be intimately acquainted with district budgets, and school leaders will need to do their math to make sure their districts are spending their money in the same schools where they are making the money.
Making sure this happens will require "vigilance," Choudhury said.
Support The 74's year-end campaign. Make a tax-exempt donation now.