More Hostility, Less Support: LGBT Youth Poll Finds Rampant In-School Harassment
New GLSEN research finds half as many schools as 2019 offer gay-straight alliances, even as almost all students say slurs and assaults are common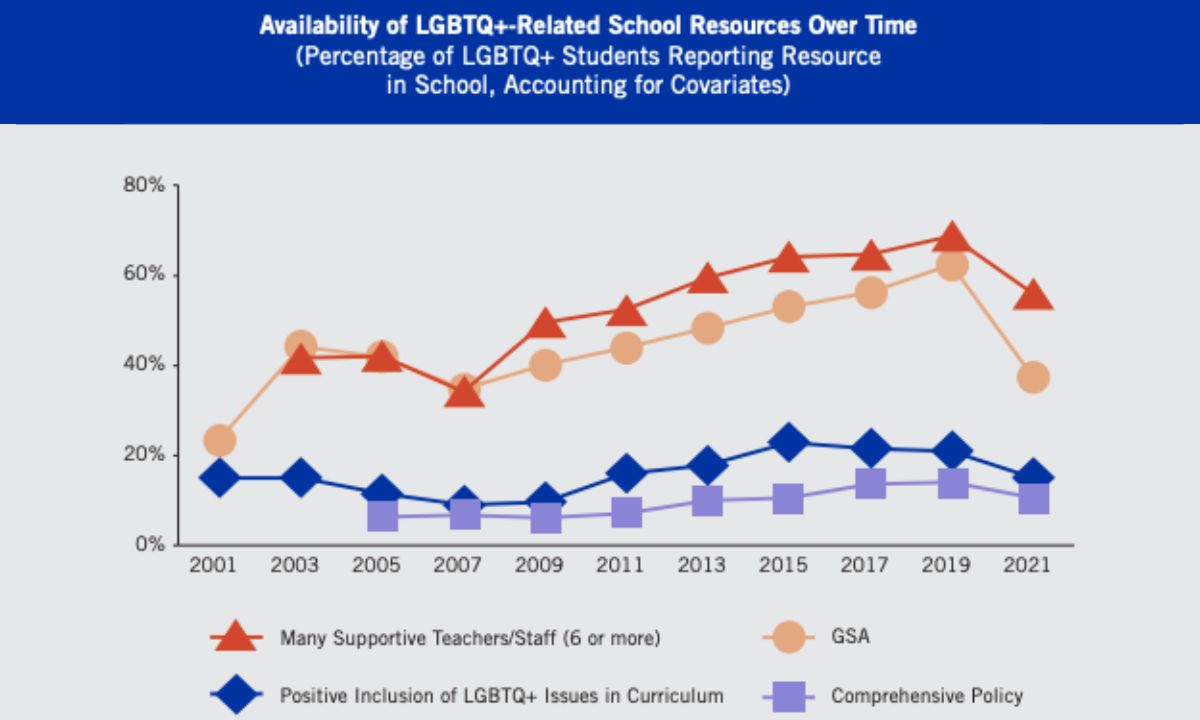 Get stories like these delivered straight to your inbox. Sign up for The 74 Newsletter
The vast majority of LGBTQ students who attended school in person during the 2020-21 academic year experienced some form of harassment or assault, according to the most recent National School Climate Survey conducted by GLSEN, a national organization working to promote safe schools.
More than three-fourths of respondents said they were called names or threatened, while almost a third were shoved, punched, kicked or even assaulted with a weapon because of their sexual orientation or gender identity. LGBTQ students of color and those with disabilities reported the highest levels of in-school hostility.
At the same time, the number of LGBTQ students who report having heard negative remarks from teachers and other school staff rose over 2019, the last time the survey was conducted. Fifty-eight percent of students heard adults in school make homophobic remarks, up from 52%. The number of students who said they heard staff say negative things about gender expression rose from 67% to 72%.
As GLSEN's surveys have found for two decades, the 2021 report tied hostile school climates to increased absenteeism, as well as higher drop-out and lower college-going rates. More than 82% of respondents said they feel unsafe in school. A third missed at least one day a month because of this, while more than 11% missed four or more days and almost 8% missed at least six days. A fifth had changed schools for the same reasons.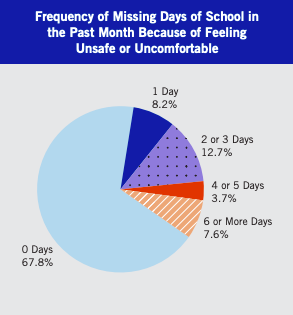 As a result, LGBTQ students surveyed who experienced discrimination at school reported having lower grade-point averages than peers who didn't — and were twice as likely to be disciplined. Nearly a third of those who said they were considering dropping out blamed a hostile climate caused by gendered school policies.
In addition, the number of students who said their school offers supportive LGBTQ resources, such as gay-straight alliances, fell sharply. In 2021, a third of students said their school had such a club — half as many as 2019 — and these were more likely to exist in hybrid or online-only environments than in person. Youth whose schools offer the programs are dramatically less likely to hear slurs or offensive language and more likely to say they have supportive staff and peers.
Between 2001, when GLSEN conducted its first survey, and 2015, the number of queer youth who heard offensive remarks or experienced harassment declined. Since then, however, such incidents have been on the rise — and less than one in 10 say school staff intervened most or all of the time, a drop from 2019.
Because few official education datasets include information about LGBTQ youth, or their in-school experiences and academic successes, GLSEN's research fills a critical gap. Its new report is based on a survey of more than 22,000 middle- and high-school students in August 2021, with the majority of respondents in ninth, 10th and 11th grades. The content of the poll was changed slightly to measure pandemic-era experiences, such as online versus in-person learning.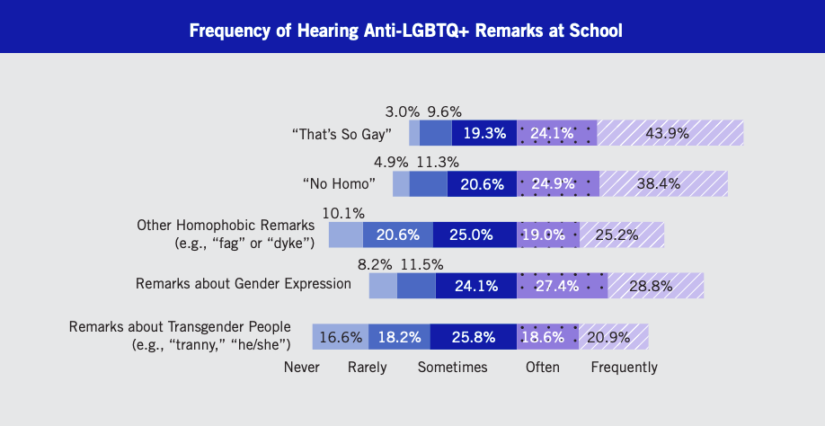 More than 90% of students polled said they heard slurs in school. Four in 10 LGBTQ students try to stay out of school bathrooms, locker room and gym classes, and 79% avoid school functions or extracurricular activities. Those in online-only learning environments were less likely to feel unsafe than those attending classes in person.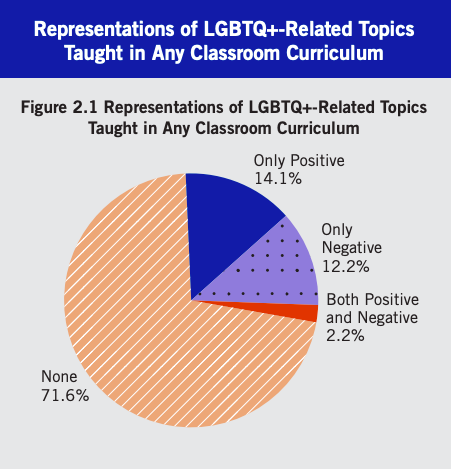 While most LGBTQ youth reported their school had discriminatory policies or practices, the most common forms targeted students' gender. More than 29% of respondents were prevented from using their chosen name or pronouns; more than 27% were barred from using the bathroom that aligned with their gender; one-fourth were not allowed to use the locker room corresponding to their gender and more than a fifth were told not to wear "inappropriate" clothing.
Students also reported being prevented from forming a gay-straight alliance, wearing clothes that supported LGBTQ issues or writing about or completing projects about those issues. Sixteen percent could not play on a sports team aligned with their gender, and 11% said that regardless of their gender, they were discouraged from athletic participation.
Almost 72% said there was no mention of LGBTQ topics in class, while just a fifth said they were assigned such material. Fewer than half could find this information in their school library or access materials online. Again, students in schools where LGBTQ topics are discussed were less likely to report a hostile climate.
Get stories like these delivered straight to your inbox. Sign up for The 74 Newsletter