Montessori Was the Original Personalized Learning. Now, 100 Years Later, Wildflower Is Reinventing the Model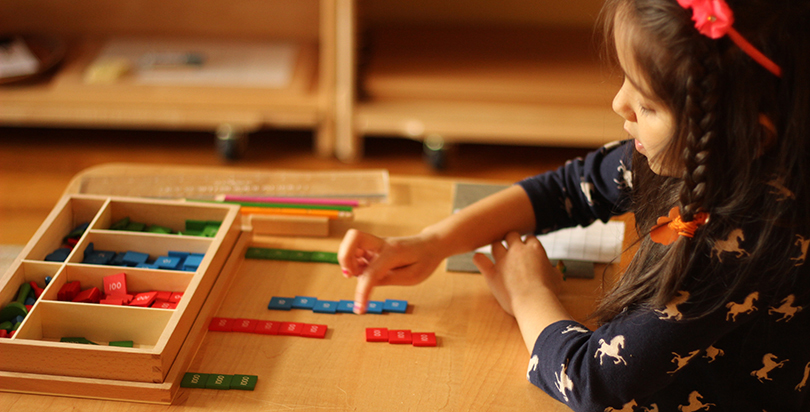 Updated, June 20
Cambridge, Massachusetts
For a classroom of a dozen 3- through 6-year-olds, things are surprisingly quiet inside Wildflower Montessori. The most audible sounds, though still hushed, come from two small boys sitting on the hardwood floor next to a tray of wooden cursive letters. The boys are creating their literacy lesson plan for the day: learning to spell "crazyman."
Inspiration comes suddenly and passionately, as the best ideas do. "Can we make 'crazyman'?" the older boy asks. "I know what C looks like," the younger one says, sounding out the harsh consonant and picking a C from the box. "Yeah, that's easy," the older one replies.
---
---
Head of School Erin McKay approaches the students and lays a cloth on the floor for them to arrange their letters. "Crazyman," the teacher says. "Who is that?" The two boys smile at each other. "Nobody!"
Nearby, other students are pioneering their own lesson plans, though they'd hardly call them that. A boy leans over a mirror and sketches his portrait. A girl lies on the floor, labeling the countries of South America on a map. Another girl makes tea.
Students guiding their own learning with minimal teacher direction — it's a personalized learning dream. But this is a Montessori school, following a century-old model that has been doing personalized learning since before it even had a name. That model was the creation of physician and innovator Maria Montessori, who opened her first school in Rome in 1907 and built educational materials around her belief in children's natural desire to explore their world.
Wildflower Montessori is part of a chain of micro-schools that take Montessori's model a step further, operating as one-room schoolhouses, led solely by teachers, that aim to make personalization a definition rather than a description of education. Each location supports three grade levels, and although the majority of students are under age 6, ages range from 14 months to 17 years old, depending on the school.
"We are all special and unique, and the fact that we stick the word 'personalized' in front of 'education' and make it a topic is its own profound comment on where we are and how far we've gotten away from common sense in education," said Wildflower CEO Matt Kramer.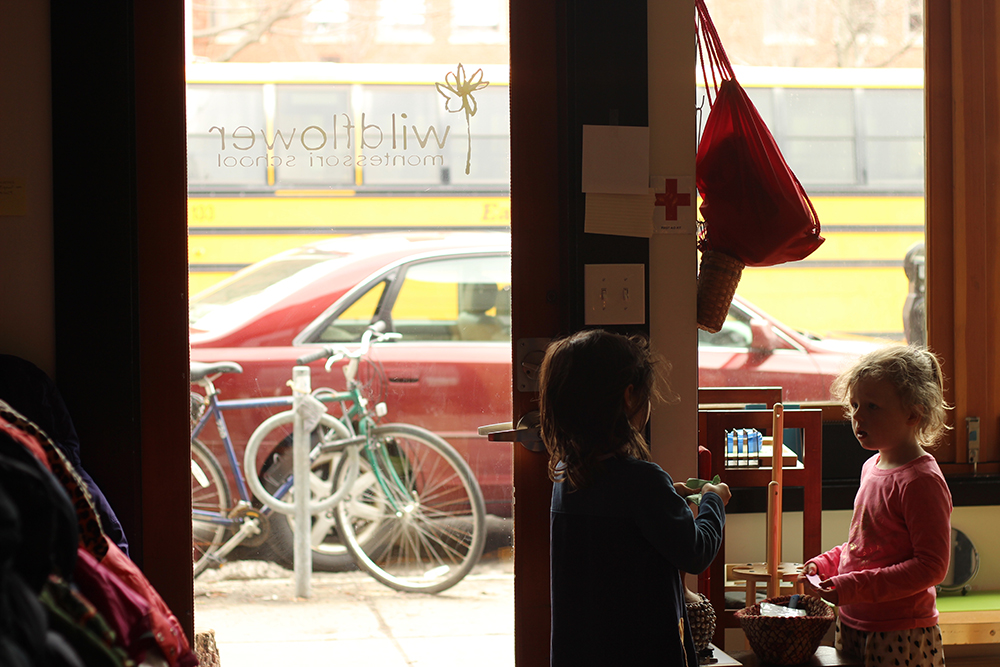 Today's typical school design is far from personalized, he said. Large buildings with hundreds, if not thousands, of students. Children working on the same material at the same time of the day and year. Teachers with more parents and students than they can possibly develop relationships with.
That was the landscape former Google head of personalization and MIT Media Lab professor Sep Kamvar encountered when he tried to find a school for his young son in 2014. Dissatisfied with what he found, he developed the Wildflower model: a school led by two veteran Montessori teachers who would teach no more than 25 students. The teachers would direct the school and the students would direct the learning.
From that first location in a Cambridge storefront, the Wildflower network has grown to encompass 11 schools in Massachusetts and Puerto Rico, with more to open soon in Colorado, Rhode Island, and Minnesota. The Wildflower Foundation raises millions of dollars from donors like the Walton Family Foundation and the Chan Zuckerberg Initiative to partially fund the schools and to provide startup grants for teachers who want to open a school of their own, following Wildflower's open-source model.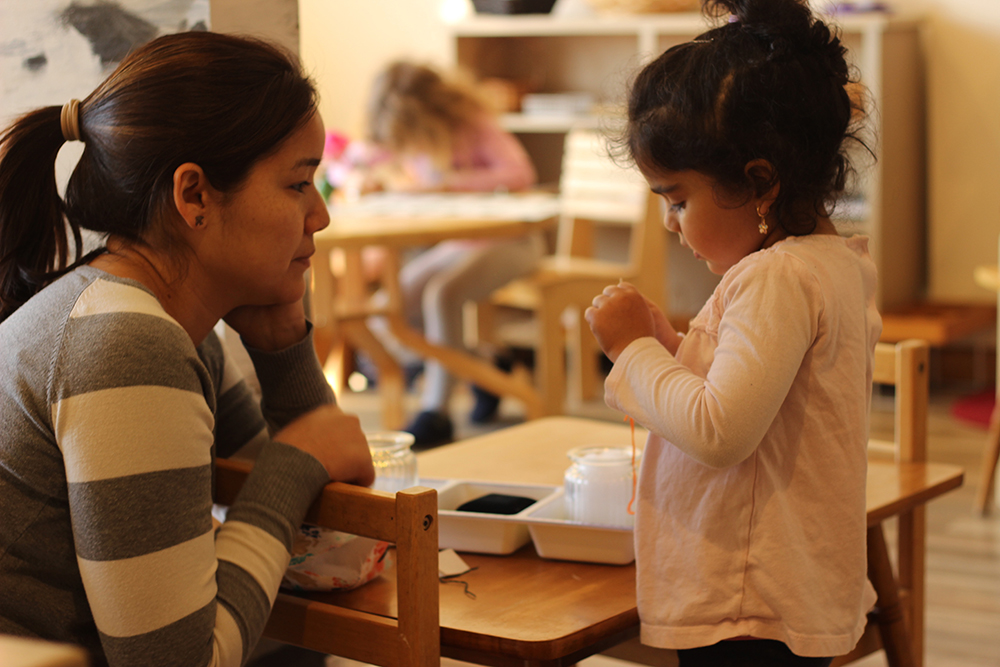 'The hero of their own story'
In the back of Cambridge Wildflower, Head of School Mary Rockett sits in a wooden chair designed for a 4-year-old, her legs stretched out in front of her. "It's good for my knees," the teacher jokes. She leans over an Apple laptop, one of the only pieces of modern technology visible in the school. As McKay engages with the students, Rockett sneaks in some administrative work.
There are an estimated 20,000 Montessori schools around the world, including 4,500 in the United States, the North American Montessori Teachers' Association
estimates
. Rockett has taught in Montessori classrooms for 25 years and was an administrator for 10 — so when she heard about the opportunity to both run her own school and teach, she jumped at it.
This level of control is attractive to many teachers, said Kramer, who receives dozens of inquiries a week from educators interested in starting their own Wildflower school.
"It empowers teachers to meet their needs directly," said Kanan Patel, head of school at Wildflower's Aster Montessori in Cambridge, who has taught in Montessori schools in both India and the United States. Because she doesn't have an administrative hierarchy to navigate, she and her co-teacher can make immediate changes based on parent feedback, such as adjusting the schedule of their after-school care program.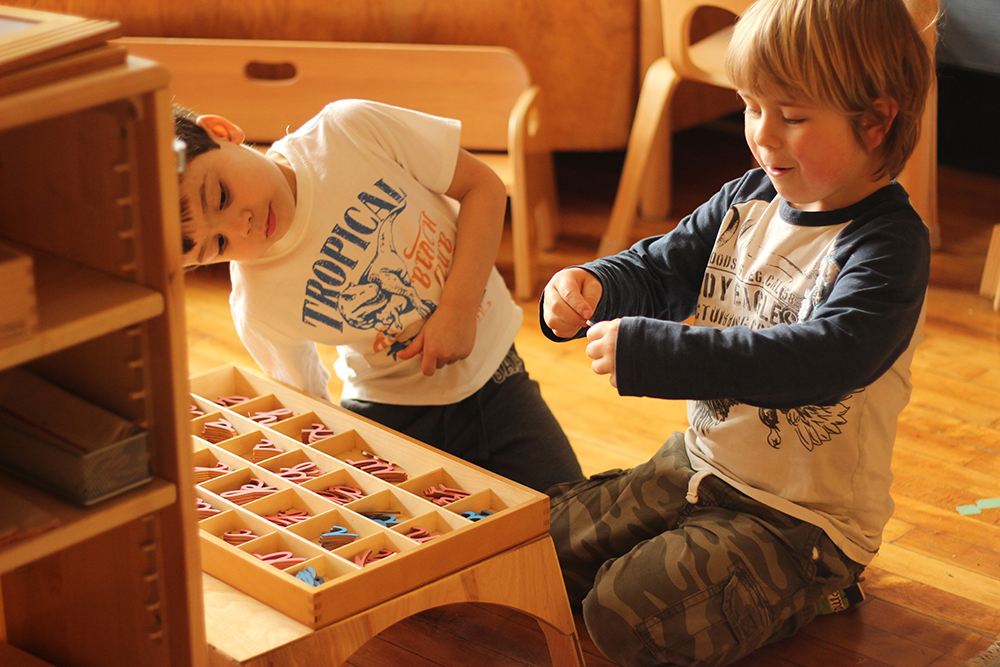 This kind of respect and empowerment of teachers fits naturally into Montessori's model of respect and empowerment of children. It can be startling to watch at first: young students freely navigating the classroom with little instruction. That's how Rockett felt when she first set foot in a Montessori school as a volunteer in high school, but now, she said, she can't imagine another way that shows as much respect for students. She recalled her few stints as a student teacher in traditional classrooms: "It felt unnatural, disrespectful of children," she said. "We just don't give them credit for their ability to concentrate."
Montessori weaves respect into the literal fabric of the classroom, giving children high-quality natural materials made of wood or ceramic rather than the ubiquitous plastic that makes up most children's toys. But it's also in the freedom teachers give their students to explore learning.
"There is nothing more dangerous you can do to a kid's long-term development than undermine their sense that they are the hero of their own story, and our [traditional] schools do that all the time," Kramer said. He speaks from his own experience of being forced to miss recess every day as a first-grader with ADHD, who couldn't sit still in a traditional classroom. When he switched to Montessori for the rest of elementary school, he said, he felt liberated from the confines of desks and strict rules.
Research shows the effectiveness of the Montessori approach. The
Journal of Research in Childhood Education
found that students who attended Montessori schools in grades pre-K through 5 achieved better math scores on the ACT than their traditionally educated peers, though the English scores were similar. A
2006 article in Science magazine
reported positive effects for students in inner-city public Montessori schools, citing better standardized test scores at the end of kindergarten and a better ability to write complex and creative essays at the end of elementary school.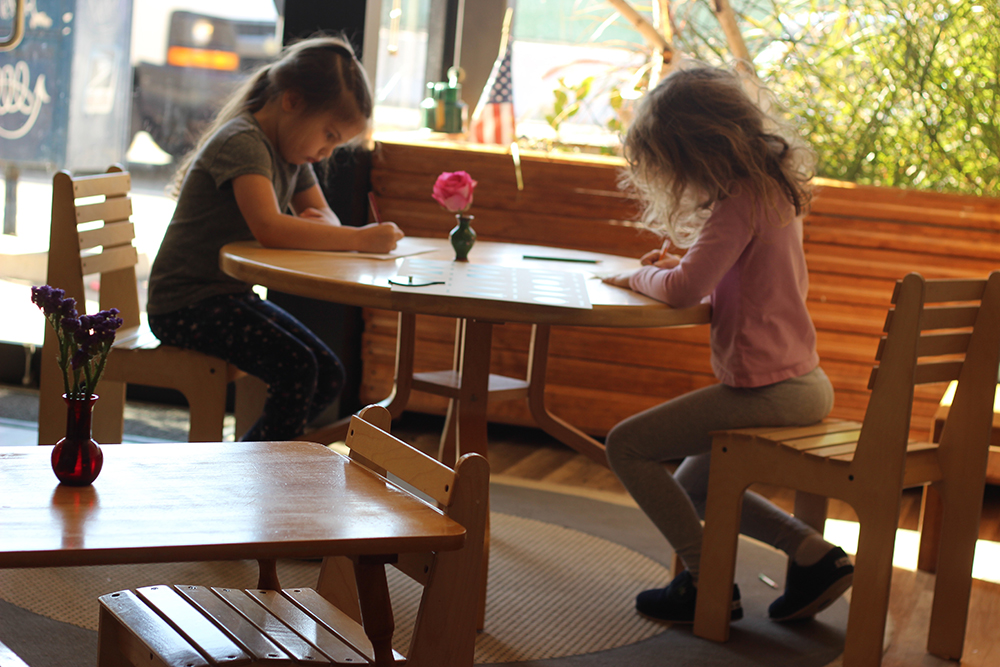 Guiding the 'inner blueprint'
In the Wildflower schools, teachers can sometimes be found at the back of the room, sitting quietly and taking notes. Other times, they're sitting next to a student, observing and asking guiding questions. But in the background is a rigorous curriculum that they want their students to learn, so they have tricks for guiding children through the process. If a student isn't participating in a subject area, like math, a teacher might invite her to help a classmate learn counting with wooden blocks. If a student is having difficulty mastering a topic, a teacher might recruit an older peer to help out, or ask the student to explain the process back to the teacher.
For example, when "crazyman" takes a turn for the … well, crazy, McKay approaches her students again. She kneels next to the boys, who have arranged their wooden letters on the floor to spell "craseemiee." "Can we clap together?" McKay asks. The boys start clapping as they sound out each letter in "crazyman." They figure out that "e" is not the right sound for "man." "Can I move this 'e' sound?" McKay asks, waiting for the boys' permission before removing the letter. It's a gentle approach that keeps the students in charge.
This subtle approach to teaching was attractive to parent Amelia Sorensen, whose two sons attend Aster Montessori. Sorensen's oldest son, Gus, isn't a fan of writing but loves science and geography — which his teachers know how to turn to his advantage. When he came in one morning and shared a new word, phagocyte, his teacher suggested he try to spell it using wooden letters. While Gus will attend public school next year because of cost, Sorensen said, "we wanted to start them as best we could to give them that solid foundation of thinking of school and learning as a wonderful thing, and not as a chore or something to be avoided."
Can the model work for every student? Kramer replied that "the basic ideas of Montessori, that children are fundamentally good and peaceful and curious, that in the right environment their inner blueprint will become live, that basic idea, that applies to every kid." But Montessori's intensive 15-minute bursts of intervention might not hold water for all students who are far behind, Kramer said, and teachers may choose other methods for their students.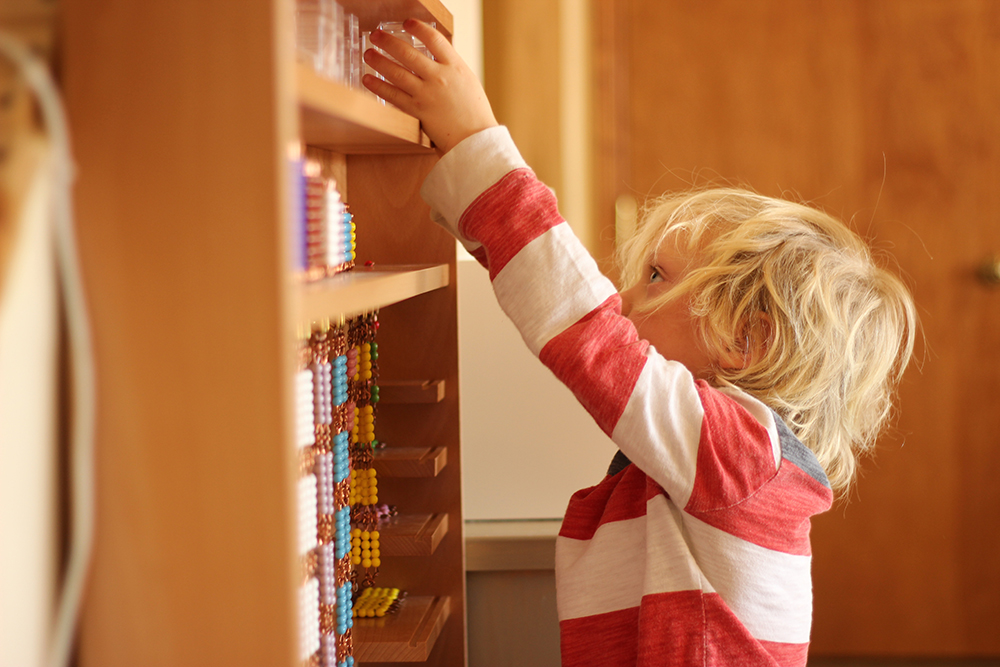 Another issue, as Sorensen found, is cost. Tuition at many of the Wildflower schools ranges from $15,000 to $22,000, though Kramer said he is committed to opening his schools to a diverse range of students. For example, Marigold Montessori in Haverhill, Massachusetts — which joined the Wildflower network in 2016 — is tuition-based but accommodates low-income families by accepting Massachusetts child care vouchers. About half the school's families receive $700 a month toward tuition by using the vouchers, according to the
Montessori Public
blog. Another Wildflower school, in Puerto Rico, operates out of a public school while maintaining the teachers' autonomy. The network has also started applications for opening charter schools and is exploring sponsorship arrangements with universities or businesses as another method of increasing accessibility.
Wildflower's drive to quietly blend the traditional with cutting-edge innovations extends from its exploration of various school choice options to its desire to imbue technology into the learning model without being invasive. One development, created in conjunction with the MIT Media Lab, is trackers that are placed in different classroom learning areas, on teachers, and inside the slippers that students wear during class. The trackers map which activities the children use each day and how long the teachers spend with certain kids, allowing the educators to adjust their instruction.
They've also developed simple Montessori-style tools to teach coding. With one such tool, children arrange tiles on a cork board that correspond with code written on a piece of paper.
It's 21st century learning. Montessorized.
Disclosure: The 74 receives funding from the Walton Family Foundation.
---
---
Support The 74's year-end campaign. Make a tax-exempt donation now.