Montana House Advances Obscenity Bill That Would Subject School Employees to Criminal Liability
House Bill 234 set for third reading in the House on Thursday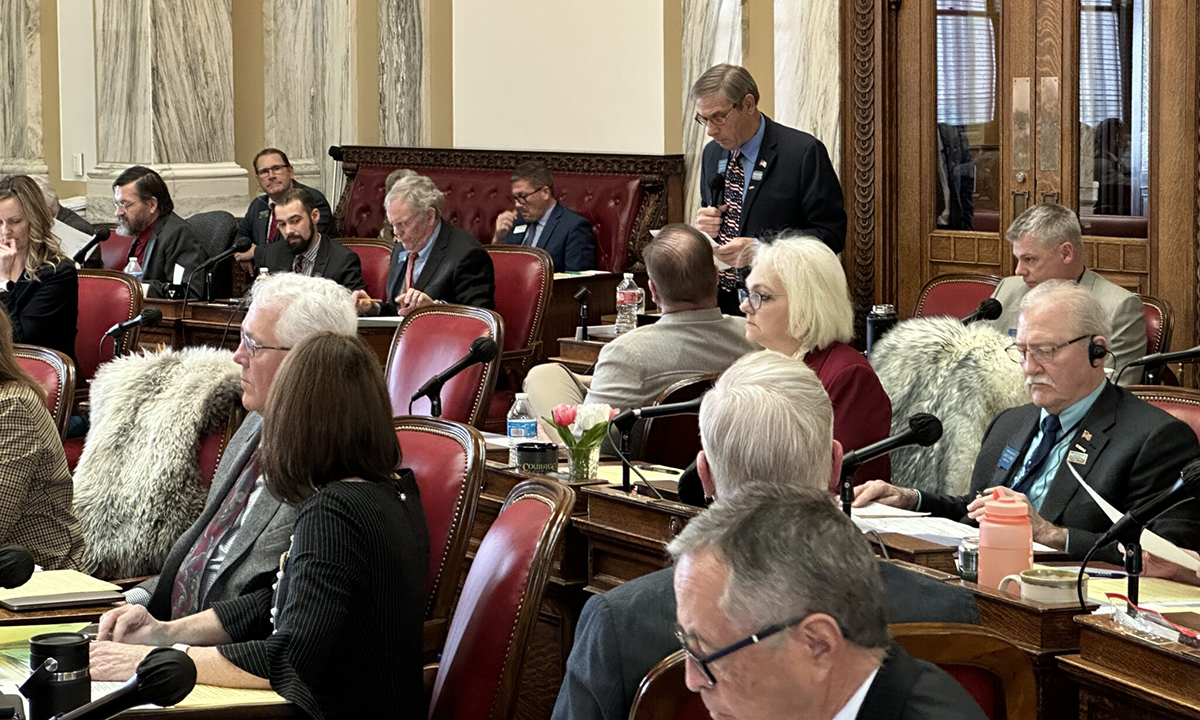 Support The 74's year-end campaign. Make a tax-exempt donation now.
The Montana House advanced a bill Wednesday that seeks to open up public school employees to prosecution if they show or provide children with materials deemed to be obscene.
House Bill 234, sponsored by Lindsay Republican Bob Phalen, passed its second reading in a 55-45 vote, with 13 Republicans voting against it along with all Democrats. It is scheduled for its final House reading Thursday.
Phalen, as he did in committee, told the chamber that he believes obscene material, like pornography, should be banned in schools just like it cannot be shown on billboards or openly in gas stations.
The bill was amended in committee to remove liability for public library and museum officials.
Phalen and others who voted for the bill said on the floor they believe the bill is about protecting children from obscene material in schools, while the measure's opponents said it was a disguised effort to get books regarding the LGBTQ community out of children's hands and to strip local control away from school boards that already vet what materials are in their libraries.
"I recognize that tomorrow on social media you're going to read that those opposing House Bill 234 are pornographers and worse than that. You all know that it's true; that's how social media is," said Rep. David Bedey, R-Hamilton, who voted against the bill. "So be it; I myself cannot in good conscience support a bill that is ineffective, that's opposing conservative principles, and is a targeted attack on school employees."
Rep. SJ Howell, a Missoula Democrat who is nonbinary, called the measure "a big overstep" when citizens can already petition school boards to investigate and potentially remove any materials a parent says could be obscene material.
Howell pointed to a book that has been the center of the discussion since the bill was first heard in committee, "Gender Queer: A memoir," of which Democrats gave copies to each lawmaker in the chamber. Phalen had distributed pictures he said were obscene.
Howell said there was value in books like it for people of all ages because they could read materials that reflect their experience and perspective.
Rep. Brad Barker, R-Roberts, who voted against the bill, said he was concerned it would lead to "an unreasonable amount of liability" for schools, employees and trustees as they already face attacks from the public on what is being taught. He said he felt the process already in place to screen materials was strong enough – a point also made by some Democrats.
Rep. Eric Matthews, D-Bozeman, said putting teachers and school librarians in a place where they could potentially face criminal charges for following a board's directives and recommendations was "a big problem."
Rep. Bill Mercer, R-Billings, said he was possibly the only prosecutor in Montana who had ever prosecuted an obscenity case. He told the House how prosecuting an obscenity case would work – that a prosecutor would have to believe material is obscene, as would a 12-member jury. He voted in favor of the measure.
Several Republicans argued that claims local control would be taken away were not true and did not go as far as opponents claimed.
Rep. Naarah Hastings, R-Billings, in what she said was her first speech on the House floor, said she had seen local control fail and that the measure would hold school boards accountable.
She and others pointed to Billings School Board trustees deciding not to ban "Gender Queer" and another book some parents had objected to as reasons they believed local control was not working.
"I want to trust the schools and the school boards, but to be perfectly frank with you, I think it's time for them to prove that," Hastings said.
Daily Montanan is part of States Newsroom, a network of news bureaus supported by grants and a coalition of donors as a 501c(3) public charity. Daily Montanan maintains editorial independence. Contact Editor Darrell Ehrlick for questions: info@dailymontanan.com. Follow Daily Montanan on Facebook and Twitter.
Support The 74's year-end campaign. Make a tax-exempt donation now.