MN Voters Reject Bid to Replace Police Dept, a Move With National Implications for Reforms — Including in Schools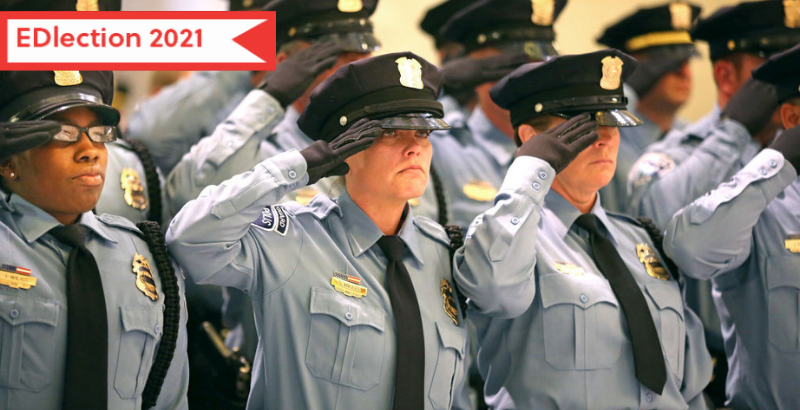 No paywall. No pop-up ads.
More than a year after George Floyd's murder spurred a national debate over criminal justice reform, Minneapolis voters firmly rejected a ballot initiative Tuesday that sought to replace the city's police department with a new public safety agency.
The proposal's defeat by a 12-point margin is likely to carry national implications for the debate over policing and racial justice, including in schools. After a Minneapolis cop killed Floyd in 2020, the city school district ended its longstanding contract with the police department and replaced campus officers with non-sworn "public safety support specialists." Dozens of school districts nationally took similar action in the aftermath of nationwide protests. Yet, in a whiplash move as students resumed in-person learning, education leaders in Virginia and California have since voted to bring back the police.
Minneapolis Question 2 — voted down by 56 percent of those who turned out in an off-year municipal election with record turnout — would have amended the city charter to replace the police department with a Department of Public Safety focused on a "comprehensive public health approach," including an emphasis on mental health — reforms that shared similarities with efforts in the city's schools. The ballot measure would have removed from the city charter a minimum required number of police officers and the new agency "could include" cops "if necessary." How the new department would have looked in practice, and the number of police officers it would employ, remained uncertain as voters headed to the polls.
Local parent advocate Khulia Pringle has long fought to remove police from schools but opposed the ballot question, which she noted was divisive among the city's Black community. A poll conducted prior to Election Day found that white voters were more likely than Black residents to support the ballot question.
Floyd's murder made police reform politically safe, Pringle said, but reform efforts were led primarily by white progressives who didn't seek sufficient input from the African-American community before saying, "Hey, we've got this great plan for Black folks."
"A lot of Black folks are pretty woke to when the wool is being pulled over their eyes," said Pringle, the Minnesota-based representative of the National Parents Union. "They got caught up in the moment and threw something out there that had no plan, no nothing. It was inevitable to fail from the beginning."
About 44 percent of Minneapolis voters sought to replace its police department, an unprecedented shift that some have suggested highlights just how far public opinion has moved in recent years in support of criminal justice reforms. During an election-night event, Yes 4 Minneapolis communications director JaNaé Bates said her group, which campaigned to get the question on the ballot, has no plans of giving up.
"We took a lesson today that we need to knock even more doors, that we need to talk to even more neighbors, that we need to bust through the disinformation campaign and the big money that says 'No' when we say 'Yes,'" Bates said.
More measured police reform efforts found success elsewhere during an election cycle generally seen as a win for conservative causes. Voters in Cleveland, Ohio, for example, approved a ballot measure that gives citizens greater oversight over police misconduct. In Austin, Texas, voters overwhelmingly defeated a proposal to bolster the city's police force.
Had Minneapolis residents voted to terminate the police department, the school board may have been more likely to form an alliance with the new public safety agency, Pringle said. But without substantive reforms, board members are not expected to resume the police department contract anytime soon, she said.
"If it's the same agency and there's been no major overhaul," she said. "I don't think that Minneapolis Public Schools is going to go back."
In a recent interview, former Minneapolis school resource officer Charles Adams III said he opposed the ballot question because the city lacked a firm plan for the future. Adams, who left the police department last year after the school district ended its policing contact, was among former school-based officers included in a recent investigation by The 74 exposing how many had faced disciplinary actions and allegations of civil rights violations, including police brutality, racial discrimination and domestic violence.
As Minnesota residents reckon with a spike in violent crime this year, the public safety support specialists who replaced school resource officers are "stretched thin," said Adams, who remains the football coach at North High School. The school board took a "social political stand" when it ended its policing contract but "jeopardized the safety and the lives of kids in North Minneapolis," Adams told The 74.
"Black lives matter 100 percent," said Adams, who is Black. "But right now what we're doing, the crime is destroying our community."
The Minneapolis school district didn't respond to a request for comment. Minneapolis Police Department spokesman Garrett Parten said his agency would support future efforts to resume the $1.1 million-a-year school resource officers program.
The police department "would eagerly continue the program should the opportunity be granted and the resources be available," Parten said in an email, adding that the former contract offered "a vibrant, vital program that embodied the essence of community-based policing."
Get stories like these delivered straight to your inbox. Sign up for The 74 Newsletter