Mississippi, Desegregating: What the Research Shows About the Academic Value of Integrating Schools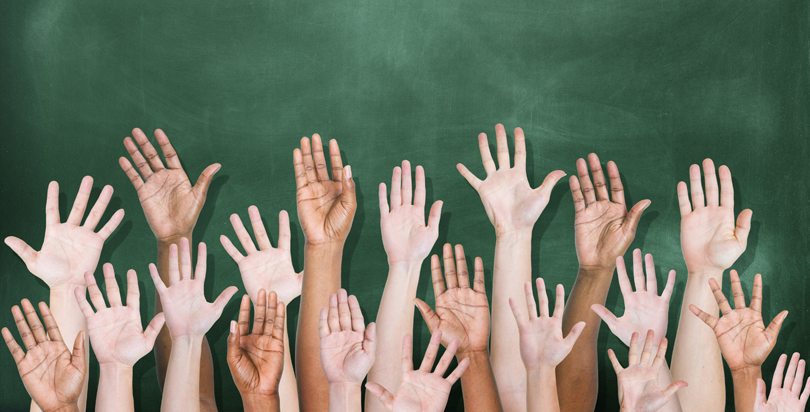 School segregation is back in the news this week, with both a
judge ordering
a Mississippi school district to integrate and a new
federal report
finding that the number of highly segregated schools has actually increased in recent years. (The headlines hit the same week as the 62nd anniversary of the landmark court decision in Brown v. Board of Education.)
Some mainstream news reports of the Mississippi order focused on the racial breakdown of student populations, a divided city where families of different races stick to their side of the railroad tracks and stock images of the schoolhouse showdowns that came to define the Civil Rights struggle.
Missing, however, from some of these school segregation conversations is what the published research has shown about the academic gains that can result from more diverse classrooms.
---
---
So what does the research say about integrating schools — by either race or socioeconomic status? In short, the evidence suggests that school desegregation can lead to major improvements in student outcomes for low-income kids and children of color. Most, though not all, research finds that integration has no evident adverse consequences for other students in the same school.
(Related: How northern whites used busing to derail school integration)
Of course, tying integration to outcomes is a tricky question for social scientists to answer, because it's difficult to figure out cause and effect. But several fairly recent studies have employed rigorous methods to address this issue:
2010: A study released by The Century Foundation found large test score gains for poor students who were randomly assigned to public housing that was zoned for a low-poverty schools, compared to students in housing zoned for higher-poverty schools. The gains got larger the longer students attended a wealthier school. An important caveat: Students attending schools with moderate rates of poverty did no better than students at high-poverty schools. Integration was only effective when poor students went to affluent schools.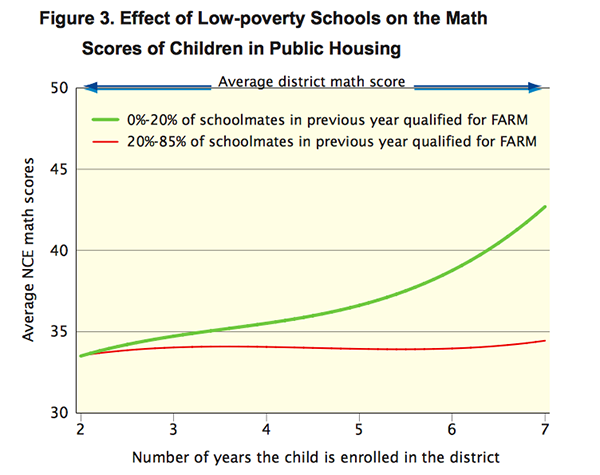 2011: A National Bureau of Economic Research study looked at the long-run impacts of court-ordered desegregation, finding that it had a variety of positive effects for black students. The report states "[F]or blacks, school desegregation significantly increased both educational and occupational attainments, college quality and adult earnings, reduced the probability of incarceration, and improved adult health status." For instance, attending a desegregated school increased annual earnings by 30 percent for black men — a substantial bump. The author finds that much of the gains were caused by the exposure to better-resourced schools (as opposed to integrated schools per se). There were no evident positive or negative effect on white students.
2014: A paper published in the Quarterly Journal of Economics looked at the end of the busing system that integrated schools based on race in Charlotte-Mecklenburg, North Carolina; the study found that cancelling the program expanded the racial achievement gap and led to increased arrest and incarceration rates among men of color. After integration efforts ended, the district tried to mitigate the harms by spending more money on segregated schools — which significantly helped in terms of achievement and college attendance, but didn't ameliorate the increases in crime. (In contrast to other research, this study found that desegregation efforts did have negative effects on the test scores and educational attainment of white students.) A follow-up paper showed that total crime went up when disadvantaged students were concentrated in the same school.
These studies have limitations and examine only certain measurable outcomes, but they all do a credible job in attempting to determine whether integration produces its intended result. This is far from an exhaustive list, but most other research has shows similar findings: specifically that integration leads to both short- and long-run gains for kids of color.
The 74 has also previously reported on efforts by a small number of charter schools to prioritize integration and a study showing that socioeconomic integration programs have increased nationally among school districts:
---
Support The 74's year-end campaign. Make a tax-exempt donation now.