Inside the Fight to Reopen Minneapolis Classrooms: 'Labor' Governor Fights to Deliver on $745 Million Wishlist to Teachers as Unions Push Against Returning to School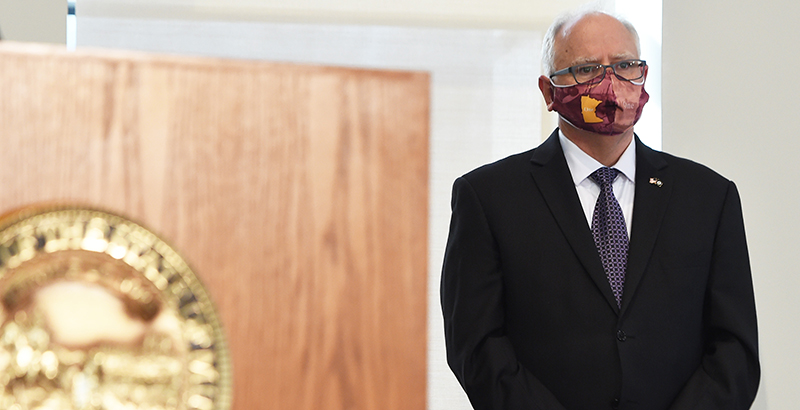 Minneapolis
"I am labor," Gov. Tim Walz declared on the campaign trail in 2018. "I stand with labor, and as governor, I will keep Minnesota a labor state."
True to his pledge, the budget Walz released in the opening days of the 2021 Legislature reflected the priorities of the state's main teachers union, Education Minnesota. Pandemic recession notwithstanding, Walz called for $745 million in new K-12 spending and vowed to tie education funding to inflation, a move the union has sought for years.
Right away, GOP lawmakers jabbed back, calling for across-the-board cuts instead. "The schools made the decision not to be in the classroom when science showed they could be," said Republican Senate Majority Leader Paul Gazelka, of East Gull Lake. "They chose — the teachers union and the governor — not to have the kids in the classroom … and now they're asking us to bail them out for that."
I am labor, I stand with labor, and as governor, I will keep Minnesota a labor state. I'm incredibly proud to have the endorsement of all 14 building trades unions in this state. #WalzOrWisconsin https://t.co/PdETCfeesk

— Tim Walz (@Tim_Walz) July 28, 2018
As the two sides traded barbs, teachers union leaders in Minneapolis and St. Paul dug in to stop schools in the state's second- and third-largest districts from reopening to in-person learning for the first time since March. The St. Paul Federation of Teachers staged a protest before students returned to in-person classes Feb. 1. In Minneapolis, where schools aren't set to reopen until Feb. 8, the union filed a complaint with the state Public Employment Relations Board and sought a temporary restraining order to let some vulnerable teachers continue to work from home.
It is a variation of a dynamic playing out in a number of statehouses around the country: Swept into office in #Red4Ed-fueled midterms, Democratic governors like Walz are seeking simultaneously to advance labor's legislative wish lists and to coax teachers back into schools — something many Republicans wanted to see happen months ago.
In California, for example, Gov. Gavin Newsome faces a recall petition from opponents of mandatory mask orders and business closures on the one hand, and on the other, teachers union demands to keep distance learning until all educators, students and families have been inoculated.
President Joe Biden is walking the same fine political line, notes Jeffrey Henig, a professor of political science and education at Columbia University Teachers College. The president is married to a teacher and has been vocal in his support for educators — and made reopening schools a marquee promise.
"What Democratic executives at the state and national level are trying to do is thread that needle by not pooh-poohing educators' concerns," says Henig.
In Minnesota, a handful of additional factors are at play. The legislature is the only one in the country right now where control is split, with Democrats controlling the House of Representatives and Republicans the Senate. State Education Commissioner Mary Cathryn Ricker was vice president of the American Federation of Teachers before being tapped for the job. Before that, she led the St. Paul Federation of Teachers.
At the same time, unhappiness with the tenor of the reopening debate has divided white progressive voters in the Twin Cities, historically loath to cast teachers unions as unyielding in the face of nation-leading achievement gaps.
On the other end of the political spectrum, some GOP leaders have long depicted the urban districts as sinkholes, going so far in 2015 as to seek to break Minneapolis Public Schools into six smaller districts. That hostility was reignited in the wake of George Floyd's killing last summer.
At a meeting Jan. 12, the Minneapolis School Board took up both a plan to reopen classes to pre-K and elementary students in February and the district's 2021 legislative platform. District lobbyist Josh Downham warned board members he was already hearing "pointed comments" at the Capitol.
"If we're going to say we're the only district that's not [reopening to in-person learning], I think that's going to raise some real challenges for us at the state Legislature," he said. The same kind of "fearmongering" in suburban and rural communities that followed last summer's civil unrest in the central cities, he said, is "morphing over into the debate about urban schools."
In August, the Minnesota Reformer published a story outlining social media interactions between the head of the Senate Education Finance and Policy Committee, Roger Chamberlain, who represents a number of northern suburbs, and white supremacists. Chamberlain did not respond to requests for comment for this story. He is one of a number of statehouse Republicans who have dismissed calls from the governor, released alongside his K-12 spending proposal, for increasing racial equity in schools.
The proposal enjoys support in the House, though a number of education advocates are waiting for details about efforts to stanch pandemic learning losses. Under the governor's proposal, some $67 million in state and federal funds would go for one-time support for summer programs to help catch students up.
Former St. Cloud school board member Jerry Von Korff criticized the governor's decision to ask for an increase in base per-pupil funding, charging that historically, this makes it hard for districts to use the money for anything other than salary increases. "That places that money on the bargaining table," he says. "It's fine to make provisions for teachers. They deserve every dollar they earn. But you have to make provisions for the kids."
If there is enough money to increase the state's per-pupil funding, Rep. Sondra Erickson, the lead Republican on both House K-12 committees, says she's open to it. But she wants to hear more about state and district plans to address academic recovery.
"I hope the labor unions understand that the most important thing is to get kids back into schools," she says. "Minneapolis and St. Paul — I think they are going to regret having gone down this path of listening to union leadership."
Erickson's impression notwithstanding, union leaders in Minneapolis and St. Paul continue to complain that their concerns have gone unheeded, while district leaders insist reopening plans must incorporate staff and community input. The Minneapolis Federation of Teachers filed a complaint with the state, asserting its members had a right to bargain some conditions of their return but that the district rejected attempts to negotiate.
An email attached to the complaint dated Jan. 21 might shed some light on the dispute. "While we are not amenable to formal bargaining," a district human resources official states, "we are open to ongoing collaboration and problem solving around issues related to returning to in-person learning."
At the same time, the union has launched a social media campaign with claims such as that a return to classrooms will be followed by two months of "nonstop standardized testing," that some teachers will not be able to see their own families during in-person teaching and that children will bring COVID-19 home. Some union members and parents have complained that the posts mischaracterize reopening plans and constitute "fearmongering."
District leaders say they can't comment on pending complaints and are confident they can safely serve students who have chosen to come back in person. "Minneapolis Public Schools' focus is on providing in-person learning to the more than 8,000 families who requested it," district spokesman Dirk Tedmon said, "the same opportunity to return to the classroom available to many other students across the state."
The only thing that seems certain is that the budget Walz eventually signs will involve myriad compromises. The ranking member of the Democratic-Farmer-Labor Party — as Minnesota's Democratic Party is known — on the Senate ed committee, Chuck Wiger of Maplewood, notes that while the GOP has declared Walz's proposal "dead on arrival," it "sets the stage for negotiation this spring," when lawmakers hash things out in conference committee.
Wiger characterizes as cynical GOP leadership threats to withhold funds for summer school and other programs to address lost learning because of teacher reluctance to return to in-person instruction. "You're holding kids hostage? Really?" he says. "We certainly share the concern that students be able to return and that they do so safely."
Support The 74's year-end campaign. Make a tax-exempt donation now.