Minnesota HS Senior Sacrifices Cross-Country Finals to Come to the Aid of Struggling Competitor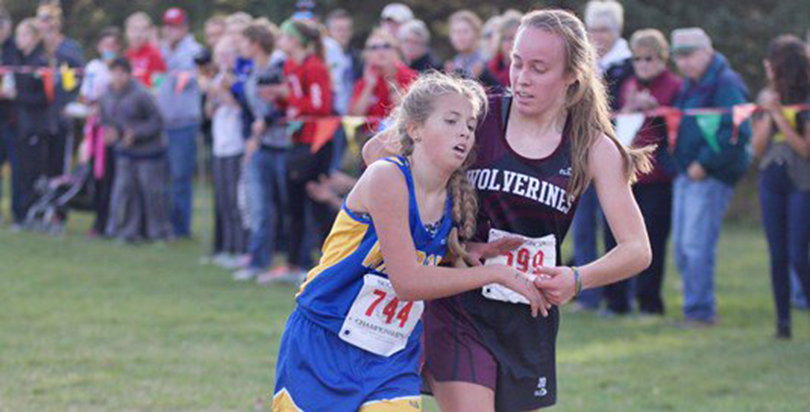 This article is one in a series at The 74 that profiles the heroes, victories, success stories and random acts of kindness to be found at schools all across America. Read more of our recent inspiring profiles at The74million.org/series/inspiring.
Liana Blomgren was on her way to qualifying for her final cross-country state meet when the struggle of a fellow runner began tugging at her heartstrings. Gracie Bucher, an eighth-grader at Windom Middle School, was trying to push through a series of falls, determined to make it to the finish line.
Other runners passed her by. But after watching Gracie stagger and collapse repeatedly, Liana, a senior at Mountain Lake High School, crossed a different line—the rules, which state that runners can't help one another finish the race. She lifted Gracie up and helped carry her to the end, disqualifying herself from any chance of competing in the state meet.
"She was definitely a miracle for me," Gracie told KARE. "There's nothing better than that. She was like my angel that day."
---
---
Gracie noticed signs of struggle early in the race. Her legs felt heavy and her chest was tightening. But the year before, she had come within two places of qualifying for state, so she pressed on.
After the race, her parents took her to the emergency room, where they learned what was holding her back this year: mononucleosis.
Gracie was so grateful to Liana for her sacrifice that she met up with her a few weeks later to say thank you and give her a Dairy Queen gift card — "because I DQ'd her. I figure I better do it again."
This is the last year that Liana's heroics will be a disqualifying act. Next year, the Minnesota State High School League will implement new rules that allow competitors to stop and help one another if no medical care provider is nearby.
---
Minnesota high school runner DQ'd for helping foe in @BoydHuppert 's Land of 10,000 stories. https://t.co/1fUgnW5oqW pic.twitter.com/vNgKlchUd8

— KARE 11 (@kare11) November 30, 2016
---
For her part, Liana does not seem to be disappointed and says her last high school cross-country race is the one that will stand out most in her mind.
"I don't remember what place I was in the section meet last year," she told KARE. "I don't remember what place I was in the section meet the year before that. But I know I'm going to remember this."
Get stories like these delivered straight to your inbox. Sign up for The 74 Newsletter