Minnesota Educators Approve 'Toolkit' to Protect Transgender Youth From Discrimination at School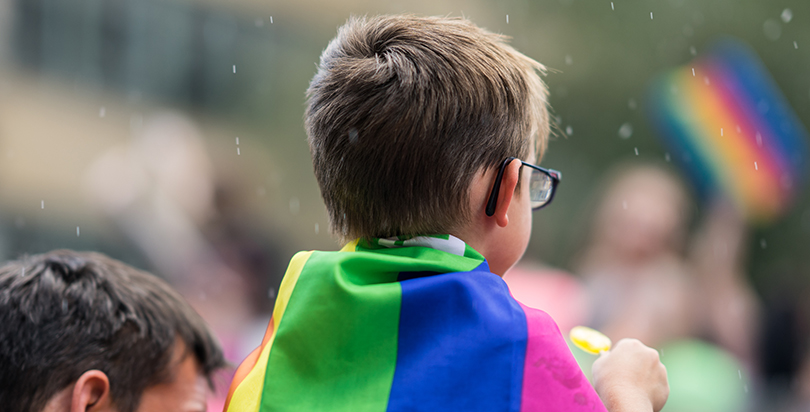 It's been a rough few days for transgender youth. On Tuesday, lawmakers in Texas approved a bill that would legislate their bathroom use. And in a series of tweets on Wednesday morning, President Trump said they were no longer welcome to serve in the military.
But this has been a very different week for transgender students in Minnesota: The School Safety Technical Assistance Council, overseen by the state's Department of Education, has approved a new toolkit that sets best practices for K-12 schools in creating inclusive environments for all students — including those who are transgender and gender-nonconforming.
Charlene Briner, the department's deputy commissioner, told the Post Bulletin the resources are not a mandate for schools. Instead, they're a list of best practices on a topic that's become a hot-button issue for school leaders across the country. The recommendations, according to the document, help ensure transgender students have equal access to education opportunities provided to all students as required by Title IX, a federal law that prohibits sex discrimination in education.
Along with a list of definitions (gender identity is an individual's innate sense of one's own gender), the document highlights the roadblocks transgender and gender-nonconforming youth face in accessing an education: 77 percent report being harassed at school; 17 percent drop out; 50 percent say they didn't participate in school activities because they fear discrimination; 40 percent reported they were frequently excluded from school activities; and in Minnesota, 31 percent have attempted suicide.
In addressing this student population, here are a few key recommendations the state education department laid out for local school districts:
• Schools should use the names and pronouns a student prefers, even if they do not provide legal documents to change their student records.
• Schools should not treat any student differently based on their sex, including gender identity, in any school activity or in the application of any school rule. School officials should allow students to participate in activities — including athletics, homecoming, and prom — consistent with their gender identity.
• Schools should not discipline students for wearing clothes that do not match gender-based stereotypes.
• School officials should ensure all students have access to restrooms and locker rooms. Students should have access to restroom facilities that correspond with their gender identity. "Some students may feel uncomfortable with using a restroom with a transgender or gender-nonconforming student," according to the toolkit. "Any student who wishes not to share a restroom with a transgender or gender-nonconforming student can be provided a private space such as a single-user restroom."
According to the Transgender Law Center, Minnesota and 15 other states have laws on the books that protect students from discrimination based on gender identity and sexual orientation. In 2015, state education leaders in New York approved a set of guidelines similar to those established in Minnesota.
As for Texas students, state lawmakers are debating a proposal that would move their state in the complete opposite direction. On Tuesday, the Texas Senate approved in special session a "bathroom bill" that would require transgender people to use restroom facilities that correspond with the sex listed on their birth certificate rather than their gender identity. Supporters say the rules would help protect privacy in public facilities, while critics argue the rules are discriminatory and could hurt the local economy. If approved, Texas would become the second state with such rules, following in the footsteps of North Carolina.
In the year since North Carolina approved its first-in-the-nation law, policymakers in 16 other states — including Minnesota — have proposed similar rules, including several specific to public schools. The Minnesota proposal, which gained little traction in the state legislature, set to forbid businesses and schools from allowing bathroom access to people "on any basis other than biological sex."
Trump's comments on Wednesday saying transgender people are banned from serving in the armed forces follows a February decision by his administration to revoke Obama-era guidance to school districts, which said Title IX prohibits discrimination based on students' gender identity.
After consultation with my Generals and military experts, please be advised that the United States Government will not accept or allow……

— Donald J. Trump (@realDonaldTrump) July 26, 2017
….Transgender individuals to serve in any capacity in the U.S. Military. Our military must be focused on decisive and overwhelming…..

— Donald J. Trump (@realDonaldTrump) July 26, 2017
….victory and cannot be burdened with the tremendous medical costs and disruption that transgender in the military would entail. Thank you

— Donald J. Trump (@realDonaldTrump) July 26, 2017
Get stories like these delivered straight to your inbox. Sign up for The 74 Newsletter