Minecraft: Education Edition Using In-Game Virtual Worlds to Teach SEL Skills, Expand Girls' & MS Students' Interest in STEM During Pandemic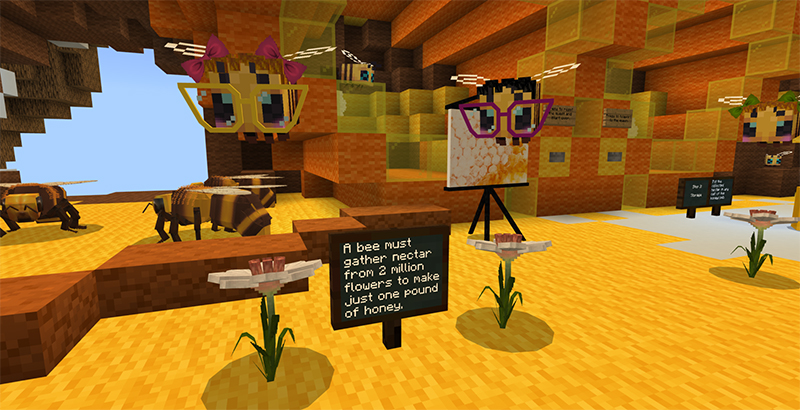 Though the coronavirus is twisting the education landscape, students have entire worlds where they can go to interact with their teachers and classmates, unhindered by the pandemic. And those worlds are ever-changing, created by students and teachers alike within Minecraft: Education Edition.
The wildly popular Minecraft game, with more than 126 million active monthly users, has an entire educational component full of standards-aligned lessons that Microsoft has built since 2016. Minecraft offers an open-ended approach to the virtual world, essentially a limitless canvas for creativity; users can construct worlds that can include everything from cities to ships and roller coasters to aquariums. Within this self-created universe, users interact with their environment, continually building and refining, and welcoming others to join in their virtual adventure.
Now, Minecraft is expanding to increase student interest in STEM and to support social-emotional connections.
When the pandemic started changing the way schools operated in the United States, Microsoft upgraded Minecraft's education offerings with, for example, tours of Washington, D.C., and the International Space Station that classmates could experience together.
Its 11 newly created STEM lessons have a particular focus on girls and middle school students, who often decide that science, technology, engineering and math just aren't for them. These include simpler, game-oriented approaches, such as having students build a bee habitat to understand the importance the insects play in local climates and landscapes.
"If we can create the same interest and engagement in coding or fractions [as in games], then we have helped educators out," says Deirdre Quarnstrom, general manager of Minecraft: Education Edition, "and students can follow their own curiosity and lessons instead of having to wait for a teacher."
Other classes range from an introduction to computer science to an intermediate course with multi-lesson sessions designed for self-guided progression, making it easier for teachers to assign projects for distance learning.
They supplement an educational library with 600 standards-aligned lessons, design challenges and curricula with flexible templates for teachers to design their own learning activities. There are also coding sessions, in conjunction with Code.org, that appeal to an equal mix of boys and girls from second grade through high school. One new offering is a tutorial for learning to program artificial intelligence while studying how to prevent forest fires.
In September, Microsoft rolled out new content to support social-emotional learning by giving educators and students social justice lessons to walk through together and the opportunity to work on projects and socialize in-game.
"Teachers can reach all learners and use Minecraft as a tool in STEM and for social-emotional learning, giving students that social connection they are missing," Quarnstrom says.
As Microsoft looked at crafting new lessons, Quarnstrom says, they designed materials geared toward remote multiplayer options so students could connect through the game. Along with additional instruction, training and guides to support students and teachers from home, the company built new sets of lesson kits designed so that teachers could assign shorter activities for groups of students to work on together.
And students have responded. In June, the New York City Public Schools offered a Minecraft challenge, inviting students to virtually create a sustainable version of their park and then submit their work. The challenge garnered 15,000 student entries.
As remote learning became a necessity for students at all income levels, Microsoft made Minecraft: Education Edition available for Chromebooks for the first time.
"Our design and goal is to make the education edition available to as many educators and students as possible," says Quarnstrom. "We are hearing questions about equity in education and technology, so we had additional urgency to get this out. For schools already using Chromebooks or a mix of Chromebooks with other devices, we want to make it available so there are not issues of students not having access."
Get stories like these delivered straight to your inbox. Sign up for The 74 Newsletter