Milkie: 20 Years, 17 Schools & 25,000 Students — Noble Charter Schools Celebrates Its 1st 2 Decades & Looks Forward to the Next 2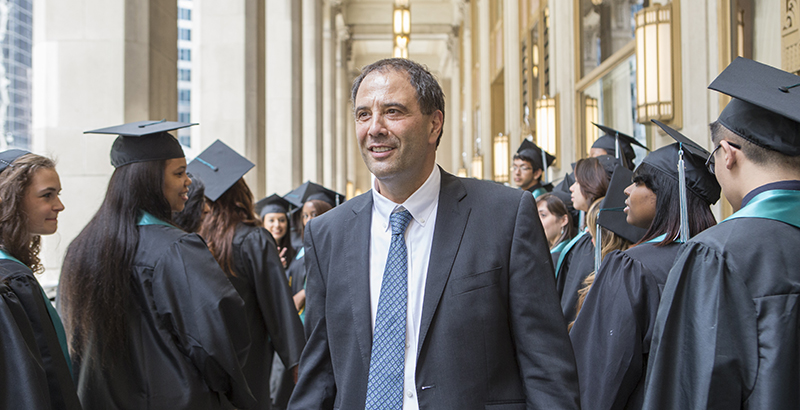 Two weeks ago, more than 12,000 students from the Noble Charter Schools in Chicago began their school year — among the first public school students in the city to return to class. The arrival of our students is a time of great excitement.
In the midst of the excitement, it's a good time to reflect on just how far we've come. This will be Noble's 20th year of serving the families and communities of Chicago.
When my wife, Tonya, and I started Noble nearly 20 years ago, we had no idea we would reach this point. We were simply two high school teachers who wanted more for the students we taught every day. The schools where we worked were not set up for our students to maximize their potential. So, when Illinois passed a charter school law, we decided to do something about it.
We had much to learn: We had to find a school building, learn how to fundraise, pore over hundreds of regulations, and submit more paperwork than we'd ever done in our lives (twice, in fact — our first charter application was rejected). We wrote about how we would be different — how we would prioritize finding the best teachers and a safe learning environment, anchored in the steadfast belief that any student from any background, given the proper support and resources, can earn a college degree.
Thankfully, we had willing partners along the way, people who were generous with their time, resources, and expertise. We found space in the Northwestern Settlement, a local nonprofit serving generations of Chicagoans in the West Town neighborhood. With the organization's help, our small staff set up shop and pieced together the dream that became our little charter school. And in August 1999, Noble Street Charter High School welcomed its very first class of 126 students.
Today, from those humble beginnings, Noble has grown to 17 high schools and one middle school serving more than 12,500 students and over 12,500 alumni from every one of Chicago's 77 neighborhoods — in all, more than 25,000 students getting a Noble education. Our student body constitutes more than 10 percent of all public high school students in the city. Ninety-nine percent of Noble's class of 2018 was accepted into college, and together our seniors were awarded more than $480 million in scholarships.
Each year, we get to watch our graduates matriculate to colleges and universities all across the country. Our alumni attend and have graduated from many prestigious colleges, including every Ivy League school and other top-tier universities throughout the country, and Noble graduates increasingly make up substantial portions of the incoming classes at great colleges closer to home, like Northwestern, the University of Illinois at Chicago, and the University of Illinois at Urbana-Champaign.
We're also very proud that this list includes our undocumented students — thanks to the Pritzker Access Scholarship program within Noble, over 300 of our DACA-eligible students received four-year scholarships to supplant the governmental aid inaccessible to them due to their immigration status.
We're so proud of our first two decades, and of all the Noble alumni who have come back to Chicago and rejoined our family. People like Brenda Cora, a member of Noble Street's first class, who now serves as the principal of one of our campuses. She's just one of almost 200 teachers and staff members who were once Noble students and have come back to Noble to pass the college dream on to the next generation. Noble has become an essential part of Chicago's fabric, and our relationship to our city is one that we'll always cherish.
As we look forward to our 20th year and the 20 years to come, we can't wait to see what the next generation of leaders at Noble will accomplish. Our teachers, leaders, and staff continue to push new ground with curriculum, instruction, and school culture, never settling for what we've done and always wanting more for our students. More than ever, you're bound to encounter a Noble graduate at colleges across the country, and our graduates are beginning to move from college classrooms into the workplaces and boardrooms in Chicago and across America.
We've come a long way, but there is still much work to do. Here's to the next 20 years for Noble, Chicago, and our nation.
Michael Milkie is superintendent of Noble Charter Schools.
Get stories like these delivered straight to your inbox. Sign up for The 74 Newsletter