Middle School Marvel: For Her Science Project, This 14-Year-Old Invented a Way to Eliminate a Car's Blind Spot. Now She's Won $25,000 — and Volvo Is Intrigued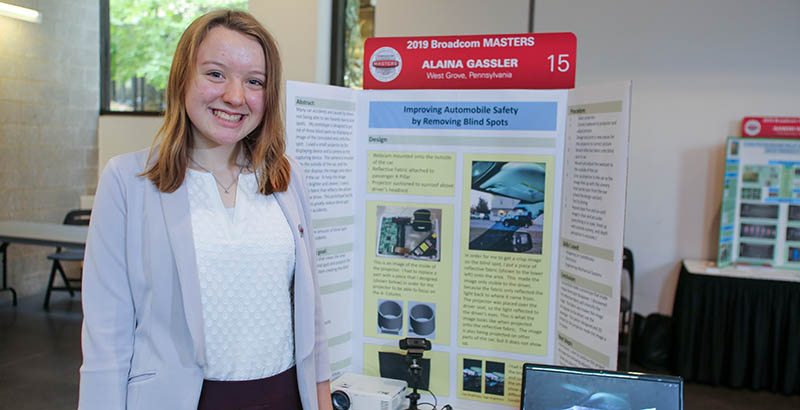 Alaina Gassler's 2019 science project started small, designed for her middle school in Pennsylvania. Soon, though, her project to remove blind spots from cars was winning county and then regional science fairs — and now, Gassler has taken top honors at the largest middle school science fair in the country, the Broadcom MASTERS (Math, Applied Science, Technology and Engineering as Rising Stars) competition held by the nonprofit Broadcom Foundation and the Society for Science & the Public.
Not only did the 14-year-old beat out 29 other finalists from around the country to win the $25,000 Samueli Foundation Prize — she got to travel to Sweden to discuss her invention, which uses a camera and projector to improve drivers' range of vision, with Volvo's top female engineer, who also heads the automaker's safety division.
"I never thought I would get close to where I am now with winning Broadcom MASTERS," said Gassler, an eighth-grader at Avon Grove Charter School in West Grove, Pennsylvania. "It has given me confidence to continue on with projects."
Her winning entry, dubbed Improving Automobile Safety by Removing Blind Spots, uses a camera outside the car to feed images to a projector inside. That image is overlaid on small, 3-D printed screen affixed to sections of the car's frame that block the driver's view, making the obstructions virtually invisible.
In trying to come up with an idea for her science fair project, Gassler had asked her parents, both engineers, about real-life issues they faced. Her mom explained that she didn't like blind spots in one of the family's cars. "My brother had just started driving, and the blind spot could block out entire cars at intersections," Gassler says. "When I did research and found there are over 840,000 blind-spot-related accidents per year, I wanted to help prevent them."
Maya Ajmera, president and CEO of the Society for Science & the Public, says she thinks Gassler's project has attracted such attention since she won because she solved a problem that everyone can relate to.
The concept sounded simple — "All I was doing was hooking a projector up to a camera," Gassler says — but executing it was not. Lining up the image with the scenery in the background proved to be a challenge. "It was very difficult because the image was a different size or too bright," Gassler says. "I had to get out of the car every time I wanted to adjust the camera and then get back in the car to adjust the projector, but the project would be useless if I wasn't able to make it work."
14-year-old Alaina Gassler won a $25,000 prize for creating a prototype designed to eliminate a car's blind spots https://t.co/50Ng7aZI2t pic.twitter.com/eVB7fC68fa

— CNN (@CNN) November 9, 2019
Gassler doesn't plan to pursue the project beyond her Broadcom win, leaving that to someone with the financial and educational resources to look at bringing it to retail. But she's certainly enjoyed the experience and the publicity that has come with it. "It has definitely been a lot of fun talking to a lot of new people, and I've gotten to meet some really cool people," she says. "I am happy to get the recognition because that means so many people think my project is amazing."
The four days Gassler spent in Washington, D.C., with the 29 other finalists got her thinking about STEM and her desire to encourage girls to participate. "I would definitely like to start a [STEM] program at my school," she says, "to get kids and girls in STEM and be able to carry them through so they can learn the basics and let them understand that they really will make a difference."
The 2019 Broadcom event included a positive sign in that regard: 60 percent of the finalists were female, and girls snagged all five of the top spots in the competition for the first time. To keep the momentum going, Ajmera says, it is important to get more teachers and mentors nudging students toward competition, especially in underserved locations. "We believe when kids are competing," she says, "they are able to defend the project, meet new people and communicate science in a great way that opens up doors to college and scholarships."
For Gassler, those doors are already opening.
Get stories like these delivered straight to your inbox. Sign up for The 74 Newsletter