Michigan First-Graders Write to Their Principal Asking for a Dog — and Now the Whole School Is in Love With Buddy the Therapy Dog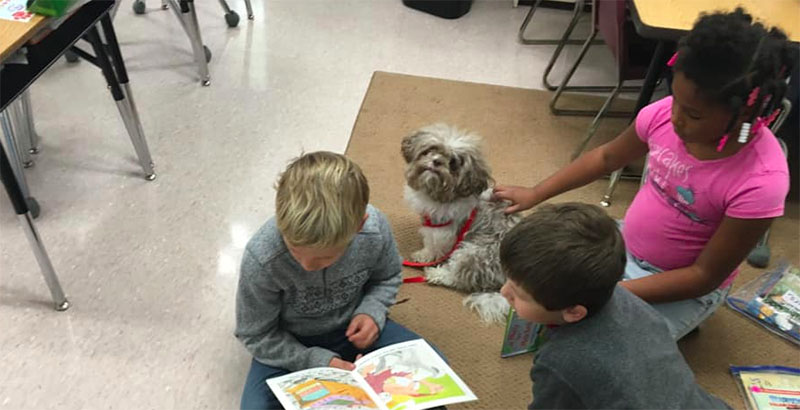 This article is one in a series at The 74 that profiles the heroes, victories, success stories and random acts of kindness found at schools all across America. Read more of our recent inspiring profiles at The74Million.org/series/inspiring.
The assignment was persuasive writing, so the first-graders at a school in Muskegon, Michigan, picked a topic nearly every kid has had practice in: They really, really wanted a dog.
But what started as a classroom lesson ended up helping the students, the teachers, the school and even the neighborhood pet shelter, mlive.com reported.
The kids at Reeths-Puffer Elementary School wrote to their principal, listing the reasons dogs are good for children and helpful in schools. Apparently, they were good persuasive writers, and they got the administrators thinking.
"We started doing research, and it turns out there is a lot of research that says having a dog in school, a therapy dog, is beneficial," Assistant Principal Karyn Benner said in a video posted by the Muskegon Humane Society. "Last summer, I want to the Humane Society and asked if they would have a dog that might be hypoallergenic and playful and really good around kids and calm and wouldn't bark a whole lot. So, we had quite a lot of things we were looking for."
Benner soon found Buddy, a cuddly furball who became the school's therapy dog. She adopted Buddy and now brings him to work every day, where he inevitably sniffs out the neediest child.
"He cheers up teachers who have had a rough moment and supports our school-wide Positive Behavioral Interventions and Supports (PBIS) initiative," Benner told Good News Network. "We have some highly aggressive students who have elaborate behavior plans. When their behaviors would escalate, our master's-level staff were often unable to de-escalate them in a timely manner. But when Buddy comes in, the students just melt in a matter of minutes."
The story could have ended there, but it was too good not to share. Benner submitted an essay about Buddy to the Petco Foundation's Holiday Wishes Grant Campaign and noted how the Title I school has many students with diverse social and learning needs.
"Buddy has been an integral part of our 'support team,' providing therapy to students when needed," Benner wrote. "He is used as a reading Buddy, a comfort to those who are sad or upset."
The Petco Foundation, which has given $4.2 million in Holiday Wishes awards since 2012, including almost $900,000 in 2019, was persuaded. It awarded the Muskegon Humane Society a $100,000 grant.
"Buddy is an awesome dog that was able to reach his full potential because he was given the love and training he needed," Alexis Ogborn, executive director of the Muskegon Humane Society, said at the ceremony. "There are millions of Buddys out there in shelters, and it just takes people that love them and want to help them find their purpose. We really appreciate you guys doing that for Buddy."
Get stories like these delivered straight to your inbox. Sign up for The 74 Newsletter