Education Reformers Sweep Los Angeles's School Board Elections, Setting Up Pro-Charter Majority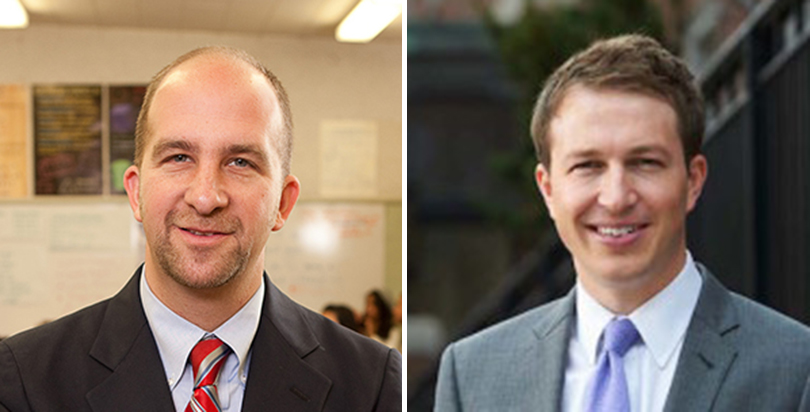 This piece was produced in partnership with LA School Report; see LASR's complete coverage of the 2017 school board race. Other recent coverage from the campaign trail:
What's Really Fueling the L.A. School Board Race — the Most Expensive Board Contest in U.S. History
New Student Data Show That Half of Graduating Seniors in L.A. Not Eligible for California's Public Universities
L.A. School Board Puts Money & Lobbying Muscle Behind State Bills Drafted to Shackle Charter Schools
Get the latest updates on the new L.A. school board; sign up for The 74 Newsletter.
---
Reform-backed candidates swept the Los Angeles Unified School Board election Tuesday night, unseating the board president and swinging the balance of the board toward a pro-reform majority for the first time since 2010, according to unofficial election results.
Steve Zimmer, the board president who was running for his third and final term, conceded before any results from Tuesday's polling were posted. Contender Nick Melvoin's commanding lead in the mail-in balloting, at 60 percent to Zimmer's 40 percent, prompted Zimmer's concession speech not long after he arrived to a subdued crowd at his campaign event in Mar Vista.
Melvoin's lead in the hard-fought District 4 race, which encompasses Los Angeles's west side, a portion of the west San Fernando Valley and Hollywood, held out as polling results rolled in. By 1:15 a.m., 18 of the 19 LA Unified precincts had posted their results, giving Melvoin 57.41 percent to Zimmer's 42.58 percent.
In the east San Fernando Valley's District 6, the race for the open seat was closer, but science teacher and reformer Kelly Gonez maintained her lead. Around 12:30 a.m. Gonez tweeted out that she believed she had won.
"Based on the results we're seeing, I feel confident that the voters of BD6 have voted to make me your next member of the Board of Education," Gonez tweeted just after 12:30 a.m. By 1:15 a.m., Gonez continued to lead Imelda Padilla, 51.47 percent to 48.52 percent. (Read more about Gonez's background and victory.)
At stake in the fiercely contested campaign is control over a complex, underperforming school district whose ability to improve schools for nearly 665,000 students is compromised by declining enrollment, a $1.46 billion projected deficit, and billions of dollars in unfunded liabilities for retirees.
Zimmer campaigned on a platform that the district is improving, pointing to rising graduation rates. During his concession speech Tuesday night, he said, "Don't believe what they say. Teachers are not failing. Students are not failing. Schools are not failing."
Melvoin campaigned on the premise that the district was failing and the board needed to act with more urgency to improve student achievement and address its financial situation.
"We can do better, and I know we can do it in LA," Melvoin said Tuesday night.
The election, as in past years, has transcended the candidates in pitting the teachers union and its vision of improvement — more spending, smaller class sizes, expanded wraparound services, and community schools — against reformers who have been fighting to end seniority-based protections and pay, close struggling schools, and give families more school choices.
Tuesday's results were a blow for the teachers-union-backed candidates and will likely end the pro-union stance of the board that has existed for several years and signal a new direction for the nation's second-largest school district.
Melvoin's and Gonez's wins add to that of board member Mónica García, who was re-elected in the March primary when she got 56 percent of the vote. These three, along with Ref Rodriguez, who defeated union-backed incumbent Bennett Kayser in 2015, would give the board a 4–3 pro-reform majority. Before Tuesday, the board tilted 5–2 in favor of union-backed candidates.
This is the first time that reform-backed candidates will have won in LA's school board races without the help of an incumbent mayor. Mayor Eric Garcetti, most members of the city council, and other elected leaders endorsed Zimmer. Former LA mayors Antonio Villaraigosa and Richard Riordan endorsed Melvoin and Gonez and worked to elect reform candidates to the school board during their mayoral terms.
The election is the most expensive school board race in the nation's history, with outside groups aligned with either the teachers unions or education reformers pouring in $14.5 million to influence the outcome of the race. The candidates have spent $2 million. Spending shattered the previous record set four years ago when $7.4 million was spent.
Outside interest groups on both sides have stuffed postboxes with mailers and flooded TV, radio, and digital space with negative ads. The biggest target of negative advertising was Zimmer. Reform-aligned groups, one funded by Riordan, spent $3.4 million to oppose him. Zimmer has accused his opponents of lying about his record. Teachers unions and others spent nearly $1.9 million to support him.
The state's Fair Political Practices Commission is investigating a complaint that alleges that the local teachers union, United Teachers Los Angeles, violated campaign finance disclosure laws by financing a public relations campaign to promote Zimmer and Padilla without reporting that spending. It is unknown how much has been spent on that campaign. The PAC that paid for the ads is not required to report spending ahead of the election. The California Charter Schools Association, which filed the complaint, recently added additional ads to its complaint.
Unions spent about $500,000 to oppose Melvoin, while charter school supporters and reformers spent $2.3 million to elect him. The teachers union attempted to associate him with the "Trump/DeVos agenda," although he is a Democrat and opposes both President Donald Trump and Education Secretary Betsy DeVos. Melvoin called the attacks misleading.
Of the money that the candidates themselves have raised, Melvoin raised the most of any candidate in recent years: nearly $800,000 as of last week. Zimmer raised $346,000. Gonez raised nearly $300,000. Padilla raised about $165,000.
Padilla, who was endorsed by UTLA, had about $1.9 million spent on her behalf by labor groups, while reform groups spent about $660,000 to oppose her. Gonez supporters — charter school advocates and reformers — spent about $2.6 million to boost her candidacy, while unions spent about $500,000 to oppose her.
High-profile names weighed in on the race, including U.S. Senator and former presidential candidate Bernie Sanders, who endorsed Zimmer and Padilla, and former U.S. senator Barbara Boxer and former education secretary Arne Duncan, who both endorsed Melvoin and Gonez.
This was the first time Zimmer was forced into a runoff. In 2013, he defeated his opponent Kate Anderson with 52 percent of the votes.
Support The 74's year-end campaign. Make a tax-exempt donation now.