Mehlhorn: The Top Court in CA Declines Teacher Tenure Case, as Dissenting Justices Write for History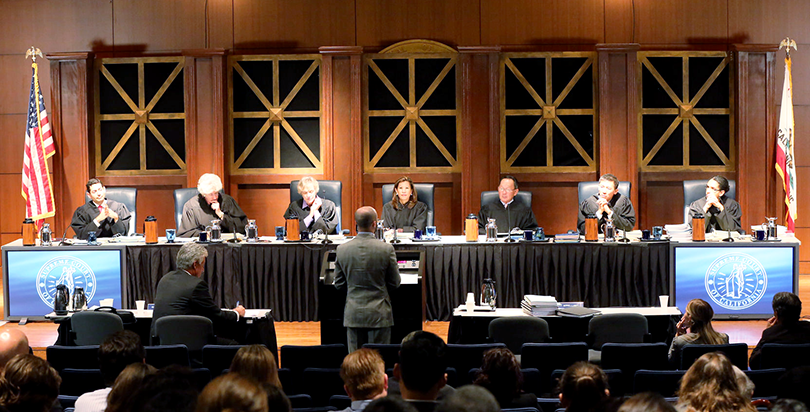 In the long struggle to make the United States more just and perfect, court majorities have made some horrific mistakes. When that happens, the burden falls on dissents to provide hope for the future arc of the moral universe.
Such dissents often come from the most distinguished jurists. Benjamin Curtis, for instance, was the first formally trained lawyer on the United States Supreme Court. In 1857, he dissented from the Dred Scott case that eviscerated the civil rights of African Americans, arguing that: "free persons, descended from Africans held in slavery, were citizens of the United States." John Harlan dissented in Plessy v. Ferguson (1896) with the following famous lines:
"Our constitution is color-blind, and neither knows nor tolerates classes among citizens…The law regards man as man, and takes no account of his surroundings or of his color when his civil rights as guaranteed by the supreme law of the land are involved."
Justices Curtis and Harlan were vindicated by history, as were Justice Louis Brandeis in Olmstead v. United States (1928) regarding the right to privacy, and Justice Harlan Stone in Minersville School District (1940) regarding freedom of religion.
Today, justices unable to persuade their peers write for history, as in the 2011 dissents of Justices Ruth Bader Ginsberg (the Dukes v. Walmart case regarding workplace rights of women) and Sonia Sotomayor (the United States v. Jicarilla Apache Nation case regarding the rights of the Apache Nation).
These examples come to mind in light of recent news from California, the nation's largest state, and education reform, which the Urban League's Esther Bush and many others have called the greatest civil rights issue of our time.
As background, in 2012 public school student Beatriz Vergara and 8 other schoolchildren sued California for violating their constitutional rights by providing them with systematically inferior education. In 2014, Superior Court Judge Rolf Treu agreed with the students, ruling that the California educational system "shocks the conscience" in its mistreatment of students of color. Judge Treu's decision met with immediate and widespread approval from almost every major newspaper editorial board of the left, right, and center, as well as longtime progressive education leaders such as California's former Congressman George Miller.
Unfortunately, three California appellate judges, led by Justice Roger Boren, made a clearly flawed decision to overturn Vergara.
As I wrote at the time, I was confident that the California Supreme Court would overturn Justice Boren's clearly flawed ruling, in part because of my confidence in two of the individual justices of that court: Goodwin Liu and Mariano-Florentino Cuéllar. Both Liu and Cuéllar have sterling reputations and have been discussed as future justices of the United States Supreme Court.
Unfortunately, Liu and Cuellar were not given the chance. In a shameful abdication of duty, 4 of the 7 California Justices refused to even listen to the arguments of Beatriz Vergara and her fellow plaintiffs. (Read more about the Supreme Court's decision that was handed down Monday) Those four justices, Carol Corrigan, Kathryn Werdegar, Tani Cantil-Sakauye, and Leondra Kruger, thus join the ranks of names such as those of Roger Taney and Henry Brown that will be forever tainted by their defense of a brutal and discriminatory system.
Fortunately, California's rules allow dissents even in cases of accepting or denying a petition for review. Thus, Justices Liu and Cuéllar, had the opportunity to keep hope alive for future petitioners. Justice Liu's dissent included the following language:
"One of our criteria for review is whether we are being asked "to settle an important question of law." Under any ordinary understanding of that criterion, our review is warranted in this case. … The trial court found, and the Court of Appeal did not dispute, that the evidence in this case demonstrates serious harms. The nine schoolchildren who brought this action, along with the millions of children whose educational opportunities are affected every day by the challenged statutes, deserve to have their claims heard by this state's highest court. … [The case asks] whether the education clauses of our state Constitution guarantee a minimum level of quality below which our public schools cannot be permitted to fall. This issue is surely one of the most consequential to the future of California. Despite the gravity of the trial court's findings, despite the apparent error in the Court of Appeal's equal protection analysis, and despite the undeniable statewide importance of the issues presented, the court decides that the serious claims raised by Beatriz Vergara and her eight student peers do not warrant our review. I disagree."
For his part, Justice Cuéllar wrote:
"What Beatriz Vergara and eight of her fellow public school students allege in this case is that they, and vast numbers of children in our state's public schools, are burdened by certain statutes governing teacher dismissal, retention, and tenure that create a surplus of grossly ineffective teachers. … Nothing in California's Constitution or any other law supports the Court of Appeal's reasoning. … Even if one ignores the appellate court's inconsistency with settled law, the question its approach begs is as simple as it is important: Why? … Beatriz Vergara and her fellow plaintiffs raise profound questions with implications for millions of students across California. They deserve an answer from this court. Difficult as it is to embrace the logic of the appellate court on this issue, it is even more difficult to allow that court's decision to stay on the books without review in a case of enormous statewide importance. … There is a difference between the usual blemishes in governance left as institutions implement statutes or engage in routine trade-offs and those staggering failures that threaten to turn the right to education for California schoolchildren into an empty promise. Knowing the difference is as fundamental as education itself. Which is why I would grant review."
Beatriz Vergara has reached the end of her K-12 career, and thus the damage to her (and millions of other students) has already been done. For future students, however, Justices Liu and Cuéllar have done a vital service. For all the hundreds of millions of dollars that education bureaucrats spend every year to lobby against education reform, they cannot win if they keep losing the moral high ground. When justices such as Liu and Cuéllar, who have been known throughout their careers as among the most inspiring, moral, and thoughtful members of the bar write such compelling dissents, other courts in other states will take notice. The first legal victory for these students will not come in California, but it will come.
Get stories like these delivered straight to your inbox. Sign up for The 74 Newsletter