Meet the Champs of the Super Bowl of Spelling — They're All Indian-American Kids, and They Love This American Tradition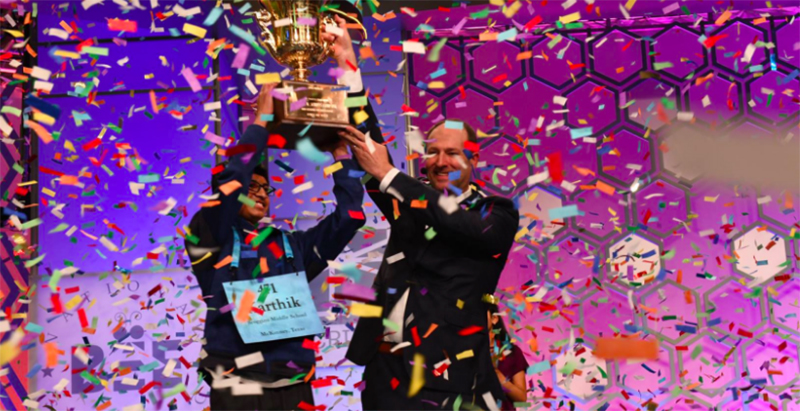 This article is one in a series at The 74 that profiles the heroes, victories, success stories, and random acts of kindness found at schools all across America. Read more of our recent inspiring profiles at The74Million.org/series/inspiring.
When it comes to school sports, spelling is the new football.
ESPN announcers cover it with all the swagger of the NBA finals. Las Vegas bookies offer spreads on various outcomes, including whether the winner will be wearing glasses or have braces.
And in this all-American sport, Indian-American kids are the undisputed star players. Nineteen of the past 23 champions have been of South Asian descent, and that includes an 11-year winning streak.
So it was hardly a shocker to see an Indian-American eighth-grader, Karthik Nemmani from McKinney, Texas, hoist the 2018 Scripps National Spelling Bee trophy above his head in a rain of multicolored confetti.
Wild-card contender Karthik knocked out his last rival, 12-year-old bee favorite, fellow Texan and Indian American Naysa Modi, when he correctly spelled "koinonia," which means a spiritual communion. After his win, which yielded him $42,500 in prize money and a complete reference library, Karthik took a victory lap in the form of a whirlwind publicity tour of New York and Hollywood.
Of a record 515 spellers this year, more than 130 were Indian Americans, who comprised more than half the 41 finalists left standing May 31, the last day of competition. When Karthik clinched the title, he was one of 11 Indian Americans out of 16 to square off in the dramatic endgame rounds. (Last year, the ratio was 13 of 15.)
Indian Americans are less than 1 percent of the country's population.
What's up with that?
A new documentary, Breaking the Bee, explores the phenomenon.
"The only way Indian-American kids are losing the spelling bee is if they switch to Spanish next year. And then it's still like 50-50," comedian Hari Kondabolu, who calls it "the Indian Super Bowl," jokes in the film.
"How do I win the Scripps National Spelling Bee: 90 percent hard work, 10 percent other," says Akash Vukoti, 7, who entered his first spelling bee when he was 2 and still in diapers.
Akash, one of four spellers followed in the film, is a Texan like Karthik, and he told talk show and Little Big Shots host Steve Harvey that he wants to be an "astroactor" — an astronaut and actor — when he grows up.
As shown in the film, the driven spellers put in grueling hours and hire coaches as they vie for Scripps glory, and the journey is a family affair — and generational — just like Little League games and traveling sports clubs. But Breaking the Bee dispels tiger-mom-like stereotypes of kids with no lives being pushed by relentless parents.
"It was surprising to see how much of the drive comes from the spellers. The speller wants to win. The speller wants to study. The speller wants to succeed," Sam Rega, the film's director, told the online magazine Kajal.
"The parents aren't forcing this. Some parents even told us that they always check in with their son or daughter to make sure they are still enjoying themselves."
Thanks to the North South Foundation and the South Asian Spelling Bee, they have a huge support system in the Indian-American community.
But in a paradox common to this country, the "South Asian–American dynasty," as Kajal calls it, is also a way for the spellers and their families to fit in, by excelling in an American-as-apple-pie contest first held in 1925.
Ultimately, these Scripps aspirants bond over many things, with the biggest sense of unity forged in their common battle against a Goliath known as the Merriam-Webster Unabridged Dictionary.
Get stories like these delivered straight to your inbox. Sign up for The 74 Newsletter