Meet the 3 New Education Advocates to Be Inducted Into the National Charter School Hall of Fame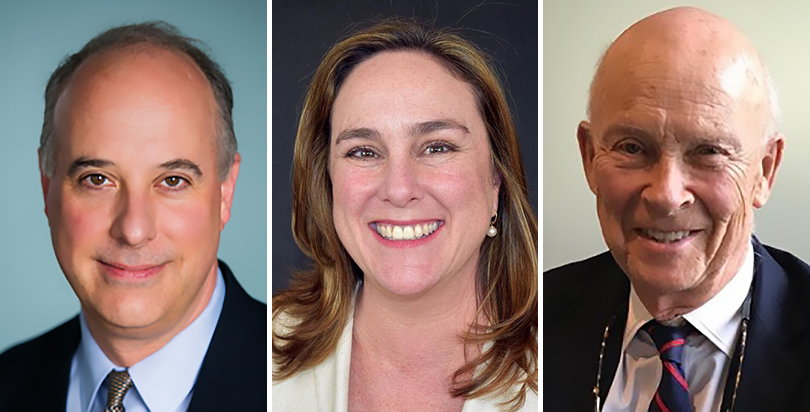 Three charter school advocates — Greg Richmond of the National Association of Charter School Authorizers, Caprice Young of Magnolia Public Schools, and Malcolm "Mike" Peabody of Friends of Choice in Urban Schools — have been chosen as this year's inductees to the Charter School Hall of Fame, the National Alliance for Public Charter Schools announced Thursday.
The three will join 32 charter school pioneers and innovators who have been honored as Hall of Fame members over the past decade. They will be recognized at the National Charter Schools Conference next month in Washington, D.C.
The announcement comes during Charter Schools Week, celebrating the millions of students in 6,900 charter schools across 43 states and the District of Columbia.
"We are proud to honor these outstanding leaders in the charter public school community because of their significant contributions to the movement and unyielding commitment to ensuring all students have access to an excellent education," said Nina Rees, alliance president and CEO. "We thank Mike, Greg, and Caprice for their unwavering dedication and their continued leadership in service of the more than 3 million students served by charter public schools every day."
Caprice Young, CEO and superintendent of Magnolia Public Schools, California
Caprice Young didn't start her career in education — she initially worked in government finance and technology — but the self-described "PTA mom on steroids" was hooked when she became a Los Angeles school board member. Over the years, she has helped influence and inspire the creation of hundreds of charter schools as the founding CEO of the California Charter School Association.
"The thing I'm most proud of is, over the 20 years I've been in the movement, I've been able to see the schools starting around my kitchen table turn into [charter management organizations] that serve tens of thousands of kids," she said. "I'm also thankful for my husband for letting me monopolize the kitchen table."
Young now runs a network of 10 science academy charter schools in California where 65 percent of graduates who attend college are the first in their families to do so. She is most excited about how the charter sector offers another option to a nation with diverse learning needs, as her own children have attended a mix of magnet, public, charter, and private schools. "I believe every single kid should be able to go to whatever school is the right fit for that kid," Young said.
Malcolm "Mike" Peabody, founder of Friends of Choice in Urban Schools (FOCUS), Washington, D.C.
When Malcolm "Mike" Peabody talks about his nearly 30-year career advocating for charter schools, he first tells the story of his time working in the Department of Housing and Urban Development in the 1960s. That's because it showed him the power of giving choice to citizens: He helped develop a program that awarded public housing allowances for people to select the housing they preferred.
"I'm coming from that concept of funding the people that I thought was so germane to progress," Peabody said. "I've followed it since."
He lobbied for Newt Gingrich's School Reform Act in 1995, which brought charters into D.C. His proudest accomplishment, he said, was founding Friends of Choice in Urban Schools (FOCUS) in 1996, an organization that has strongly advocated for charter schools in D.C., fighting for equal funding and building space.
Greg Richmond, president and CEO of the National Association of Charter School Authorizers, Illinois
Greg Richmond was inspired to dedicate his career to charter schools after working in Chicago Public Schools during the rollout of Illinois's charter school law and seeing educators and community organizers jump at the opportunity to educate kids in their neighborhoods by opening charter schools.
Since then, Richmond has worked around the country and even with other nations in sharing best standards for high-quality charter schools. At the National Association of Charter School Authorizers, Richmond worked with Louisiana's state government after Hurricane Katrina to evaluate charter school proposals and decide which should be approved for New Orleans.
"This is not a boutique activity," Richmond said. "Charter schools can serve all kids."
---
---
Support The 74's year-end campaign. Make a tax-exempt donation now.