Meet Alabama's Tiniest School Resource Officer — and Find Out How He Got His Badge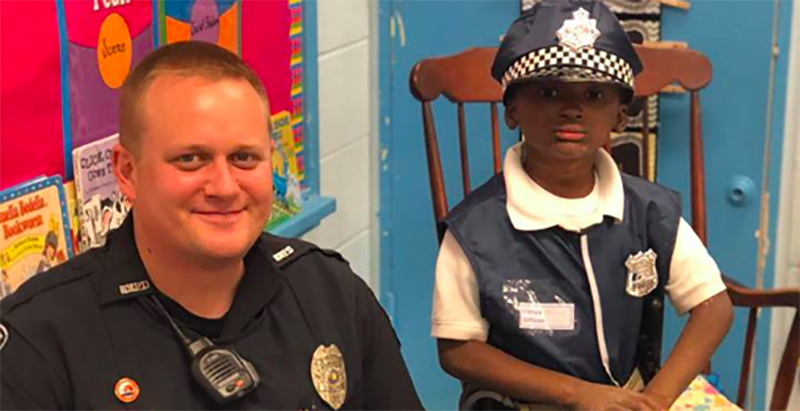 This article is one in a series at The 74 that profiles the heroes, victories, success stories, and random acts of kindness found at schools all across America. Read more of our recent inspiring profiles at The74Million.org/series/inspiring.
Braylon Henson not only follows the rules as a first-grader at Alabama's Bay Minette Elementary School; he enforces them as the school's mini–resource officer.
On warm days, Braylon spends recess patrolling the hallways with the school's official resource officer, Ronald Saladin. That's because the 6-year-old has a rare skin condition called ectodermal dysplasia — he was born without sweat glands, so he can't play outside when the temperature gets above 74 degrees.
That's how Braylon and Saladin met.
"I noticed his classmates were out there playing and he was in here by himself. I let him come walk with me because he felt left out," Saladin told WKRG.
One walk down the hallway led to many more — and soon, Saladin had a new partner and friend.
He even bought Braylon his own uniform, complete with a hat, vest, and plastic badge.
In an interview with Good Morning America, Saladin explained that Braylon takes his newfound responsibilities — which include checking classrooms for cleanliness and sometimes directing traffic — very seriously. "When [students are] running in the hallways, [Braylon] will yell at them and keep the order. He's very smart, and even though he has that skin condition, he's really positive. He has a lot of talent."
The other students at Bay Minette Elementary respect and admire Braylon. His mom, Jamie Wright, told Fox 10 that she has noticed a positive change in her son's attitude, and she believes that patrolling the hallways with Saladin gives him a unique opportunity to socialize with other students.
His teachers say they use the patrols as an incentive to get Braylon to finish his assignments, and his grades have improved significantly.
Braylon's self-confidence has increased, and so has Saladin's.
"It's definitely a blessing, like it was meant to be," Saladin told WKRG.
Support The 74's year-end campaign. Make a tax-exempt donation now.