Medema and Pankovits: A Wrench in the Works — How Schools Can Keep the Coronavirus Pandemic From Derailing Their Construction Projects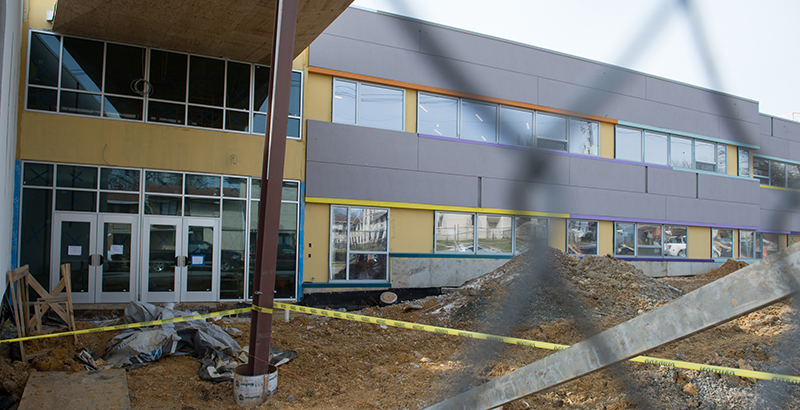 Many state governments have deemed school construction an essential service during the coronavirus crisis. This is a good thing. While New York, the nation's pandemic epicenter, didn't give school facilities projects the green light until April 9, states less hard-hit were quicker to make the declaration. That sounds like good news for charter schools expecting to move into new or renovated buildings in time for the fall.
Not necessarily.
Mass public quarantines implemented by China to slow the coronavirus there temporarily shut down factories in the world's second-largest economy. This will disrupt supply chains globally for months at least, and that includes building supplies.
What does this chaos mean for school leaders, building owners and contractors — not to mention teachers, students and parents — wondering about the fate of charter school construction projects? The Charter School Facility Center turned to three experts in the field for guidance.
The dreaded force majeure
Washington, D.C.-based Building Hope has supported charter school facility work since 2003. Its president of real estate, Dru Damico, says the nonprofit has 11 construction projects underway for delivery in August. None are in serious trouble so far, but he's starting to hear about contractors sending force majeure notices to owners of buildings in progress.
Force majeure is a clause in many construction contracts that relieves one party from its contractual obligations when there is an "act of God," or a natural disaster. Damico advises charter schools to get their contracts out and read them closely. He doubts that most construction contracts executed before March 2020 will explicitly list "pandemic" as a force majeure, but you can bet they all will going forward.
Once the owner understands the remedy, reaching out to the contractor — even (or especially) before a notice is sent — to negotiate a plan is a very good idea. Contractors want to complete their jobs and pay their employees. Thus, owners are not without leverage.
David Leahy is a managing director for Turner Impact Capital, one of the nation's largest social-impact investment firms. Leahy has already had to help school leaders find creative solutions to avoid delays and cost increases. In one case, window shades were out of stock — a seemingly trivial hiccup, until you think of kids sitting at desks with the August sun beating down on them.
For a building itself, if it really looks as if it's not going to make deadline, new schools that are starting under capacity might want to limit construction to the number of classrooms that are actually needed this year. Or, focus on completing essential elements like classrooms while holding off on the gymnasium or specialty labs.
Bureaucracy in the time of pandemic
Building material supply chains aren't the only cause for concern for charter schools pushing to get their facilities finished in time for the new year. Zoning, traffic pattern studies, special use permits, utility connections — these formalities and the bureaucrats who control them, and thus the fate of a project, are painful processes even in the best of times.
Laura Fiemann, senior vice president of the Charter Schools Development Corp., which has facilities projects underway in the Southwest, said she's not experiencing any significant delays in construction or shortage of materials. But in San Antonio, Texas, she really needs the zoning board to sign off on a new school's traffic impact statement, and the city has suspended all public meetings until May 15, which is cutting it close. In Phoenix, by contrast, city officials decided that all permitting and other matters essential to keeping facilities projects on their critical path could be sufficiently debated with public input on Zoom.
The bright spots
Because the crisis is forcing most schools to adopt distance learning, by summer's end they should be fairly decent at it — meaning that charter school operators experiencing moderate construction delays may not have to scramble for temporary facilities large enough for every single student, every single school day. Rotating in-person and distance learning might mean a smaller facility could get the job done for a couple of months while easing kids back into the classroom on a full-time basis.
In terms of the real estate market, prices are already softening a bit. This is good news for charter schools that haven't yet purchased land or buildings but want to and have cash on hand. For the rest, the impact of cheaper property likely won't matter if the bond market doesn't unfreeze. Bond investors are rightfully spooked, and until there is again an active market for capital, it's too soon to know which way this will go. The bond market just might recover in time for some charters to take advantage of lower prices.
Perhaps uncertainty is a way to get through the shutdown. If school leaders honestly and enthusiastically communicate with their communities about each step, each victory in the process toward a school's completion, however delayed, can become a beacon of hope. It can be a unifying cause that binds the community together, a second home to look forward to while everyone is mustering every last drop of resilience to keep their spirits up in their first.
Mark Medema is executive director of the Charter School Facility Center, a project by the National Alliance for Public Charter Schools. Tressa Pankovits is associate director for the Project on Reinventing America's Schools at the Progressive Policy Institute.
Get stories like these delivered straight to your inbox. Sign up for The 74 Newsletter