Mead: Question for the Democratic Presidential Hopefuls — Why Are Government-Funded Nonprofits Fine for Pre-K but Not for K-12?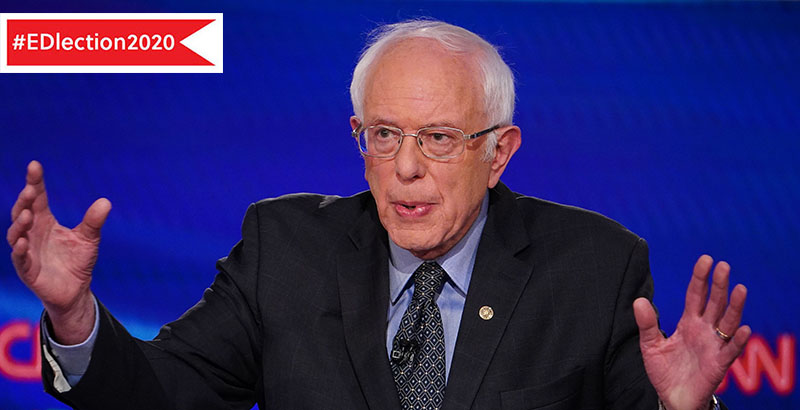 Just before Super Tuesday turned the Democratic presidential campaign into an apparent two-man race, Bernie Sanders announced a $1.5 trillion plan to make child care and preschool free for all American children. Did the plan help Sanders draw progressive voters from Elizabeth Warren, who made universal child care a signature campaign pledge? It's hard to say. But what is clear is that both Sanders's and Warren's plans highlight a remarkable contradiction between how leading Democrats think about early childhood and K-12 education.
As many analysts have noted, Sanders's plan is basically an expansion of traditional public education. Like Warren's, it would have states administer federally funded child care in partnership with school districts and other agencies and organizations, such as Head Start, child care centers and home-based care, that meet government quality standards. That approach, known as mixed delivery, is common in state-funded pre-K and other early childhood programs. But it's a striking contrast with Sanders's other positions on K-12 schooling, in which he opposes charter schools, school choice for parents and other models that allow publicly funded education to be offered by anyone besides school districts.
Why do Sanders and some of his primary rivals think it's good for government to fund community-based, nonprofit organizations to educate 2-year-olds but suddenly an enormous problem when children turn 5 and start kindergarten?
One explanation is a bias for the status quo. Public education in the U.S. is delivered primarily by local school districts. Even as charter schools and other choice programs have grown, over 90 percent of public-school-age students attend district-run schools. Preschool, in contrast, is delivered by a mosaic of home-based caregivers, faith-based organizations, nonprofits, small businesses and for-profit chains.
Preserving the status quo seems like an odd motivation for a candidate whose appeal is founded on political and economic revolution. That's why politics offers a more credible explanation: Teachers unions are powerful political interests, and Sanders has a track record of aligning with them on education issues. Teachers unions are not a significant presence in early education, and the organized early childhood interests that do exist tend to favor small business and for-profit operators over public schools. Teachers unions are a powerful fixture in public elementary and secondary schooling, though, where choice and multiple providers are a political third rail. And it's hard to miss that once students turn 18 and start higher education, where the teachers unions are far less prominent, choice and multiple providers are again the order of the day.
It's also possible that Sanders is more open to funding early childhood programs outside of public schools because he views child care less as education for kids than as a service to working parents. He wouldn't be alone. As Vox's Matthew Yglesias recently noted, Democratic candidates have framed the case for child care plans around women's career advancement rather than families' and children's overall well-being. That makes sense: High costs of child care (and of raising a child more generally) are a real economic challenge for working families. But there's a risk that building the case for child care primarily around affordability for parents will lead to pressures to drive down costs by creating low-quality, underfunded programs, rather than investing in the quality needed to support children's learning.
Former vice president Joe Biden, who now leads the delegate race for the Democratic nomination, has yet to put forward concrete plans for either early childhood or K-12 education. He, and the other candidates, might remember that public education is one of the very last areas of American life where consumers enjoy little choice or purchasing power, even as polls consistently indicate that parents want more — especially black and Hispanic parents.
Ironically, it's an area of American life where the poor are routinely shortchanged by existing public systems and would benefit from more choice — something that under almost any other circumstance would appeal to a revolutionary like Bernie Sanders.
Sara Mead is a partner with Bellwether Education Partners.
Get stories like these delivered straight to your inbox. Sign up for The 74 Newsletter