Mayoral Control Fight Heats Up: NYS Assembly Gives De Blasio 2 More Years, But Senate Demands More Data on School Spending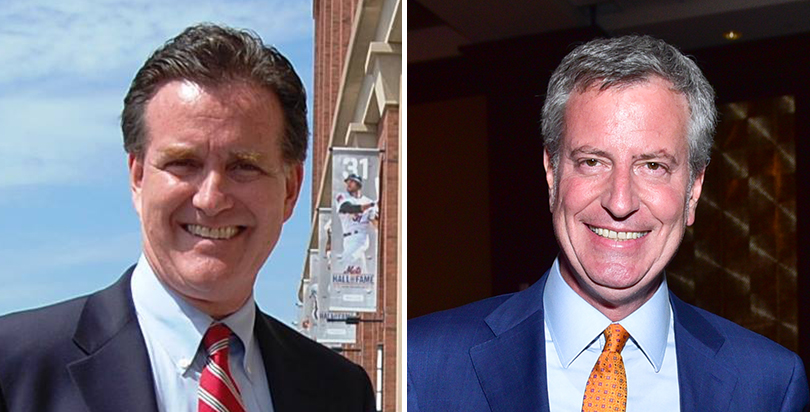 New York City
The latest hitch in the now-annual debate over who controls the biggest school district in the country burst into public view Monday after several weeks of uneasy silence.
In a letter to New York City Mayor Bill de Blasio, Senate Majority Leader John Flanagan accused the city of failing to comply with state education law in response to the state's request for information on how the city spends $9 billion in state school aid.
Spending reports the city provided in a May 11 response don't fulfill the explicit request and "do not lend themselves to meaningful analysis," Flanagan wrote in the
letter
, dated May 22.
He pointedly noted that financial transparency — or lack thereof — is critical as Senate lawmakers consider extending mayoral control.
"A fundamental shortcoming of this administration has been a lack of transparency and response to requests for information," he added. "The lack of detail on how the city spends the almost $9 billion provided to it by the state has been one of the a key determining factors in a short-term extension of mayoral control."
A spokeswoman for the Democratic mayor said the Department of Education provided all the information currently available, and further information will be posted to the ED website on Friday.
"Senator Flanagan received the information required by law and more. That means his best argument against mayoral control is about whether the information comes in a spreadsheet or a Word document," Freddi Goldstein said in a statement. "It's time for the Senate Republicans to stop playing games and let the city get on with the work of educating our 1.1 million kids."
As head of the Republican-led Senate, Flanagan has wielded outsize influence over whether and for how long de Blasio retains control of the city's 1,800 schools. Flanagan and his GOP colleagues have resisted de Blasio's efforts to secure a long-term extension of mayoral control each year since 2015; instead the mayor has fought for one-year extensions that typically get hammered out in the last few busy weeks of the legislative session.
This year's session ends June 21.
The Democrat-led Assembly, typically more friendly to the mayor, on Monday approved a two-year extension as part of a larger bill that extends current sales tax and other tax incentives in New York City and around the state.
Lawmakers
noted
that extending mayoral control through school year 2018–19 would provide "continuity and predictability" for New York City's students, who account for more than a third of the state's total public school population.
"These extensions are critical to every community across New York State," Assembly Speaker Carl Heastie said in a
statement
. "Cities and counties rely on these taxes to continue operating, and New York City schools need the continuity and predictability that mayoral control offers."
A de Blasio spokeswoman said the mayor's office "supports the two-year extender."
In past years, the legislature has granted mayoral control extensions before the June expiration date but only after hearings where de Blasio answered lawmakers' questions on city schools. It's unclear if that routine will repeat this year. A Senate GOP spokesman couldn't say when asked Tuesday if or when any hearings will be set.
Gov. Andrew Cuomo, meanwhile, proposed that a three-year extension be included in the state budget, but that deal never made it into the final $153 billion spending deal lawmakers approved in April.
Earlier this spring, Flanagan sought to tie an extension of mayoral control to another issue Republicans and de Blasio disagree on — allowing
more charter schools
in New York City by either increasing or eliminating the current cap. Republicans have generally supported expansion of charter schools, especially in New York City, while de Blasio said in January he saw
no reason to lift the cap
.
The number of children on charter school waiting lists in New York City reached 47,000 in 2017, according to a study released Wednesday.
---
---
Support The 74's year-end campaign. Make a tax-exempt donation now.