Massachusetts Voters Say No to Charter School Expansion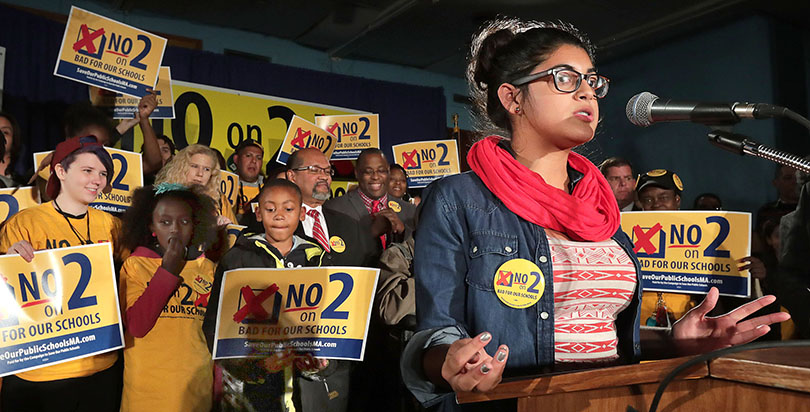 Massachusetts voters handed a massive defeat to education reformers Tuesday, overwhelmingly choosing to block a ballot initiative to lift a cap on charter school expansion,
according to Masslive.com
. Possibly the most consequential education fight this election cycle, Tuesday's vote could have huge implications for education reform battles nationally, shifting political capital to teachers unions and their allies.
If approved, Ballot Question 2 would have allowed charter operators to create 12 new or expanded schools each year, anywhere in Massachusetts. Currently, 78 charters serve more than 43,000 students across the Commonwealth. With Question 2 failing to grab the needed support, a cap will continue to limit Massachusetts to 120 charter schools. A cap also limits spending: For this year, funding for charters in the lowest-performing 10 percent of school districts cannot exceed 18 percent of the district's total net spending. Other districts are unable to spend more than 9 percent of their net spending on charter schools.
In a contest that was considered by some education pundits to be more crucial than the outcome of the presidential race, advocacy groups on both sides of the issue bombarded residents with record-breaking campaign spending. More money — more than $38 million — has flowed into this contest than any other ballot initiative in the Commonwealth's history. Much of that money came from out-of-state donors. The debate over expanding charters in Massachusetts was so fierce, at least in part, because charter schools in Boston have made large gains in reducing the achievement gap between white and black students. In their successful campaign, however, charter opponents argued the schools siphon off money from traditional public schools, lack accountability and perpetuate inequalities.
Get stories like these delivered straight to your inbox. Sign up for The 74 Newsletter