Marshall Tuck Wins California School Administrators' Endorsement for State Superintendent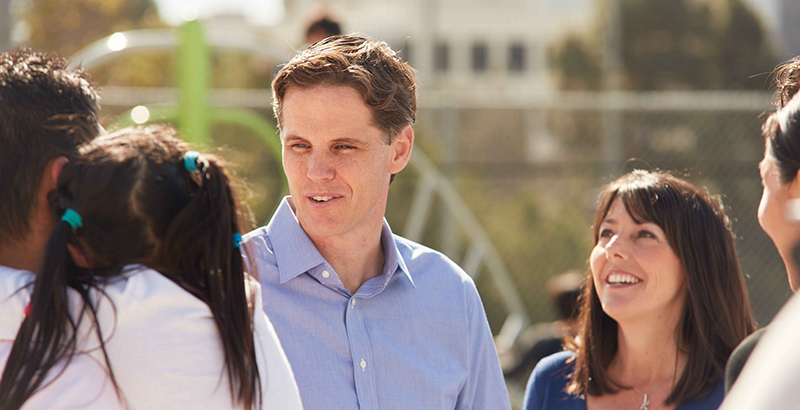 This piece was produced in partnership with LA School Report
Marshall Tuck's student-focused campaign for state superintendent of public instruction has earned him the endorsement of the Association of California School Administrators, which hasn't endorsed in the race for eight years.
In 2014, the organization, which represents more than 17,000 California school principals and superintendents, chose not to endorse because it wanted to send a message of discontent to the candidates: Tuck and the race's winner, Tom Torlakson, who has been in the role for two terms and can't run again. ACSA endorsed Torlakson in 2010.
Torlakson didn't adequately address the needs of administrators during his first term, said Edgar Zazueta, senior director of policy and government relations for ACSA. The group didn't feel comfortable giving it to Tuck either, because members were not familiar enough with his positions, Zazueta said. But their view of Tuck has changed in his second bid for the job.
"In this race, our political action committee felt strongly about wanting to take a stand. We felt like the voice of administrators should be a prominent part of the conversation in this election. Our members are very encouraged by Marshall's message," Zazueta said.
"Tuck's vision for California schools is consistent with ACSA's commitment to putting the interests of students above all," ACSA president Lisa Gonzales said in a news release. "Every one of his guiding principles maintains the objective of prioritizing California students."
Tuck, who lives in Los Angeles, previously led Green Dot Public Schools, a network of independent charter schools, and Partnership for Los Angeles Schools, a turnaround organization that oversees 18 schools serving 15,000 students. He told LA School Report in March when he announced his candidacy that his platform would be focused on making public education a priority for California. "We think it's time for the state to really say we're going to prioritize having the best public schools in the country," he said then.
Tuck earned the group's endorsement by going through an extensive vetting process, which included local and statewide meetings with ACSA members as well as a formal interview process. ACSA's endorsement was approved by its 28-member board of directors.
"Marshall has spent a lot of time with our members, getting to know the challenges of our schools. They really felt that Marshall has real experience managing and leading schools both traditional and charter, and felt like that experience had led to appreciation from him about the importance of the job of a school administrator in California," Zazueta said.
Tuck's opponent in the race, State Assemblyman Tony Thurmond (D-Richmond), has the endorsement of the 325,000-member California Teachers Association. He has also been endorsed by Torlakson and the California Federation of Teachers.
Being endorsed by the CTA has been key for previous candidates running for state offices. For Torlakson, it secured his win in his two election bids for state superintendent in 2010 and 2014. The state superintendent race was the most expensive on the ballot in 2014.
Zazueta acknowledged that ACSA does not have the same "political muscle" or financial resources as CTA. However, he said, "our endorsement is important because it brings another aspect to the conversation."
"We believe the state superintendent of instruction election is the one place where we can have more influence in the narrative that leadership matters, either at a school level or at a school district level, because individuals in these positions are the ones who ultimately implement all the policies, so they are an important voice in this race," he said.
Tuck said in the ACSA news release that he is looking forward to partnering with the organization "to make our public education system more supportive of our educators. Having worked in public education for 15 years, I know how critical our principals, superintendents, and other school leaders are in shaping our kids' futures."
The primary election is June 5.
• Read more from LA School Report:
The 7 hottest California education storylines we're watching in 2018
Education issues start to take shape in California's governor's race
Support The 74's year-end campaign. Make a tax-exempt donation now.