Marshall & Osborne: 'Free College for All' Is a Non-Starter for Many Voters. New Poll Shows Why Talking Point Is Dangerous for Democrats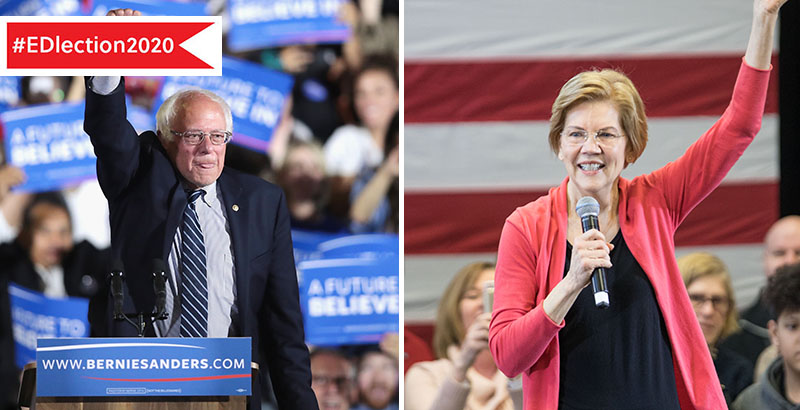 Sadly, education has been all but ignored in this year's Democratic primaries. But a new poll commissioned by the Progressive Policy Institute points toward one reason Sens. Bernie Sanders and Elizabeth Warren have not lived up to their supporters' hopes: Their embrace of free college and paying off all student debt strikes many voters as elitist.
Because narrow victories in Michigan, Wisconsin and Pennsylvania gave Donald Trump his Electoral College win in 2016 — even while he lost the popular vote by 3 million ballots — PPI recently commissioned a poll in those states.
Much of the poll, by Expedition Strategies, dealt with health care, the economy, taxes, business and climate change. (You can find the entire poll here.) But when pollsters asked about promises of free college and the elimination of student debt, the response was anything but enthusiastic. To many voters, these are elite preoccupations that compound the advantages of the already privileged college-going cohort at their expense.
The majority of their children don't earn college degrees, but they do need the higher skills required to land good, middle-class jobs. Yet there's an enormous disparity between what Washington spends to aid college students and what it invests in the 70 percent of young Americans who don't get an associate's or bachelor's degree.
Voters in these three states are aware of this inequity. By a wide margin (69 percent to 31 percent), they prefer to "spend more to help Americans who don't go to college get higher skills and better jobs" than to spend more to make all colleges tuition-free. And while they are concerned about student debt burdens, most voters — especially swing voters — say the bigger problem is "the lack of public job and skills training opportunities for non-college youth."
According to data from the National Center for Education Statistics, 17 of every 100 students never graduate from high school. Of the 83 who do, 25 pursue no further education. Twenty enroll in two-year colleges, but only seven of them earn a degree. Some 38 enroll in four-year institutions, but only 24 graduate. In sum, only 31 of every 100 students earn any postsecondary degree — bachelor's or associate's. Meanwhile, hundreds of thousands of available jobs go unfilled because employers cannot find the skilled workers they need.
This should remind all of us that a myopic focus on "college for all" risks alienating many voters. As we focus on reforms such as charter schools and public school choice, we must make sure we build pathways toward valuable skills and decent jobs for all who don't choose or complete college.
Education reformers in many places are working on this challenge:
In New Orleans, YouthForce NOLA is implementing LAUNCH, a pilot program for new high school graduates in which they spend a year training to earn industry-recognized credentials in high-demand workplace skills, such as preparation for a high-wage career, further technical training, college or some combination.
In Indiana, Goodwill Industries has created 15 Excel Center campuses around the state — free public charter schools that help adults earn high school degrees and industry-recognized certifications. Since 2013, the Excel Center has also opened campuses in Arkansas, Missouri, Tennessee, Texas and Washington, D.C. Its more than 5,000 graduates have almost tripled their wages, on average, within one year after graduation.
Massachusetts has modernized its statewide system of regional vocational-technical schools to focus on skills needed in today's and tomorrow's economy. With test scores above the state average and dropout rates that are a third of traditional high schools', they have thousands of applicants on waiting lists. Students alternate weekly between academic studies and hands-on work in a trade or business, then graduate with high school diplomas and certificates of proficiency in their technical program.
In Kansas City, the Kauffman Foundation has launched a new Skilled KC Technical Institute to help people of all ages earn job-ready credentials in five to six months, with little or no debt. It has begun training programs in advanced manufacturing, information technology and biosciences, guided by industry councils. Though it will offer only industry credentials — no higher education degrees — it has been approved to operate by the higher education departments of both Missouri and Kansas. Its training will be done throughout the metropolitan area at a variety of locations, including other postsecondary institutions that have chosen to partner with the institute, and eventually in pop-up and mobile classrooms. Skilled KC will eventually offer training at high schools in the region, where students can also earn credentials.
We need much more of this kind of innovation. Education reformers must make it a priority if we are to be relevant to the majority of Americans — as the poll makes clear. Millions of middle-class jobs require significant skills but not college degrees. As we reinvent our education systems, we must help people acquire those skills.
Will Marshall is the founder and president of the Progressive Policy Institute. David Osborne, author of "Reinventing America's Schools: Creating a 21st Century Education System," directs PPI's education work.
Support The 74's year-end campaign. Make a tax-exempt donation now.