Mark Janus Celebrates One-Year Anniversary of Supreme Court Win With Vow to Continue Advocating for Workers Seeking Freedom From Public Unions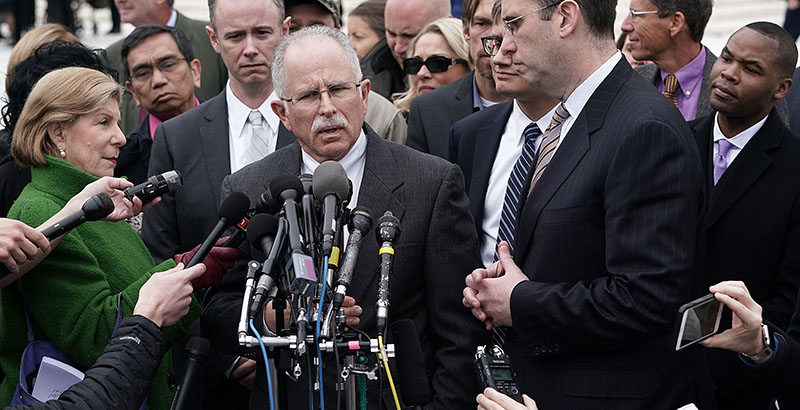 Washington, D.C.
Mark Janus, the former Illinois state worker celebrating the one-year anniversary of his successful case to end mandatory union dues for public employees, isn't done with his legal battle just yet.
Dozens of lawsuits seeking to further expand dissenting public employees' rights are pending across the country. They're grouped around a few main issues, including "clawback" cases that seek the return of dues paid from before the time the Supreme Court ruled them unconstitutional. Of those, Janus's is among the farthest through the legal process, experts said at a panel discussion celebrating the one-year anniversary of the high court's ruling. It was sponsored by the Liberty Justice Center and Mackinac Center for Public Policy, which have advocated against mandatory union dues.
They're class action suits, brought on behalf of everyone who was required to pay mandatory "fair share" fees even though they disagreed with the union's positions and didn't want to be members.
"The amount of money at issue is considerable," said William Messenger, a staff attorney with the National Right to Work Foundation. It shows the degree to which unions were violating employees' rights, he added.
For their part, unions have relied on a "good faith" argument that they had no reason to believe their conduct was unconstitutional. Representatives for the National Education Association and American Federation of Teachers did not respond to requests for comment on this story.
Statutes of limitations constrain the time period in which these types of class action suits can be brought, usually to somewhere between one and three years, depending on the state, so these cases aren't likely to linger in the courts, Messenger said.
There is likely more staying power in a different class of lawsuits that challenge limitations on when public employees can withdraw their union memberships.
Those "escape windows," as Messenger called them, are different around the country — set by state law, collective bargaining or union rules — and likely will continue to face challenges. Messenger predicted the issue will probably end up before the Supreme Court.
Advocacy groups that have launched publicity campaigns to inform dissenting employees of their new rights after the Janus decision have identified some trends among workers trying to leave their unions, said Andy Bookless, a communications consultant on one of those campaigns.
About 1 in 5 are people who, like Janus, disagree with the union's broader policies and political opinions. A larger group are motivated by finances; lower-paid, early-career teachers living in high-cost cities are particularly prevalent in this group, Bookless said. Still others are apolitical and want to stay out of the issue entirely. And a sizable group, perhaps the largest, cite bad experiences with local union management, he said.
Teachers unions in particular have said members are sticking with them and have decried what they say are inappropriately intrusive efforts to discourage membership. Impact on the unions' membership figures has been mixed, but they have staged a series of successful strikes across the country and hold considerable clout in 2020 Democratic politics.
One of the people working on that information campaign is Janus himself. He planned to return to his job in state government after the case, but "I saw that I needed to get out and spread the word because the unions are not providing the information," he said at an earlier panel.
He now works for the Liberty Justice Center, the conservative advocacy group that helped bring his lawsuit.
"My job is just to go out and let these people know that they do have a choice and they can make a decision on their own," he said.
Get stories like these delivered straight to your inbox. Sign up for The 74 Newsletter